Cynthia Sheeler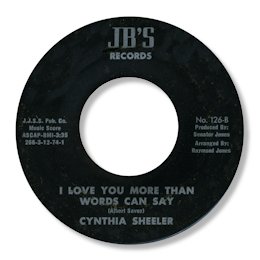 One of the very best vocalists to emerge in New Orleans in the 70s, Cynthia Sheeler is well known for the easy paced melodic "I'll Cry Over You" which has become a big dance floor favourite. But her other, and in my opinion much better, recordings seem to have been totally overlooked. Like so many other Crescent City singers of her time, she recorded for that great, if idiosyncratic record man Senator Jones.
In addition to "I'll Cry Over You", Jones released the brilliant double sided "Every Little Bit Hurts" / "I Love You More Than Words Can Say". The top side is a version of the wonderful song made famous by Brenda Holloway, but covered by artists of the calibre of Etta James and Peggy Scott. And I am pleased to say that Cynthia is far from being overwhelemed in this august company. Better than this though is the Albert Savoy original

I Love You More Than Words Can Say which is pretty much deep soul delight. Over a gently cooing male chorus, Cynthia is forceful and insistent, accompanied by a small rhythm section, very nicely arranged by Raymond Jones.
This track also appeared on Super Dome, the label that also had a couple of fine 45s by Eddie Lang, as the flip to the very tasty

One Minute Of Your Time. This song had a lovely set of chord changes, a breathily effective Sheeler delivery, and an excellent set of Crescent City musicians, augmented by some tasty horns. Production was credited to "Dollars & Cents", an easily recognisable pseudonym for the Senator himself, who has not really got the attention he deserves as a country soul producer. To his eternal credit he persevered with the style into the 80s, well after almost everybody else had abandoned the genre. "Every Little Bit Hurts" also appeared as her second release for Super Dome, coupled with the super fine cut of Kris Kristofferson's

Nobody Wins. This was country soul at its best, beautifully sung, with the accompaniment superbly marshalled by Raymond Jones. This cut, and "One Minute Of Your Time" were picked up by Philadelphia's Phil-LA-Of-Soul but national distribution didn't help her get a hit.
In the later 70s Cynthia recorded for Jimmy Moliere, and a couple of singles emerged. Both 45s had disco sides that really shouldn't bother the serious listener, but the other tracks merit further investigation. Her own "I Never Felt Like This Before" was an attractive melodic toe tapper and the lushly arranged

I'll Break The Habit was more of the country soul styling that suited her voice so well. Since then I'm not aware of any more recordings by this class singer. A pity.
UPDATE ~ Alex Podlecki writes to say that in "1968 she participated in audition for backing vocalists to gospel singers. I noticed this after Google book search for "Cynthia Sheeler" showed result for "She's Vocal / He's Instrumental" by Simonia E. Milton." I'm grateful to Alex for this extra info.
NEW UPDATE ~ Jason McGuiness has written to say he has a copy of the Talent Town LP. Jason says that the album is a "Really, really bad recording (the vinyl is NM), but greta tunes! The Grapevine (I Heard It Through The Grapevine cover) is amazing!" I do hope that Jason will find the time to send MP3s of the tracks. I'm very grateful to him for letting me know that at least the LP does exist and for providing the excellent cover pic..
| | |
| --- | --- |
| | |
Discography
I'll cry for you / Inst ~ JB's 2605 (early 70s)
Every little bit hurts /

I love you more than words can say ~ JB's 126 (1973?)
Love you more (than words can say) /

One minute of your time ~ SUPER DOME 502 (1973)


Nobody wins / Every little bit hurts ~ SUPER DOME 506 (1974)
Nobody wins / One minute of your time ~ PHIL LA OF SOUL 368 (1974)


I'll break the habit / Yes we do ~ SKYRA 1001 (late 70s)
I never felt like this befire / Ease on down to the disco ~ LAVERNE 10943 (late 70s)

Note ~ There are a couple of tracks on a really obscure LP called "Talent Town USA" on Castle records, which is a compilation of music from the city's Carver High School. Does anybody have details of this release?