Jimmy Gresham
I've written about James H Gresham before on my page on the excellent New Yorkers 45s.
Jimmy's early releases for Taylor are not particularly my cup of tea being rather too poppy but once he had discovered his own style around the turn of the 60s I don't think he made a bad record. Dancers are keen on Jimmy's "Ain't That Love" and should also investigate the lively "Come On". But the minor keyed blues ballad

Tears Won't Fall is my favourite of his Kitty releases; this superb slab of West Coast blues magic features some lovely hard lead guitar and yet another compelling vocal performance. "Now That I Have You" is in a very similar vein but doesn't quite have the same sparkle for me, despite the efforts of a very busy pianist.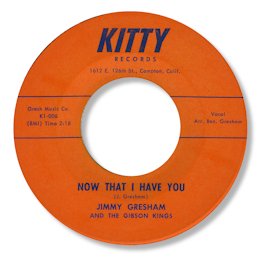 Perhaps musically his best 45 is the sought after one on Barbary Coast. "Be Prepared To Pay" is yet more good dance music, but

The Price Is Too Much To Pay is sheer gold. Taken at a slow beat ballad tempo, the chord changes are just right as is the interplay between the two guitars, the stabbing interjections from the horn section fit so well and then there is Jimmy himself roaring out the lyric with a fine little rap as well. Just about perfect. Producer Larry Johnson also leased a couple of Gresham tracks out to Decca but neither side is anywhere near the standard of the Barbary Coast single sadly. The two part Right Groove 45 is another one that mixes soul and R & B but despite some strong singing doesn't quite hit the spot largely because the neither the chord changes nor the melody aren't anything special.

His rarest 45 is undoubtedly the famous one on Len Jewell's Teri De and while "Put It Out Of Your Mind" is way too frantic for me, I am quite fond of "This Feeling I Have" which is a strong piece of uptempo soul, with some quality growling vocals from the man.
Jim Lancaster owner of the Playground Studio in Valparaiso, FL has also done his bit to raise awareness of Jimmy's plight by putting out a few previously unissued tracks. The storming "Chasin' A Rainbow" is pretty good, as is the similarly paced "One Step At A Time". I like the midpaced "Garden Of Love" too. But my favourite of these cuts is the funky little "No Way To Stop It" which is very fine, with Jimmy at his gruffest best.
UPDATE ~ I'm delighted to say that Jimmy was released from jail on 21 Feb 2012 after many years inside. For the terrible story on why he was incarcerated please read the Wiki page here.
Thanks to Jim Lancaster for the wonderful news.

Discography
Don't play with my heart / Anyone but me ~ TAYLOR 802 (1959)
Madamoiselle / Red sails in the sunset ~ TAYLOR 803 (1959)
If / It happened ~ TAYLOR 804 (1959)
Come on /

Tears won't fall ~ KITTY 1003/4 (1962)
Nobody knows (the trouble I see) / Now that I have you ~ KITTY 1005/6 (1962)
Take me too / Ain't that love ~ KITTY 1008/9 (1962/3)


The price is too much to pay / Be prepared to pay ~ BARBARY COAST 1001 (1963)
Love and devotion / Pt 2 ~ RIGHT GROOVE 100 (mid 60s?)
Mr Wind / What did I do ~ DECCA 31832 (1965)
This feelin' I have / Put it out of your mind ~ TERI DE 105 (1966)

Notes ~
1. "Love and devotion" was also issued under writer Joe Usury's name on Boogie and Bob-O-Link.

2. "Chasin' a rainbow" and "No way to stop it" can be found on the excellent "Playground Soul Vol 1 CD". And "Garden of love" and "One step at a time" can be found on the equally good companion download only collection "Playground Soul Revue Vol 2".
3. Special thanks to Garry Cape for the excellent pic of Jimmy and his sister Mary Gresham. Garry's Soulscape labe lhas released an excellent CD of Mary's Muscle Shoals tracks "Voices From The Shadows" (Soulscape SSCD 7008) - buy it.