Clarence Yarbrough
Texas singer/songwriter Clarence Yarbrough had three 45s released in the 1970s, all of which were on tiny labels, possibly his own, and which are now well sort after. And not surprising as every one of them has at least one strong side. The Dragon Dan release might be Yarbrough's first. "Give Me Some Slack" has dancefloor fans and as uptempo southern soul it has some merit. Better for me though is the mid paced "Reminisce" with it's "Let's Get It On" rhythm and tasty chord changes. Great harmony vocals too.
Clarence recut this on his Little Dilla 45 as

Reminisce About It and although this doesn't have the harmony vocals it does have a horn section and a much fuller production which might get it the preferred vote – but both versions are mighty fine. Only the Coconut release has a date on it and I think it might just fit between the other two. This has a recut of "Give Me Some Slack" on it but the other side may just be Yarbrough's best effort to date. The easy lilt of

That's What You Do To Me really hits home. Over twin guitars Yarbrough come across really well with a slow burn intensity. Who says real music was dead by the end of the 70s?
UPDATE ~ My great friend Greg Burgess writes "Clarence Vernon Yarbrough is a pastor at the Iron Wheel Baptist Church, 820 First Street, Nacogdoches in Texas. I found another cut of his on a CD called "Buenos Noches Nacogdoches" by a singer from Nacogdoches called 2TakeTim. The details of the track are:-

"Righteous Brother" (featuring Angie Brewer and Clarence Yarbrough) from 2002."
I'm very grateful to Greg as always.
NEW UPDATE ~ Rufus T Jones has kindly written with a correction - "I live here in Nacogdoches,TX and just wanted help you make a correction concerning Clarence Vernon Yarbrough. He uses his initials and goes by the name Rev. C.V. Yarbrough. He doesn't pastor Iron Wheel Baptist Church but he does however Pastor two churches in the city. Macedonia Baptist Church and Johnson Chapel Baptist. He's is still a great singer and is still writing music. He has several super gospel albums, I have every one of them I don't know anyone in the church circles that doesn't. Although he does mostly gospel now people in town call him "Mr. Reminisce." That song made him a legend in these parts. He is a soulful rocking crooner and can be heard ever Sunday doing what he does best. You should drive through Nacogdoches sometime and hear him. I have been to both of his churches many times. He still has that smooth voice that goes so good with that special sound he came up with. He not only is a fine pastor but he is a good man and an even better human being. Come to town and check him out, he's with the trip." I'd love to go to Nacogdoches but sadly will never make it there - but I'm grateful to Rufus for the correction and the invitation!

FURTHER UPDATE ~ Mr Jones has been in touch to say that Clarence has just released a CD entitled "Reminisce". This is a Collectors CD which features five of his 70s tracks. They Are:-
Reminisce, That What You Do To Me, Everybody Needs Love, Reminisce About It, Give Me Some Slack.
Of course the CD comes with a big recommendation from me. You can buy it at CD Baby or from Clarence's own site here.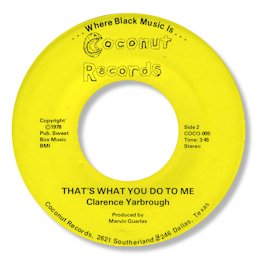 Discography
Reminisce / Give me some slack ~ DRAGON DAN (late 70s)
Give me some slack /

That's what you do to me ~ COCONUT 005 (1978)


Reminisce about it / Everybody needs love ~ LITTLE DILLA 979011 (1979?)
Note ~ You can find "That's What You Do To Me" on the excellent SFTV CD "A Deep Dip Into Texas Soul" Vol 1.