Obrey Wilson
For an artist who had a dozen or so 45s released precious little is known about Obrey Wilson – which is a shame as he was a fine vocalist and strong songwriter who made some high quality country soul in the 60s and 70s. He seems to have started his career with Snuff Garrett at Liberty, and although his four sides for the company are more pop than soul, "Hey There Mountain" has some notoriety as being one of only a handful of sides that Phil Spector produced for Garrett. While "She's A Good Looker" has a Jackie Wilson feel to his high tenor vocal, the flip "I Know I'm Lying" is Obrey's first overtly country styled track.
The cuts from his first stay at Epic were produced by Jerry Kennedy or Billy Sherrill in Nashville, and they range in styles from pop/country to soul. The best is undoubtedly

She Used To Be Mine which is really soulful thanks to Wilson's obvious gospel vocal touches, including a well judged rap, and the tasteful piano. His sole Columbia outing was recorded in New York, with Charlie Calello providing the big big backdrop for his version of the uplifting "My Ancestors", also covered by Willie
Charles Gray. The flip has had some Northern scene action. Obrey's Philips 45 was again produced by Jerry Kennedy but neither side was among his best.
But both sides of his Bell 45 were far better. It was another Nashville recording, but more like John Richbourg's style of music from there than Billy Sherrill's. "Soul Satisfaction #1" was a gently funky little opus, very nicely arranged, and

Break Away Baby was far and away Wilson's best effort to date. In a classic southern soul setting of guitar/organ underpinning a strong horn section, Obrey cut loose, his high tenor sounding just perfect, full of righteous fire and hoarse commitment. A great deep side for sure.
He continued this gospel feeling with his next 45

Sweet Revival, an easy paced tuneful hymn, with some really good guitar and conga playing over which Wilson again gets high with the spirit. This side reminds very much of the sort of sound that Buddy Killen surrounded the great Paul Kelly with on Warner Bros, also in Nashville. And that's quite a compliment. Both tracks on his second Mercury single came from the pen of the wonderful Swamp Dogg and while "You Were Meant For Me" was good, his version of

Laid Back And Easy was excellent. Always one of Swamp's finer evocative numbers, I think Wilson's rendition just about shades Freddie North's for sheer soul thanks to his oh-so-flexible vocal.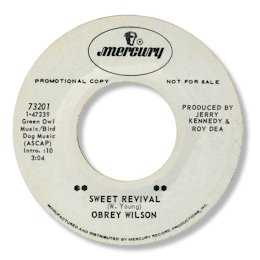 Thanks to its inclusion on the "Lost Soul" series of LPs Obrey's outstanding

Sho Nuff You Can is probably his most accessible track. But this superb slice of country soul can't really have enough plaudits aimed at it, so sweet is the melody, so subtle the playing (especially by the guy at the electric piano), so good are Bergen Whit's horn charts and so emotional the vocal. Almost an advertisement for country soul. One thing though - I could well do without the kids chorus two thirds of the way through.
Wilson's final single was for John E Denny's Nashville operation and Mel Tillis'

Take Time was another winner, just the right side of the country/soul divide with Wilson's hoarse tone lovely to hear, and his "delay" sense of time really on the button. His companion on the track Bernice Cook sings well too.
I hope that this small piece on Obrey will prompt somebody to get in touch with more details about his life and career – he deserves a fuller appraisal.
| | |
| --- | --- |
| | |
Discography
Whipping boy / That's where lonesome lives ~ LIBERTY 55394 (1961)
Hey there mountain / Say it again ~ LIBERTY 55483 (1962)
She's a good looker / I know I'm lying ~ UA 567 (1963)
A little bit of heartache / Don't jump to conclusions ~ EPIC 9652 (1964)


She used to be mine / Love will be right there ~ EPIC 9764 (1965)
I want to tell you (about my girl) / In a woman's eyes ~ EPIC 9815 (1965)
If you were there / My ancestors ~ COLUMBIA 43944 (1966)
You don't love me / Headman ~ PHILIPS 40514 (1968)


Break away baby / Soul satisfaction #1 ~ BELL 830 (1969)
"X"" marks the spot " /

Sweet revival ~ MERCURY 73201 (1971)
You were meant for me /

Laid back and easy ~ MERCURY 73266
(1972)
Searching for love /

Sho nuff you can (you can count on me) ~ EPIC 11045 (1973)


Take time / Non-stop love ~ JED 4 (1982) (w/ BERNICE COOK)
Note ~ You can find "Hey There Mountain" (if you really want to) on the Ace UK CD "Phil Spector His Early Recordings".