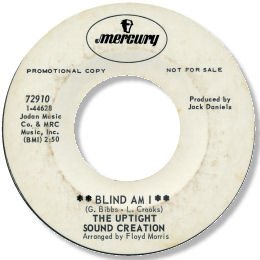 Uptight Sound Creation
This terminally obscure Chicago group had only this single record, leased to Mercury by the prolific Jack Daniels. It may have appeared on one of his own labels first but I've never seen or heard of any details.

Blind Am I is one of those "growers" – after a few plays the hookline just sinks into your memory and it's very hard to get it out of your head. But I'm not sure you should bother as the wailing lead vocal, the broken rhythm and the superb guitar figure are all worthy of your attention and recollection. The last 30 seconds in particular are really fine as the leader really cuts loose. Can anybody shed any light on this disc or the performers at all?
Discography
One for L.U.V. (love) /

Blind am I ~ MERCURY 72910 (1969)