Debbie Taylor
Biographical information on Debbie is scarce – but I believe that she hailed from Norfolk, VA. But it is pretty certain that her recording career started in 1967 with her Decca releases. Both sides of her first 45 which were cut in Memphis using Willie Mitchell's band are first class – "I Get The Blues" is one of those chugging midpacers that Hi were so good at and

The Last Laugh Is On The Blues is a deep ballad of no little worth, as Debbie lets rip over some wonderful guitar fills from Teenie Hodges.
The second Decca release was probably cut in New York, but

Check Yourself is a lovely blue tinged ballad. The other side was her first hit, reaching the Top 40 early in 1968. On the basis of this success she signed for the Big Apple concern GWP and hit the top 20 with the melodic uptown midpacer "Never Gonna Let Him Know", but the flip "Let's Prove Them Wrong" was more intense as Debbie wailed over a lush backdrop of strings. Perhaps her best disc for GWP was the unissued "All That I Have" which although still in a big orchestral bag had a fine melody.
By 1973 Taylor had signed with Perception for her only LP "Coming Down On You". Sensibly acknowledging that ballads were Debbie's forte producers Patrick Adams and David Jordan included several on the set. "Touching You" for example was an ethereal song in J J Barnes song but Taylor makes it an exercise in ferocious wishful thinking. "Second To None" carries on this mood but

Leaving Him Tomorrow is THE cut, an outstanding deep soul song on which she sounds more southern than on any recording since her Decca days – and is all the better for it. A superb performance.
Her Polydor 45, again via Jordan, is another class ballad, much harder in tone than the session guys in Philly usually obtained.

I Have Learned To Do Without You was originally released by Mavis Staples and although tangling musically with her is not usually recommended Taylor acquits herself with considerable credit here. Debbie's final 45 for Arista

I Don't Wanna Leave You is a fitting climax to her career. She almost spits out the lyrics so taken is she with the feel of the emotion and her rap in the middle is brilliant helped by a sensitive alto sax. The arrangement is deftly handled, with the strings and background harmonies helped by some muted horns and in an era of disco dross this 45 stood out like a beacon of sanity. The single spent 11 weeks in the charts without breaking into the top 30. For some reason it wasn't followed up at all.
UPDATE ~ Eddie Hubbard writes that both sides of the UK issue of the Arista 45 are different mixes from the US versions.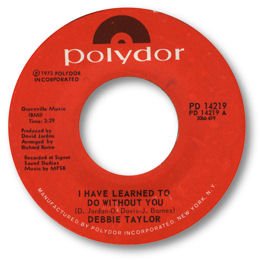 NEW UPDATE ~ Subscribers to the wonderful In The Basement magazine wil have read David Cole's excellent article and interview with Debbie in issue 62 (back issues are available here) which had as its centrepiece the excellent news that she is back on the music scene as Madie Myles (her real name). You can visit her own website here to find out her latest news.
Many thanks to Jeffrey Dean for reminding me to add this postscript.
Discography
I get the blues /

The last laugh is on the blues ~ DECCA 32090 (1967)


Check yourself / Wait until I'm gone ~ DECCA 32259 (1968)
Never gonna let him know / Let's prove them wrong ~ GWP 501 (1969)
Don't let it end / How long can this last ~ GWP 510 (1969)
Momma look sharp / No brag just fact ~ GWP 512 (1969) (flip by the HESITATIONS)
Don't nobody mess with my baby / Stop ~ GRAPEVINE 202 (1970)
No deposit no return / Too sad to tell ~ TODAY 1510 (1972)


I have learned to do without you / Cheaper in the long run ~ POLYDOR 14219 (1973)


I don't wanna leave you / Just don't pay ~ ARISTA 0144 (1975)

Comin' down on you / TODAY TLP 1007 (1973)
Notes ~
1. The scheduled second Polydor 45 "Superstar" / "A Good Woman Don't Grow On Tress" (Polydor 14252) was never released.
2. The Today LP can be found on a Castle Music UK CD "Soul Twins" which also features J J Barnes' Perception set "Born Again".
3. "All That I Have", "Let's Prove Them Wrong" "Don't Let It End" and "Don't Nobody Mess With My Baby" can all be found on the Kent UK CD "NYC TCB" (CDKEND 249).
4. "Leaving Him Tomorrow" can be found on the excellent Castle CD "Basement Tracks" lovingly compiled by David Cole - and thanks to Kevin K for reminding me.
5. Thanks to Eddie Hubbard for the extra info and to Pete Nickols for the ad.