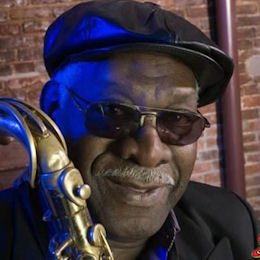 Marcel Strong
Saxophonist/writer/vocalist Marcel Strong came from East St Louis, MO and in his early days sang in his local church and picked up on secular music from the flourishing R & B scene in the town. His first record was for the tiny Emerge label in the mid 60s and the easy mid paced

Time To Pay (You Back) showed a singer with a fine touch for timing and a strong grainy tone.
In 1970 Marcel wrote the tune that he will be forever associated with - the raunchy and quite overtly sexual

Mumble In My Ear. He thought it would be one for Clarence Carter and the great man did indeed cut it in 1971 (Atlantic 2842) taking it to no 33 in the R & B charts. But this was after Strong himself recorded it with the Fame Gang and his version is undoubtedly the better cut. Not just because of the great agitated delivery of his vocal especially the little asides he mutters to himself but the superb arrangement he sings so lustily over. Wonderful horn lines from Harrison Calloway, some interesting percussion (Mickey Buckins?) and the fleeting strings that introduce and see out the song.
The success of this number led to a songwriting contract with Rick Hall but they fell out and Strong saw out his time without cutting another disc or - seemingly - writing anything else. Back in St Louis he didn't record again until 1978. Then local singer/record man Sid Wallace took him into the studios for a session which came out only in the UK as one half of an album entitled "Two Soul Chiefs". The tracks all came from Strong's pen, including a recut of Emerge's "Trying To Make Up", but sadly there is nothing exceptional here. The production is limited - no horns or strings - but Marcel is in excellent voice on the better cuts like the funky "Every Day Is A New Day" and the pick of them

That's My Girl a very good ballad on which he rediscovers some of the fire from his Muscle Shoals recording.
These days Marcel still gigs around St Louis as you can tell from his MySpace entry here. Recently Marcel celebrated his 70th birthday - long may he continue to keep the flag for real music flying high.
Discography

Time to pay (you back) / Trying to make up ~ EMERGE 1110 (1965/6)


Mumble in my ear / What you're missin' someone's gettin' ~ FAME 1475 (1970)
Every day is a new day / Let me down easy / Trying to make up /

That's my girl / My love my guarantee/ Ain't no fool / Lady luck ~ RED LIGHTNIN' UK LP RL 0039 (1983) (Other side by EDDIE SIMPSON)