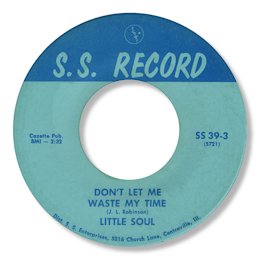 Little Soul
Little Soul (whose real name might be J L Robinson if the writer credits on his 45s are anything to go by) had a couple of releases on the tiny Solid Soul or "S S" label out of Centreville, IL. Confusingly the two discs had the same release number. Three of the sides were uptempo with the best being "Lonely Stranger" which is a good R & B tinged boogaloo number featuring some fine bluesy lead guitar work. But for me his best vocals can be found on

Don't Let Me Waste My Time which is taken at a much slower pace allowing him a much bigger presence up front of the small rhythm section. A real grower this one.
UPDATE ~ Fransetta Butler has been in touch to say that "he says he does not have a middle name that was just something he used, i.e. Johnny Soul, Little Robbie, Jonny Bluz Boy etc". Fransetta adds that "Mr. Robinson is very much alive and just recently released a new CD "Mood Swing" by Jonny "Bluz Boiy" Robinson". Let's hope it does really well for him. I'm grateful to Fransetta for all this fine info.
Discography
Hold on (confidence) /

Don't let me waste my time ~ SS 39 (mid 60s)
Lonely stranger / Problems ~ SOLID SOUL 39 (mid 60s)
Just a boy / You brke my heart ~ SOLID SOUL 39 (mid 60s)
Thanks to Bob McGrath for the extra discographical info.