Walter Rhodes
Looking at his long career you'd have to call Walter Rhodes primarily a bluesman, but he did cut three masterpieces in the soul genre which haven't really received their due attention. In fact his music in general hasn't been studies properly, partly due to the number of names he recorded under and partly due to the obscure labels he cut for. HA highly talented musician, he was a more than competent guitarist and blues harp player but his crowning glory was his voice. He was never a flashy singer, but there were few who put so much of themselves into a lyric, and fewer still who made such emotionally compelling performances. My friend Dickie Tapp, who saw him live in 1989, says "I will never forget Walter Rhodes' appearance at the Blues Estafette in 1989. It was one of the most emotional performances I have ever witnessed and the 'pain' in his singing had me close to tears. Walter was backed by a small ad-hoc combo which included Teddy Reynolds on piano and Sherman Webster on bass - they all gelled." And that force and intensity was with him whatever musical style he chose.
Walter was born in 1939 in Beaufort, NC and learned to play guitar there. In 1960 he was in New York playing for The Gospel Four and starting his recording career as a member of the Golden Arrows. Pretty soon though he made the move into R & B as a member of the Blues Boys duo, touring with such artists as the wonderful Big Maybelle and Shep & The Limelights. With his cousin Arthur Little he apparently recorded as Walt and Art for Dessa, before recording his first solo sessions for Blanche Kaslin's Hull, with the Leo Price Band. He chose the name The Blonde Bomber as a variant on heavyweight boxer Joe Louis' nickname The Black Bomber for his own albino pigmentation.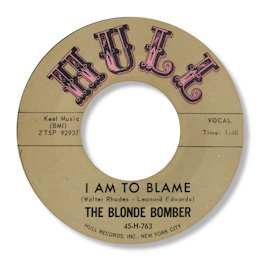 "Strollie Bun" is a highly regarded black rocker in the Little Richard mode but

I Am To Blame is a far better track for me. Musically this is a fairly ordinary blues ballad but Walter's voice lifts it way out of that category. Listen to the passion he generates, particularly on the second verse when he rises thrillingly above the melody. My candidate for the first deep soul record ever cut. From these sessions Westside in the UK included part 1 of the unissued "You Can Run But You Can't Hide" on their CD devoted to Hull / Mascot sides. This is another fine rocker, very much on the lines of Huey Smith's great "Rockin' Pneumonia", but once again Walter's vocal is the highlight.
Around 1960 Rhodes was recording classic R & B for Le Sage as Little Red Walter. Of the four cuts I think the rolling "Aw Shucks Baby" is probably the pick thanks to Walter's fine harp playing and easy paced vocal. A couple of years later Walter cut his first 45 under his real name for Hull subsidiary Mascot as part of a split session with Shep & The Limelights, and

I Worship The Ground You Walk On is an almost perfect example of the beginnings of soul when elements of blues, doo-wop and R & B were coming together with gospel phrasing to create this new hybrid. Walter's vocal is a masterly slow burn, searing with barely restrained passion, and his phrasing is simply superb. The triplet piano and guitar in the background feel just right too - and the unusual inclusion of an alto sax in the horn section gives the arrangement a lovely poignancy. I don't think music gets much better than this. From about 1962 he was on the road pretty much continuously as the guitarist in Wilson Pickett's band and he can be heard on several of the Wicked One's records from this period, including (Walter claimed) "In The Midnight Hour". In the later 60s he played in a variety of bands including Dave Johnson & His Houserockers and Benny Veal & The Rockets but I'm not aware that he made any records during this time. But in 1971 he cut again under his real name for the tiny Violet label. Emile Dillon who owned the label kindly wrote to me with the background to the recording:-


"I met Walter in Paterson, New Jersey when I was the manager of a record shop there. I started a label while working there called Violet Records in response to a singing group that kept coming to the store and asking me to help them get a record released. I tried several record labels and could not get the deal I wanted for them so I decided to record them and put out the record myself. The record became a local hit and the group changed their name to "Chocolate Syrup" and went on to record other records under that name. Walter heard about my success with that group and came to the store and asked if I would help him. At first I said no because I did not know anything about blues music but he kept coming back so I finally decided to help him. We went into the studio and recorded several songs and we chose "It's Not What You Do" for the hit side backed by "Message To My Woman". The record was out for about a month and nothing really happened. It was around that time that I got a call from Skippy White at Mass record distributors ordering several hundred copies. I thought it was a joke so I called Skippy. He told me that a disk jockey had flipped the record over and that "Message To My Woman was a hit!! Several weeks after that Atlantic Records in New York City called and I sold them the record. It was then released as Cotillion 44148. Unfortunately Atlantic did not do enough with the record so it died. My original intention after that was to release an album on Walter and we recorded several more songs but they were never released."
Emil went on to say that on every Violet 45 to prevent bootlegging he had a very interesting technique. "Also on the spiral out portion of the record I always had a message written. All Violet Recordings were pressed by Sun Plastics in East Newark, New Jersey." And sure enough on the Rhodes 45 there is "Charlene and Mel" etched into the run out groove.

Message To My Woman is a rather crudely fashioned but very moving deep soul on which Walter screams out his passion with an almost unbearably intensity accompanied by his own harp, an arpeggio guitar, organ, bass and drums. Over the years this has become a cult item for deep soul fans and rightly so.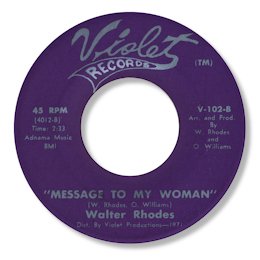 Through the 70s Walter led a number of bands like the Futuristics and the Minds Unlimited but got a new lease of life as a country blues performer in 1982 when he recorded an LP with just his own guitar for Herb Abrahamson. Issued in very small quantities (or even just test pressed) under the name "Lightnin' Bug", "The Blues Goes On" was very well regarded by the cognoscenti and it led to further albums for the Dutch Swing Master label in the same decade, via Gary Erwin of the Lowcountry Blues Society in South Carolina where Rhodes had moved to look after his ailing mother.
A couple of years before his death he formed another band "Lightnin' Bug & The Buzzin' Cousins" and the drummer for them Eddie Crowe has also kindly been in contact about Walter. "We used to play the Otis Reading tune "I've been Loving You Too Long". The first time we did it I had never heard the song before. Walter drew the intensity out of me. You know the song builds up in intensity as it goes along. I was amazed the first time I heard the Otis version.I played it just like the original song. Walter made me play it like that just by listening and following his lead."
Like others who played with him Eddie was full of praise for Walter's talent. "I knew him for 2 yrs and I know I never even scratched the surface of what he knew. Every gig was a lesson for me. My guitarist reminds me of Walter's guitar playing style. I had to tell him that, but also told him that it takes the 2 of us to do what Walter did on his own and then we are equal to about a third of Walters talent."
Eddie also passed on the very sad details of Walter's death. "He died July 4 1990 as a bluesman. He was found at the bottom of a swimming pool in Rockingham, North Carolina. A perfect homicide. He was technically blind and was very fearful of water. He was pushed in the pool and knowing he was about to drown his heart exploded. Walter was a poor person and there was no investigation into his death. Someone got away with murder. Walter was a great friend and talent and was well deserving of Star status and it's sad that he died before ever reaching it. His death was a major loss to music...."
I'm sure we can all agree on that.
Discography
As WALT & ART
I got you now / You were made for me ~ DESSA ????
As THE MEMOS
The biddy leg / My type of girl ~ MEMO 34891 (1958)
As THE BLONDE BOMBER
Strollie bun /

I am to blame ~ HULL 763 (1960)
As LITTLE RED WALTER
Aw shucks / I'm mad ~ LE SAGE 711 (1960)
Pickin' cotton / Ain't nothing but gossip ~ LE SAGE 731 (1960)
As WALTER RHODES

I worship the ground you walk on / Uncle Sam ~ MASCOT 129 (1962)


Message to my woman / It's not what you do ~ VIOLET 102 / COTILLION 44148 (1971)
As WALTER "LIGHTNIN' BUG" RHODES
The blues goes on ~ FESTIVAL LP (1982)
Giving you the blues ~ SWING MASTER 2116 (1989)
Now hear this ~ SWINGMASTER CD 2001 (1989)
Where is my friend – ERWIN MUSIC (1990)
Thanks to the late Ray Topping for discographical help.
Notes ~

1. You can find "Strollie bun", "I Worship the ground you walk on" and the unissued "You can run but you can't hide" – but sadly not "I am to blame" - on the Westside UK CD "The Hull / Mascot Story".
2. You can find "Messgae to my woman" on the Kent UK CD "Sanctified soul".
3. There is an excellent article on Walter in Juke Blues #18 (see Links) - buy it.
Special thanks to my friend Dickie Tapp, Emil Dillon and Eddie Crowe for sharing their memories of Walter and his music. You can find out more about Eddie's music and his time with Walter here. And there is an excellent vignette about Walter here.