Lisa Richards
This is the only disc that the delicately toned Lisa Richards ever cut. Her delivery is finely judged, and well phrased, and the horns, piano and "trembly" guitar are hard edged enough to stop the number lapsing into mawkishness. Thank heavens. The tracks were cut in New York so how it ended up on Sure Shot is anybody's guess.
Discography

Let's take a chance / Mean old world ~ JOVIAL 729 (1964/5) / SURE SHOT 5007 (1965)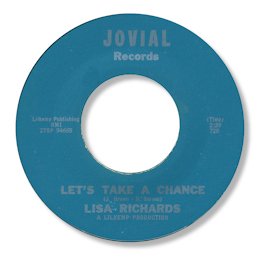 Note ~ The picture comes from long time soul expert Steve Bryant and "Let's Take A Chance" can be found on the second volume of Ace UK's series of CDs put together by Dave Godin.