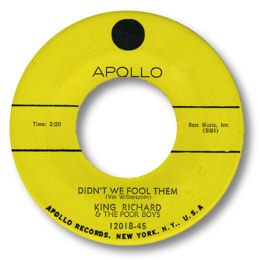 King Richard
When did R & B become southern soul? I suppose most people would cite the early 60s Stax sides of William Bell and Otis Redding, or the unsurpassed "Two Steps From The Blues" LP by Bobby Bland as key examples of the changing styles. But much earlier than that there were singers like Little Willie John and Lowman Pauling that were bringing gospel touches into their vocals and there were other isolated discs that foretold the coming era.

Didn't We Fool Them by King Richard & The Poor Boys is a splendid example.
These were the work of Lowman Pauling / Royal Abbitt combo, moonlighting from the 5 Royales, with a full band, augmented by the fine vocals of Abbitt protégé Richard McMillan. "I'm Gonna Spend My Money" was a fine rocking blues, but the cream cut from this session was the brilliant "Didn't We Fool Them". The vamping saxes and bluesy guitar and piano are pure R & B but McMillan's gospel based lead vocal is much more in tune with the southern soul sounds that were beginning to appear.
UPDATE ~ Sami Dariush has written with further details of the Glass 45 which have been added to the discography. He has also sent a soundclip of "Go On Day" and on the basis of this both Sami and I think it might be a different artist. Can anybody confirm?
Discography
I'm not ashamed /

Didn't we fool them ~ APOLLO 1201 (1955)
Wash board / I'm going to spend my money ~ APOLLO 1203 (1955) (as THE POOR BOYS)
Go on day / I'll always be there ~ GLASS 007
Thanks to Matt Futerman for the suggestion for this one. And to Greg Burgess as always for the great detective work in finding the Glass 45 now added to the discography. I'm grateful also to Sami Dariush for the updated info, and to Graham Betts and others for the reminder that King Richard and the Poor Boys were an off-shoot from the brilliant 5 Royales.