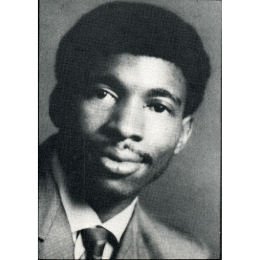 George Perkins
George Perkins was born on 25 September 1942 just outside Baton Rouge in Denham Springs LA. He started his singing career, as so many did in those days, in the church as a member of the local Silver Stars quartet. According to George the group cut two 45s for Ebb Tide's (Ted Harris) Golden label before recording the anthem

Cryin' In The Streets as a response to the assassination of Martin Luther King. Its impact locally was such that Lelan Rogers picked it up for his Silver Fox label and was rewarded with a similar response from black buyers all over the South. The instrumentation and arrangement are rudimentary but the passion of the two lead voices of Perkins (the lower of the two) and Frank Turner (the high tenor) carries an unmistakable message of despair.
Golden did release a further 45 by George and Frank, a fine version of

How Can A Broke Man Survive (best known via the later Little Johnny Taylor version for Ronn) but contractual issues meant that this only ever got regional coverage and it is now one of GP's rarest singles. These business issues also prevented the release of the planned LP and sadly the tapes now seem to have been lost. However a couple of the tracks did surface in 1980 for Ebb Tide's Cryin' In The Streets concern, and both sides of the 45 on it are really fine.

No Need For A Black Man To Cry and "I Wants To Be free" are soul gospel work of considerable merit and his vocals are of a quality to match the heartfelt lyrics.
The former track has also appeared on a UK compilation of 70s Ace material ostensibly as part of a session for Johnny Vincent under the supervision of Sonny Limbo. It seems that the four cuts were recorded during the protracted wrangles over the hit. Only one 45 appeared – and that had one side wrongly credited to him – entitled "Baby I'm Fed Up (With Crying In The Streets". Was this is sign of George's frustration or the long lost follow-up to the hit? The other good cut is the previously unissued "Tobacco Road" (not a version of the country classic) which has some worth. I think it's probable that during this difficult period Perkins also recorded the obscure Second-Line 45 in New Orleans for Clinton Scott which has the same chord structure as the big hit.
In any event in 1972 Perkins formally signed with Jerry Strickland and Bobby Patterson who had started their own Soul Power label in Shreveport. All four of the sides that were released via this deal are essential southern soul. The material was, as you'd expect from the writers concerned, of a uniformly high standard, and the production values much higher than Perkin's previous efforts as a result of the facilities and musicians at the Sound City studio. It's hard to pick the best from the sides now but maybe

How Sweet It Would Be and "A Man In Love" just pip the others because of their slightly better melodies.
In the mid 70s Perkins was working for an insurance company in Baton Rouge called Royal Shield whose owner backed Perkins with the formation of the Royal Shield label. Of the sides he and his band Fir-Ya cut for the concern the gentle

I Never Had It So Good and the lively southern funk of "Keep On Loving Me" are easily the best. During the 70s Perkins also started his own GP label from his home on Hammond, LA, with the excellent deep

You've Been Good To Me, featuring some lovely church piano licks and high tenor harmony vocals from his old colleague Frank Turner, being the best of the recordings.
Perkins continued in the insurance business throughout this time, retiring from secular music around the turn of the 80s but still singing gospel music in his local church.
UPDATE ~ Thanks to Alasdair Blaazer for the info on George's two early gospel sides with the Silver Stars shown in the revised disocgraphy blelow.
| | |
| --- | --- |
| | |
Discography
Mother love / They call him Jesus ~ EBENEZER'S GOSPEL 101 (1968) (as THE SILVER STARS)
My soul converted / Father don't forget me ~ EBENEZER'S GOSPEL 102 (1968) (as THE SILVER STARS)


Cryin' in the streets / Pt 2 ~ GOLDEN 110 / SILVER FOX 18 (1970)


How can a broke man survive / Groove making ~ GOLDEN 114 (1971)
Baby I'm fed up / High blood pressure* ~ ACE 7102 (1971)
We need a helping hand / Pt 2 ~ SECOND LINE 001 (1971/2?)
A man in love / When you try to use a good man ~ SOUL POWER 108 (1972)
Baby you saved me /

How sweet it would be ~ SOUL POWER 113 (1972)
Together / Can I change my mind ~ RED STICK 7701 (1973/4)
Poor me / I'm so glad you're mine ~ ROYAL SHIELD 115661/2 (1974)
Keep on loving me / Baby I love you ~ ROYAL SHIELD 101/2 (1974)
I can stand your kinda lovin' for ever / Pt2 ~ GP 104 (1975)
Keep on trying / What the deal is ~ GP 106 / HIT & RUN 5003 (UK) (1976)


You been good to me / Be proud ~ GP 107 (1978)
Cryin' in the street / Dance dance dance ~ ROYAL SHIELD 101 (1979)
Give it to me /

I never had it so good ~ ROYAL SHIELD 103 (1980)
I wants to be free /

No need for a black man to cry ~ CRYIN IN THE STREETS 1016 (1980)
Cryin' in Iran / Keep on tryin' ~ STAR-GLOW 102 (1980) (as FIR-YA)
* This side is really by Little Shelton – incorrectly named as George Perkins.
Notes:-
1. Frank Turner had one 45 under his own name "Let Freedom Ring" / "All For My Kids" (Maison De Soul 324) which also featured the Silver Stars. He recorded another version of "Cryin' In The Streets" as well for Ebb Tide's "Crying In The Streets" label – the flip is an appalling disco cut of the same tune by Pete Johnson.
2. Royal Shield also cut artists other than Perkins – including Ernst Jackson, Jerri Richard and Lorraine Williams.
3. A CD collection of George's work has been issued by Tuff City as "Cryin' In The Streets" (Night Train 7130) but beware the tracks are dubbed from disc and the sound quality is awful.
4. The four Soul Power tracks in high quality sound can be found on the Westside UK CD "Soul Jewels Vol 2" (WESA 913).
5. The full Ace session can be found on the Westside UK CD "Curiosities" (WESD 208). The four tracks are "Baby I'm Fed Up (With Crying In The Streets", "Tobacco Road", "No Need For A Black Man To Cry" and "I Love You So".