Toussaint McCall
Toussaint McCall is, of course, best known for his smash hit "Nothing Takes The Place Of You". This is one of the most enduring of all soul tunes, with a simplicity and directness that touches the heart. Like "When A Man Loves A Woman", another durable favourite, it has been revived for a new generation, who have found its lonesome message as relevant now as it ever was. But McCall made other fine recordings in the 60s and beyond and there really ought to be better recognition of his talents than there sometimes are.
He was born in Delhi – "pronounced Dell High" he told me in 2000 – in Louisiana in 1939. Always musically gifted, he started playing the piano at an early age and moved on to the organ as well. He majored in music at Southern University, and taught the subject at Swaze Elementary School. In addition he began playing in bars and clubs after working hours, the usual prelude to a professional career. At that time his musical influences were many and various, ranging from Nat King Cole to Johnnie Taylor but Toussaint was already making his own mark writing new songs.
One of these he felt had real potential. After performing it for a couple of local DJs without success, McCall bought some recording equipment for his own use. "One Sunday I brought my club drummer Robert Williams to my home and we cut

Nothing Takes The Place Of You right there in my den." McCall remembered. "I played all the instruments apart from the percussion. The bass you can hear are the deep pedals on the organ". Armed with this tape, McCall visited Louisiana's premier black music concern at 728 Texas, Shreveport, where boss Stan Lewis loved what he heard. Rather than recut it and lose the feel of the track, (or waste time and money) Lewis put it out as it was on his new Ronn imprint. "We knew within a day or two that we had a smash, everybody loved that tune," McCall said. It's charming, almost naïve sound coupled with Toussaint's heartfelt vocal pushed it from a regional seller into the ranks of the national chart. Altogether it spent 15 weeks in the hit parade peaking at no. 5 R & B.
The follow-up was, not surprisingly, right in the same groove. "I'll Do It For You" featured the same mix of ingredients, including McCall's rich, dark baritone voice but just lacked that special sparkle. But it was still good enough to register on the charts for a few weeks hitting the no. 26 spot in July '67.
His third 45 was another really good track, but the great country soul of "Step By Step" wasn't as successful, scoring only plays and sales in the deep South. Veteran Scotty Moore produced these cuts, probably from a Shreveport studio, and they were collected together for Toussaint's first album on Ronn 7527, named after the big hit of course. In addition to the top sides, all the flips were there as well. Toussaint had a penchant for funky instrumental cuts, which allowed him to show off his considerable keyboard skills. "Shimmy" and "The Toussaint Shuffle" were about the best – but "The Title Escapes Me" takes the award for the best name! Also included were McCall's personal take on a couple of standards like "Summertime" and a further trio of new numbers from his own pen. Of these the 12/8 slowie "All For A Love Like You" and the delicate soul of "Perhaps I Love You" just pip the lively "I'm Undecided".
McCall went touring on the back of his hit on a full time basis. At first he was unwilling to go outside the South. "We were making so much money in Louisiana and Texas I didn't see why we needed to go further." He recalled, "But finally I agreed to go on a nationwide bus trip.
We ended up doing the Apollo in New York with Otis Redding. He flew back down South to record, and I carried on the tour, and a couple of weeks later he died. Man that shook me up." Stan Lewis was keen to get further hits out of McCall and suggested he travel to Fame in Muscle Shoals to see if some of that magic would rub off on him. He had already arranged for other stars like Ted Taylor to travel to Alabama, and as with Taylor, used DJ Gene Kent as producer/overseer for the McCall sessions.
"Like Never Before", a tasteful Fame ballad with a string section, was chosen as McCall's fourth Ronn 45, coupled with the pounding "I'm Gonna Make Me A Woman" from the same stable. But despite McCall's hand in the production chores this didn't sell either so Lewis went back to his earlier Scotty Moore material for the next single, revitalising "All For A Love Like You" and "King For A Day", which had been omitted from the album for some reason. A mixture of a recent Fame tune, the bluesy "My Love Is A Guarantee" and an older Louisiana number, the dead stop "One Table Away" made up Ronn 26, and a similar combination of the uptempo MS cut "Baby You Got It" and the old war-horse "I Stand Accused" made up his final Ronn release. Sadly he just couldn't seem to get another big seller.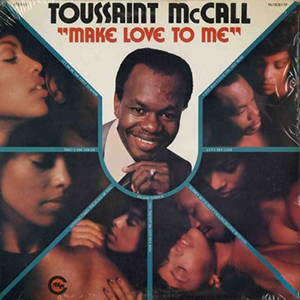 But that doesn't do justice to the overall standard of his recordings. This can be judged by the ones that never saw the light of day at the time. Several of the Fame recordings in particular deserved a better fate.

What Part Do I Play is a lovely minor-keyed ballad, and it's matched by the super chord structure of "In My Arms To Stay". His duet with Barbara West, is more than competent. But the pick of them has to be his splendid version of Joe Simon's smash

Let's Do It Over. McCall himself is rather regretful of his Alabama experience. "It was a real hit factory in those days. If you were ready and had the material and knew what you were doing you were bound to click. But I was too inexperienced really. I wasn't ready. Didn't really appreciate what I was doing. Success can never come too early but it was too sudden for me. If I could record there now, well, there'd be no stopping me!"
At the end of the 60s he moved to the West Coast, and signed for Dore. Sessions were recorded which produced a couple of tracks - "I Would Rather Have Nothing" and "Sweet Tea" - which were included on a 45. The former attempted with considerable success to capture the gentle innocence of his big hit. Some unissued Dore tracks have been revived by Ace UK recently including the mid paced tuneful "I'll Laugh Til I Cry" and his initial version of "From Saigon To San Francisco". "They were really an experiment to see if we could get along" he explained, and conclusions can be drawn from the fact that the single was a one-off. After that not very happy episode, all of McCall's recordings have been released on labels he's had a controlling interest in. "Make Love To Me Baby", the LP released on the McCowan label in the mid-70s is now a very rare collectible, but sadly it sounds like a standard LA recording from that city's soul conveyor belt apart from a lovely tender re-make of his big hit and a very tuneful

Slowly But Surely Fallling In Love With You.


Back home in Louisiana he recut "Nothing Takes The Place Of You" for his own Nu-Sound later in the decade, and then released the "Help Me Pick Up The Pieces" LP on LaSaint. Several of the cuts, including the title track were cut back in Louisiana, but sadly this set suffered from indifferent songs and some low fi production. The pick of a poor bunch was the subtle variation on his smash hit, here entitled "No One Takes The Place Of You" as on an earlier NU SOUND 45.
Undoubtedly the strangest, but most welcome feature of his career in the 80s was his appearance in the film "Hairspray" in 1988. Cult hero indie film-maker John Waters was a fan. "John loved my tune. It was his favourite song and he took a great deal of trouble to find me to ask if he could use it in his film. He said that he would use someone else to impersonate me but I said if you use my song you use me. At first he wouldn't because of my age, but I sent him a recent photo and he said OK I could play myself in the movie. John flew me down to Baltimore, and when I came to do my spot the atmosphere was magical, so silent. Everybody was so wrapped up in the song the sound guy forgot to turn on the tape! So we had to do a second take and that was fine." When the film was released it did very well, and McCall got several lucrative bookings on the back of it. "Man I wish I was in a movie every year" he laughed.
A further Christmas album appeared on LaSaint in the 90s and recently Toussaint has been recording again. "I'd like to redo some of the numbers on that McCowan LP and do them right," he told me, and all the fans who are searching for that rare piece would no doubt urge him on. This became Toussaint's 2010 set "For Lovers Only". He continues to earn his living from playing and singing either in the bars of LA or at private functions. But whatever he does in the future the world will never forget him, not as long as there's somebody with an aching heart saying to themselves "Nothing will take the place of you."
Discography

Nothing takes the place of you / Shimmy ~ RONN 3 (1967)
I'll do it for you / The Toussaint shuffle ~ RONN 9 (1967)
Step by step / The title escapes me ~ RONN 13 (1967)
Like never before / I'm gonna make me a woman ~ RONN 20 (1968)
King for a day / All for a love like you ~ RONN 23 (1968)
One table away / My love is a guarantee ~ RONN 26 (1968)
I stand accused / Baby you got it ~ RONN 31 (1969)
Sweet tea / I would rather have all of nothing ~ DORE 842 (1970)
Mary / Sweet tea ~ DORE 842 (1970) (Note ~ second issue)
Nothing takes the place of you ~ NU SOUND 102 (late 70s) (flip by BARBARA WEST)
Saigon to San Francisco / Inst ~ NU SOUND 102 (1980s)
No one takes the place of you / Nothing takes the place of you ~ NU SOUND 201 (1984)
Help me pick up the pieces / A girl like you ~ LA SAINT 018 (1989)
LPs

Nothing takes the place of you ~ RONN 7257 (1967)
Make love to me ~ McCOWAN 18361 (1976)
Help me pick up the pieces ~ LA SAINT 01 (1989)
For lovers only ~ LA SAINT (2010)
As TOUSSAINT & BARBARA

(Medley) Darling you send me ~ NU-SOUND 101 (late 70s) (Note ~ flip "Shimmy" by McCall and JIMMY WILLIAMS)
Speical thanks to Toussaint McCall for his time and patience and to my friend Marshall Adams for the excellent suggestion.