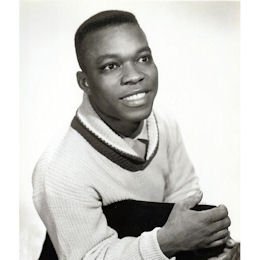 Ronnie Mitchell
Ronnie Mitchell was one of the finest singers to ply his trade in New York in the 60s. His wonderfully flexible baritone, chock full of gospel tricks and flourishes was a fantastic instrument. Too often however, in a career that produced over a dozen 45s, he was let down by poor material and indifferent productions so that he never garnered the success that his talents deserved.
His early 45s are more pop/rock 'n 'roll than soul but the gentle Brill Building ballad "You Don't Care (If I Cry)" with it's Latin tinge, the chugging "I'm Loving You More Every Day" and the teen sounding "Still Waters" are probably the picks of the bunch. The first of Mitchell's 45 that gets an inreserved recommendation is his sole Brunswick single. Both sides are strong midtempo songs with the bluesy

Come On Home To Me Baby being especially tasty.
But when he joined Laurie things picked up considerably.

I Don't Want To Go On Without You is one of greatest recordings – just maybe his very best ever. Mitchell puts his heart and soul into this superbly structured Bert Berns opus, so gritty and powerful that nobody could fail to be moved. A super arrangement helps. Although his subsequent 45s for Laurie couldn't match this "Laughter Happiness And Tears" is a strong Big Apple beat ballad. But he then joined writer/producer John Bennings who really brought out the best in him.

A Man Ain't No Stronger Than His Heart is the second Mitchell masterpiece. This lovely song is taken at a snail's pace putting a huge emphasis on Mitchell's timing and control and he passes the test with flying colours. From the merest whisper when he caresses the lyric to the big voiced climax he is just sensational. Yet again the main New York session men do a wonderful job to support him. Is this better than Hoagy Lands' version? That may be an impossible question. Of his other Spectrum releases "Love Is A Pleasure" is my favourite. A dramatic big beat ballad featuring another spine tingling vocal performance. The song seems to be too close to MOR territory to get this one a 5 star rating but it is still mighty fine.

Nobody Knows is a sensational piece of deep soul and is Mitchell's third great performance. He commands the song in a wonderfully heavy fashion, just check out his awesome way he gets behind the beat in the second verse, and the way he cranks up the emotion only to let it down again before hitting the heights as the song draws to a close. More kudos to Bennings and arranger George Butcher for a fantastic job.
I hope this brief run through Ronnie Mitchell's fine career will kindle interest in this first class singer. A leading UK reissue company had the rights to all of Mitchell's best work but I could never persuade them to put a CD out. A real shame.
UPDATE ~ Jukebox George writes with a very interesting theory:-

"Believe it or not, I think you missed Ronnie Mitchell's first 45...because it was under the name of Jimmy Mitchell.

Here's what my research found:

Ruppli's Atlantic Records discography Vol 1 pages 164-165 gives two entries for Jimmy Mitchell:
1/20/59 The Guy In The Glass; Anniversary Song; Reading Between The Lines
4/8/59 Maybe You'll Be There; Still Waters; I Only Live For Your Love [note: I might have this date confused with the "purchased" date.]
No personnel is given; Ruppli says "purchased 4/8/59".

Ruppli then mentions that these six tracks were renumbered in Atlantic vaults, and says:
Atlantic 2061 issued as by Ronnie Mitchell, Still Waters & Anniversary Song
RCA 47-7528 was released in 1959 by Jimmy Mitchell [with Hugo Winterhalter, prod. Charles Grean]: Reading Between The Lines b/w I Only Live For Your Love

Billboard Magazine May 18, 1959, page 45, reviewed two singles:
Jimmy Mitchell Mercury 71458 May I b/w Picture Yourself With Me
Jimmy Mitchell RCA 7528 I Can Only Live For Your Love b/w Reading Between The Lines

The reviewer wrote: "Mitchell has first etchings on different labels, and on both disks he impresses highly. On the Mercury waxing he scores nicely with fine readings of lovely ballads. The RCA Victor platter also has the chanter showing heartfelt readings of contagious ballads. Both records can break out, and the artist could be in the enviable position of having clicks for different diskeries."

Now, there was a Jimmy Mitchell who continued to record for Mercury; I believe five 45s, 71522, 71638, 71701, and the last in 1961 #71770 "Each Time We Kiss."

So let me give you my theory:
There were two different vocalists named Jimmy Mitchell: the one who cut 5 45s for Mercury, and the other one who was better known as Ronnie Mitchell but who really started as Jimmy Mitchell [if you believe Ruppli, and I do]. NOTE: I have not tried to compare vocals; that's a job for you or someone with access to the Mercury recordings, and someone who has such an impeccable ear for music and who can easily differentiate vocalists and instrumentalists. Just by chance the two Jimmy Mitchells released debut 45s at the first time, and got reviewed in Billboard in the same paragraph, so someone had to change a name, or disappear, or something.

Perhaps RCA gave up, so Jimmy/Ronnie's manager took the masters to Atlantic and suggested a different name. The Jimmy loved by Sir Shambling became Ronnie, but only for his performing name. Look at the Blue Cat 45, I'm Loving You More Every Day...written by none other than James Mitchell!"
Well it is quite persuasive and George is still researching it all out. Can anybody confirm this?
| | |
| --- | --- |
| | |
Discography
Still waters / Anniversary song ~ ATLANTIC 2061 (1960)
How many times / The only one ~ SEVILLE 108 (1960)
But are you sure / Boca Raton ~ SEVILLE 115 (1961)
You don't care (if I care) / More than my share ~ SEVILLE 116 (1961)
I dreamed I joined the choir / It's the talk of the town ~ COLUMBIAS 42336 (1962)
First man on the moon / Love walked in ~ VISTONE 2031 (1963)
I'm loving you more every day / Having a party ~ BLUE CAT 111 (1965)


Come on home to me baby / Darling you don't send me no more ~ BRUNSWICK 55308 (1966)
Lovers melody /

I don't want to go on without you ~ LAURIE 3395 (1967)
I'm having a party / Soul piano ~ LAURIE 3420 (1968)
Laughter happiness and tears / My kind of people ~ LAURIE 3436 (1968)
Back in business / Soul touch ~ SPECTRUM 102 (1968)


A man ain't no stronger than his heart / Hang loose ~ SPECTRUM 104 (1968)
Back in business / Loving is a pleasure ~ SPECTRUM 113 (1969)
Soul touch ~ POVERTY 103 (1969) (flip by AL GRANNUM)


Nobody knows / Soul meeting ~ HOUR GLASS 006 (1969)
Hang loose / Soul touch ~ HOUR GLASS 110 (1970)
Thanks to Martin Goggin for the suggestion and for the wonderful picture of Ronnie.