Cash McCall

Morris Dollison (aka Cash McCall) was a first rate guitarist, singer and prolific songwriter who was based in Chicago for the 60s even though he was born in Missouri. His work in the R & B tinged hard soul vein in the Windy City in all of his various fields was quite extraordinary and needs far better recognition that he has so far got.

He started out working with gospel quartets in the city around the turn of the 60s and only really got into the R & B scene courtesy of his introduction to the Leaner Brothers who ran the One-Derful label and its associates thanks to Otis Clay. The first product of this new contact was a funky little two part dance number "The Earth Worm" credited to Maurice Dollison & The Turnkeys. It didn't do much in sales but it was enough to get Dollison a paying gig with the Leaners as a session guitarist and writer.
And although he was still learning his trades Dollison, now calling himself Cash McCall did pen two beauties for Clay – the excellent "I'm Satisfied" and the superb enduring deep "That's How It Is" with his guide and mentor Milton Bland (aka Monk Higgins).

In '66 McCall moved to Eddie Thomas' eponymous label for a run of hard driving soul 45s that really cemented his reputation and his artistic persona. The first of these "When You Wake Up" was a big local hit thanks to its easy rocking beat so typical of mid 60s Chicago soul, the memorable melody and McCall's beautifully rendered vocal. Four more releases followed on but only "That Lucky Old Sun" went into the charts. But the flip was a far better song and

You Mean Everything To Me was deep soul perfection. McCall is throatily emotional and highly effective over a horn rich Chicago rhythm section. Bluesy tinges make this a track to listen to with great pleasure.
Higgins / Bland moved to Chess records in 1967 and McCall followed him there. By now he was a very accomplished songwriter and his client list read like a who's who of the Chicago scene. Little Milton reheated "You Mean Everything To Me" as well as the excellent "I'll Always Love You" and "Let Me Down Easy" which quickly became a staple of his stage show. Etta James recorded several of his songs, as did Maurice & Mac, Billy Stewart, Garland Green, Big Ella and Laura Lee whose "Love More Than Pride" remains a huge favourite. As far as his own recordings go he recorded regularly at Chess but only two Checker 45s were issued.

The first of these coupled

S O S with the hard, tough and bluesy "I'm In Danger". S O S was the original title of the superb deep soul track that Otis Clay cut as "That's How It Is" and in McCall's hands its another killer featuring his own soulful guitar licks and a really absorbing vocal. Simply unmissable. McCall's second release for Checker is another real winning double header with the easy paced "It's Not How Good You Make it" matched with a lovely piece of a tuneful ballad

We've Come A Long Way Together.
Cash's next 45 was for trumpeter / engineer Paul Serrano's new label PS – but the mixture of heavy R & B styled soul was much the same. "More Power To You" was further proof of McCall's ability to deliver quality hard soul. And the deep soul flip

I'll Always Love You with a string section was one of his very best vocal performances. And that 45 was the finish of McCall's Chicago career as he moved to the West Coast.

After a gap of a few years he returned to recording with an album which found a release on Louisiana record man Stan Lewis' Paula label. This first album Omega Man was sadly a big disappointment. At least as much a blues LP as a funk one, the quality of the material was poor and despite McCall's fine vocal contribution the production and the arrangements are flat and uninspiring.
His two Columbia 45s saw him reunited with some old colleagues from Chicago including Ben Wright and Charles Stepney but neither of them has the spark of his 60s work. The attempts to incorporate updated rhythm and arrangement to suit the newer disco and funk audiences were not very successful, with the ballad "Something About You" being the best of a poor bunch thanks to McCall putting a real edge into his vocals.

But McCall spent most of his time gigging around the West Coast and getting studio work for his guitar through the 70s as his interest in the pure blues grew stronger. His second album "No More Doggin'" from the early 80s was sadly as bad as his initial LP effort and I can't recommend it to anybody who values quality music.

Far better however was 1988's "Cash Up Front" which showed a real return to his 60s strengths – excellent songs really well performed. The whole set was among the best soul / blues sets of the period – excellent horns, tough rhythms and some excellent axe work from McCall himself. His vocals here are quite superb with songs of the standard of "Girlfriend Woman And Wife" and "Your Lovin' Don't Come Free" a perfect showcase for his talents.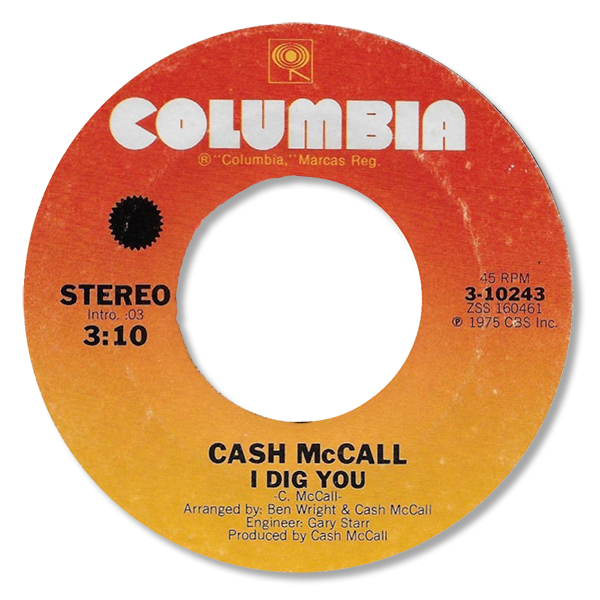 McCall's recordings since the year 2000 have been old style Chicago blues – and I don't think he sounds as comfortable in this environment as he did in the soul / blues style earlier on. "The Blues Experience" lacks anything to really set it apart from any other recent retro blues set unfortunately. "Going Back Home" has a lot more energy and a strong horn section which immediately lifts it up over his previous set. The main problem with the CD though is the number of covers, which include a version of Harold Burrage's immortal "Got To Find A Way" which only makes me want to play the original, Elmore James' superb "It Hurts Me Too", and GL Crocket's anthemic "It's A Man Down There".

But despite the recent activity, McCall's glory days were the 60s and his music from that decade will live forever – I hope!
Discography
As MAURICE DOLLISON & THE TURNKEYS

The earth worm / Pt 2 ~ M-Pac 7212 (1964)

As CASH MCCALL

When you wake up / You ain't too cool ~ THOMAS 307 (1966)
You can't take love / Let's get a thing going on ~ THOMAS 310 (1966)
That lucky old sun /

You mean everything to me ~ THOMAS 311 (1966)
It's wonderful to be in love / Let's try it over ~ THOMAS 312 (1967)


SOS / I'm in danger ~ CHECKER 1184 (1967)
It's not how good you make it /

We've come a long way together ~ CHECKER 1216 (1969)
More power to you /

I'll always love you ~ PS 501 (1969)
Stoop down / Stoop ~ RONN 76 (1974)
Junkie for your love / I need your love ~ PAULA 404 (1974)
I dig you / Shady lady ~ COLUMBIA 10243 (1975)
Love you forever / Something about you ~ COLUMBIA 10573 (1977)
LPs

Omega man ~ PAULA 2220 (1974)
No more doggin' ~ L & R 42.058 (1983)
Cash Up Front ~ STONE 1945-2 (1988)
CDs

The blues experience ~ DIXON LANDING MUSIC (2007)
Going back home ~ NOLA BLUE 007 (2018)
Note ~ There is another Cash McCall out there - a country singer - don't get fooled by this as I was by buying items like the 45 on Executive in the belief its a soul / blues 45.