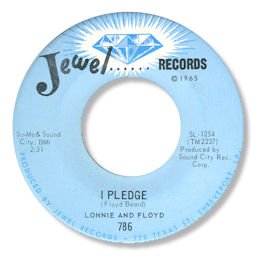 Lonnie & Floyd
Floyd Beard and Wister LeFlore appear to have had only two 45s released by Stan Lewis but both are very good southern soul, probably cut at Baton Rouge's Sound City Studios. Their uptempo pounding "What You Got" was the better side from their first single but the second disc was the top of the tree.

I Pledge starts with some lovely falsetto harmony from the guys and they follow this with some impassioned heavy gospel based vocals. The backing organ/guitar combination and spare horns is quality stuff too. Records like this obscurity shows just how large the pool of talent was in the south in the Golden Age.
Discography
What you got / You got to feel it ~ JEWEL 781 (1967)


I pledge / Whip it up baby ~ JEWEL 786 (1967)
Note ~ "I pledge" and "You got to feel it" can be found on the Westside CD "Soul Jewels Vol 2".