Neal Kimble
Enthusiasts love to make lists and categorise. So making a distinction between blues and soul is important here, but to black record buyers in the US in the 60s these were simply different aspects of the same music, and artists like for example Little Milton and Z Z Hill could move from one genre to the other quite freely. Neal (or at first Bobby) Kimble, who was born on 18 March 1934, walked a similar line on the West Coast, making several fine records in the 60s and early 70s.

I'm sorry we had to part is a splendid blues ballad very much in the Bobby Bland vein. The beautifully timed brass phrases and stinging lead guitar from cult figure Jiimy Nolen are both straight out of the Joe Scott book. And Kimble himself does a fine job of recreating Bland's gruff, throat-tearing delivery. I'm a sucker for music like this, emotionally charged minor keyed slowies. His 45s for Fat Fish are quite hard to find now but repay the effort. "A good fool is hard to find" is a thumping hard edged R & B stormer, and "You're flying high now baby" is a strong shuffle, both featuring Kimble's rasping, gritty vocals to good effect. The cream cut though is I have seniority which is a really first class deep ballad.
Kimble's cuts for Venture/Maverick aren't quite in the same league as his previous recordings but there are a couple of good cuts. "I've made a reservation" is a sweeter ballad than usual for the man, and his vocals are appropriately more restrained. The slow "I'm in love with you" has some merit, but the pick of this set is the bluesy deep

I consider myself lucky on which he goes full throttle. This is back in the best Bland-a-like style and it really makes the grade.
Ray Charles' Tangerine label had some wonderful 45s on it, and Kimble's don't disappoint. "If it wasn't for the children" is a strong uptempo cut, and "I've got to find myself somebody" is a hard edged R & B beater, totally out of time for 1973. His version of

Don't start lyin' to me is my favourite though. For while writer Percy Mayfield is all sophisticated urbane cool when he sings it, Kimble snarls away angrily. Lovely contrast in styles. His final 45 for Creative Producers features another fine cut in "Weak spot", which has an excellent horn chart, and a fine vocal performance.
UPDATE ~ I've now managed to get hold of Kimble's rarest 45 on Convoy. And what a beauty

I Can See Everybdoy's Baby (But I Can't See Mine) is - a scorching blues ballad full of regret and loss. The subdued guitarist is just right and the way the horns come in on the second verse really turns the screw as Kimble gets more and more impassioned. Wonderful! May just be his best ever cut. From 1967 - as the lyric tells us.
NEW UPDATE ~ John Smith has written to say that there is a cassette of material from Creative Producers including both sides of the 45 and these other Neal Kimble tracks - Baby Make Love To Me, Every Little Bit Hurts, Crazy Mixed Up World. Colin Dilnott has confirmed that the cassette was also released as a CD. Both John and Colin report that Clarence Paul (who owned the label) has 6 tracks on these releases and that Loretta Hendricks and Clyde Brown help on vocals. This exciting news was tempered by Colin Dilnott's report that Neal passed away on 11 March 2006.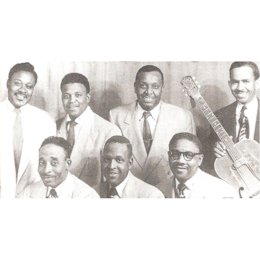 FURTHER UPDATE ~ Eric LeBlanc has kindly writen to confirm the sad news of Kimble's death on 11 December - not March - 2006. Eric adds that he was born on 18 March 1933 in New Orleans. I'm grateful to Eric for the new info.
YET ANOTHER UPDATE ~ My great friend Greg Burgess writes with some absolutely fascinating info. He says that "I was looking through the sleeve notes for a CD from 2002 - the label is called 504 and the CD is 'New Orleans Gospel Quartets'. 'I'm going to let it shine' was recorded onto an acetate in 1953 at the J& M recording studio (before Cosimo Matassa bought the place) and features Neal Kimble on lead as part of the New Orleans Chosen Five. There are two more tracks by NOCF but they don't feature him on lead.

According to the notes these are the only recordings to survive by this group who never made it to a commercial release. The notes say that that Kimble left New Orleans and sung lead with another gospel group in Oakland, CA called the Paramount Singers before going on to record at Venture and Tangerine so definitely the same guy. This explains why he disguise his name on his first secular records as he may have been in the Paramount Singers at the same time." The wonderful picture of the group shows Neal Kimble as the second figure from the left on the back row. Special thanks to Greg for all his efforts - what would I do without him?
ONE MORE UPDATE ~ I am delighted to have got my hands on the very rare "Repossess My Heart" (Venture 629) which does not figure in any of the label discographies for Venture. And even more pleased to be able to report that the track is another Kimble winner - one of those slow blues ballads that he did so well - full of his screaming, gruff vocals so emotionally compelling with his usual firghtening levels of intensity.

Discography
Stop right here I got love /

I'm sorry we had to part ~ JAB 1001 (as BOBBY KIMBLE)


I have seniority / A good fool is hard to find ~ FAT FISH 8004 (as BOBBY KIMBLE) (1966)
A good fool / You're flying high now baby ~ FAT FISH 8010 (as BOBBY KIMBLE) (1967)


I can see everybody's baby (but I can't see mine) / Inst ~ CONVOY 522 (as BOBBY KIMBLE) (1967)
Working out of your bag / You're flying high now baby ~ FAT FISH 8012 (1968)
Ain't it the truth / I've made a reservation (in my life for you) ~ VENTURE 607 (1968)
Repossess my heart / Same ~ VENTURE 629 (1969)
You sure got a funny way /

I consider myself lucky ~ VENTURE 631 (1969)
I'm in love with you / Better times are coming ~ MAVERICK 1012
If it wasn't for the children /

Don't start lyin' to me ~ TANGERINE 1021 (1972)
I've got to find myself somebody / Everybody's waiting on sometimes ~ TANGERINE 1030 (1973)
Weak spot / I'll take care of you ~ CREATIVE PRODUCERS 1001
Notes:-
1. "I have seniority" and "You're flying high now baby" are available on the ACE UK CD "LA Happening" (CDKEND 122) and the first of these is worth the price of the CD on it's own.
2. "Weak Spot " and the unissued "I Want To Thank You" are on the Japanese CD "Motor City Magic Vol 3" (P-Vine 5194).
Colin Dilnott (see Links) has also written about Neal Kimble in his excellent blog here and kindly supplied the picture. Thanks to Rod Dearlove (see Links) and John Smith for extra info and to my friend Michel for his eagle eyes.