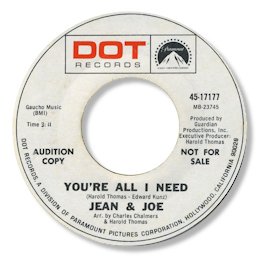 Jean & Joe
This fine duo had a couple of releases on Dot under the direction of the talented Harold Thomas, and both of them have a side that needs more publicity. Their initial single was cut in New York and

Yes Indeed is a love ballad of considerable merit, with both vocalists coming through loud and clear. Nice chord changes too. Their second 45 must be the amongst least celebrated of all of Charles Chalmers' Memphis arrangments.

You're All I Need is another well-constructed effort and the vocals are again right up my street. Note the fine horns and the expressive Chalmers tenor solo mid-way through.
UPDATE ~ The highly knowledgeable Davie Gordon writes to say that he thinks "Joe" may well be Joe Drake, whose 45s on Shamley and Kapp were both produced by Harold Thomas. That looks to be a very good piece of research to me. Always grateful to Davie for his info.
Discography
Don't shoot me down /

Yes indeed ~ DOT 17094 (1968)
Like you babe /

You're all I need ~ DOT 17177 (1968)
Note ~ Any info on Jean & Joe themselves would be very welcome.