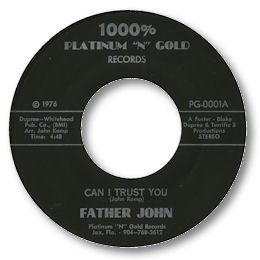 Father John
This terminally obscure 45 has a funk side, which - to these ears at least - is as tedious as the title suggests, and a fine deep side that is much more to my taste.

Can I Trust You is a melodic tune sung with power and passion by Father John Kemp with only a rhythm section for company. But as he gets into the lyric and really cuts loose he has more than enough grit and determination to carry it through without the need for a horn section.
The 45 comes from Jax, FL – an astonishing piece of music for the height of the disco boom.
Discography

Can I trust you / Do the Father John ~ 1000% PLATINUM 'N' GOLD 0001 (1976)