Roy Hines
Virginia singer Roy Hines spent most of his life as a resident of Newport News and was a mainstay of the Shag and Beach scenes of his native state and south into the Carolinas. He sang with many of the blue eyed soul bands that thronged the area in the 60s from the Cobanas, the Pop Tops and Bill Deal & The Rhondells (for whom he fronted the "Sock It To You 12 Times" LP in 1968) at gigs and supporting bigger soul stars who toured the area. He even had his own group Roy Hines & The Sound Machine for a while. But his recorded legacy simply doesn't do this fine vocalist anything like justice.

Hines recorded his own

I Can Live with the Cobanas for the even tiny Tidewater Solitaire concern in 1963. This rare piece pf deep soul magic has long been a favourite sound for deep fans and is long overdue to appear on these pages. I just love this sound – super guitar figures, a big horn section and a gospel based singer giving his all – what more could anybody want?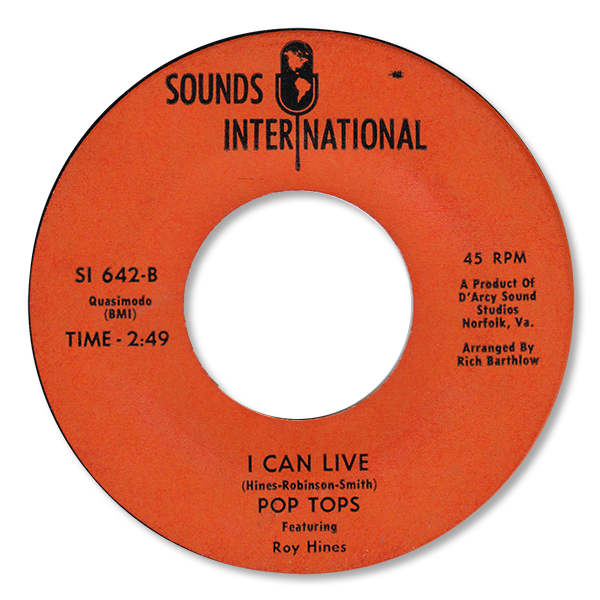 Roy recut the side (

I Can Live) with the Pop Tops for the small local Sounds International label in 1968/9 and another superb piece of deep soul was created. It is fair to say that this version is more polished and better produced but this doesn't diminish the impact of the song – or indeed of Hines' full throttle delivery. This 45 was picked up for national distribution by Cotillion who changed the name of the group to the Royal Collection and omitted Hines' name completely. Rather sad.

And that was it for Roy's recording history until the mid 70s when he recorded an answer song "I Can't Live". Polydor wre interested but nothing came of it until Arcania included the number on one of their Ol' Virginia Soul series of CDs. Sadly this song is a rather mediocre toe tapper not having any of the power or finesse of the first 45. A shame.
Roy Hines passed away on November 19 2009.
Discography
ROY HINES & THE COBANAS


I can live / We have love ~ SOLITAIRE 1001 (1963)

POP TOPS f/ROY HINES
I want to make it with you /

I can live ~ SOUNDS INTERNATIONAL 642 (1968/9)

As ROYAL COLLECTION
I want to make it with you /

I can live ~ COTILLION 44050 (1969)