Margie Hendrix by Tom de Jong
A small crowd of soul aficionados knows Margie Hendrix (sometimes spelled as "Hendricks") as a superb singer. Only after the movie "Ray", in which Regina King played her role in a soulful and convincing manner, the general audience learned about Margie's life and work. In the movie we see her start off as a group member of the girl group the Cookies. The Cookies became the regular backup group of Ray Charles' Atlantic hits of the early sixties and under Margie's leadership the first Raelettes were formed. She combined small-stature with a big-voice in the tradition of the R&B singers Etta James, Big Maybelle, Ruth Brown and Lavern Baker. She is the reply voice to Ray Charles in songs like "The right track", "Tell the truth" and especially "Hit the road Jack".

As the movie details, Margie had a long-lasting affair with Ray and in 1959 their son Charles Wayne was born. With Ray hooked on heroin and Margie keen on bottles of Bols this was a volatile partnership and there was a big
argument around 1964. Ray Charles moved to Los Angeles and switched from Atlantic to the major label ABC. He was quite successful in the pop market with "Georgia on my mind" and his modern sounds in country and western. Margie pursued a solo career. In the movie Ray has a party at his house when he is informed of her untimely death from a drug overdose. The year is 1973.
Margie Hendrix still shines on Youtube videos of Ray Charles' early concerts where she is the most prominent Raelette, who is usually telling him to "hit the road" or words of a similar tenor. But apart from that there is very little information available on her, even in these days of internet and Google. Regina King commented in an interview, that there wasn't much information for her to go on when preparing for the role. The assessment in the movie that Margie Hendrix was a main factor in Ray's early career and personal life is probably correct and fits in with Ray's own comments in his autobiography "Brother Ray". He speaks of her fondly and respectfully. Nevertheless not all details in the movie are necessarily the stone truth and the picture we get is far from complete. For instance, Ray acknowledged twelve children that he had with ten different wives. Here I will detail Margie's solo recordings.
Margie was born 13 March 1935 in a small town called Register, which is near Statesboro (Georgia). She sang, played piano and directed the local church choir. She must have been around 18 when she moved north to Brooklyn, NY. Margie's first solo recording was in 1954 on the NY Lamp/ Aladdin label. Typical fifties R&B, no better or worse than other recordings from the same period but without an original twist. She joins the Cookies, who became the Raelettes in 1958. A second line up of the Cookies emerged in 1961 and scored some hits ("Chains") with material written by Carole King and Gerry Goffin. By that time Margie Hendrix had long left and was busy touring as Raelette with Ray Charles. The second 45 came out on Tangerine. Ray Charles set up this label in LA after signing with ABC. The release is by Margie Hendrix and the Vocals. These Vocals had one other TRC 45 and later went on to form Friends of Distinction. "Let no one hold you" is a nice dance record with flavors from the fifties, it reminds me of the Five Royales.

A lover's blues is slow with the familiar call and answer structure of the Ray Charles songs of that time, now with Margie belting it out as lead singer. "A lover's blues" has a bitter side, Margie's lead, and a sweet side when the chorus repeats the comforting "It's all right". Of course, Ray Charles is on piano. Two years later the new Raelettes with Merry Clayton on lead released their version of "A lover's blues" on TRC 976.
Mercury released five 45s. The first Mercury 45 was recorded in New York with orchestral arrangements by Teacho Wiltshire. "Packin'" moves at 100 mph speed and clocks in under 2 minutes, I am no expert but it sounds as almost too fast for dancing.

Baby starts off with a bluesy guitar after which Margie shouts, in a rather intimidating, even angry way. While the new Raelettes were heading for a softer touch and smoother sound, Margie was going in the opposite direction. The second Mercury 45 was recorded in Chicago with involvement of Burgess Gardner and Andre Williams. "I found my love" is an excellent cover of the Falcons' original with Margie in top shape. The other side is a bluesy arrangement that does not sound too original to my ears.

In 1967 Margie travels to Memphis where the next three Mercury 45s are recorded with orchestral arrangements by bandleader and producer Gene "Bowlegs" Miller. Miller was long active as a session musician (Memphis horns) in both the Hi and Goldwax studios. Production credits go to Boo Frazier (later at the Today/ Perception label) and country cat Roy Dea. The pair is best known for their production of the "Chuck Berry in Memphis" album that Mercury also released in 1967. Margie's Memphis sessions go quite well.

The question, written by Jimmy McCracklin, has a nice build up. With "Tramp" Margie is entering Otis Redding territory and this is as enjoyable as Otis' duet with
Carla Thomas. After hearing the first few bars of the Memphis Horns on Restless you expect Otis to fill in. Margie fully lives up to expectations though. Sweet soul music does not get much better than this. "On the right track" is again uptempo, great band, great voice, she wás on the right track.

The third Memphis 45 "One room paradise" is another cracker. This is so much better and gutsier than the better known version that the new Raelettes released on TRC a year earlier.

Don't take your good thing has Margie shouting over the top of her voice again over a midtempo backing from Memphis top musicians. A haunting track that sends chills up my spine. This is by far Margie's rarest 45 which may indicate that Mercury executives were ready to pull the plug. No information on studios available but for "On the right track", "The question" and "Tramp" Lynn-Lou or Sam Phillips' studio is our best bet. "Restless" and "One room paradise" must be recorded at American. Roger Hawkins on drums in "Don't take your good thing" suggests a Fame recording. There is another unissued Mercury recording, consisting of a reworking of Ray Charles'

Tell the truth and the midtempo "Leave me if you want to" which were probably also recorded in Memphis.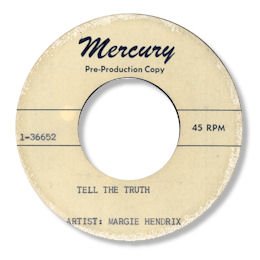 In 1968 Margie recorded again in Memphis, now in the American studios with Bergen White producing. "Don't destroy me" is a pleasant midtempo song, "Jim Dandy" is an unexciting cover of Lavern Baker's R&B tune.

Somebody else is gonna plough your field has self-conscious lyrics and fits in well with the other outstanding tracks on the Sound Stage 7 label. The other side "I've got mama's recipe" follows the same path. These tracks were both issued in Europe (French and German sleeves are pictured here), probably on the strength of sales of Joe Simon's Monument 45s. I doubt they sold many copies.

Do right baby is most similar to the work of the other SS7 ladies like Ann Sexton and Ella Washington, it fits nicely on the Charly reissue LP "Southern soul sisters" but was never issued on a 45.

R&B from the early sixties is quite hot today and when I play one of Margie's records the response is always: "Great stuff, what is it?". Her rarest 45 "One room paradise" lists at 150 British pounds, well over $200, in a price guide. It is beyond me that none of these 45s ever charted. Margie signed with a major label and the Ray Charles connection should have yielded some exposure. Whatever the reason, the lack of commercial success has nothing to do with the quality of her recordings. The quality was outstanding. Or as Ray Charles put it in a song: "My little Margie. After all is said and done there is really only one and that's Margie, Margie it's you."
| | |
| --- | --- |
| | |
Discography
Everything / Good treatment ~ LAMP 8002 (1954)
Let no one hold you /

A lover's blues ~ TANGERINE 940 (1964) (with the Vocals)


Baby / Packin' up ~ MERCURY 72420 (1965)
Now the hurt's on you / I found my love ~ MERCURY 72484 (1965)


The question / I call you lover but you ain't nothing but a tramp ~ MERCURY 72673 (1967)
Restless / On the right track ~ MERCURY 72701 (1967)
One room paradise /

Don't take your good thing ~ MERCURY 72734 (1967)


Tell the truth / Leave me if you want to ~ MERCURY 1-36653 (unissued)
Don't destroy me / Jim Dandy ~ SOUND STAGE 7 2624 (1968)
I've got your mama's recipe /

Somebody else is gonna plough your field ~ SOUND STAGE 7 2631 / MONUMENT 680025 (1969)


Do right baby ~ SOUND STAGE 7, unissued at the time, but included on Charly UK LP CRB 1155 "Southern Soul Sisters" from 1987
Note ~ Only solo 45s listed.
Notes ~
1. The first Lamp recording can be heard on the Gold Dust 2001 CD "The Lamp records story Vol.1" from 1994.
All four SS7 recordings are featured on the Charly comp CRB 1155 "Southern soul sisters" but only "Don't destroy me" and "Mama's recipe" made it to the Charly CD Box The Sound Stage 7 story.
2. Tom's sources for this page include Joel Dufour The Raelettes (Soul Bag 178) and Ray Charles & David Ritz "Brother Ray" (1979) published by Macdonald and Jane's.
3. The Dutch Artone picture sleeve is included here because Margie is pictured on the left. However, she is not singing on that record, which is identical to the Raelettes release on TRC 972 with Merry Clayton on lead.