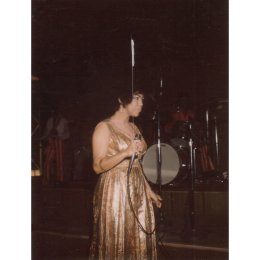 Gina Hill
Although this very fine two sider came out twice neither release made any waves – but it should be far better known.

Help Me Solve This Problem is a bouncy little ballad with some memorable horn charts, but the real gem is the deep

Rich Man's Toy. Gina sings this sad tale of boyfriend trouble with eloquence and energy and the organ playing is right on the money, as is the big fat horn section. Another winner from Georgia – but I don't know of any other discs by Gina Hill.
UPDATE ~ Brian Poust (see Links) writes that "It is extremely likely that the picture was taken at the old Playboy Club in downtown Atlanta during the early 1970s. Gina was a regular performer there at the time. What I'm less certain of is the band behind her. The band who backed her on the 45 was Hellaphenalia (who became Brick)."
Discography

Rich man's toy /

Help me solve this problem JILL 001 / LOU-NEITA 215
I'm grateful to Brain Poust for the wonderful pictue and the extra info.