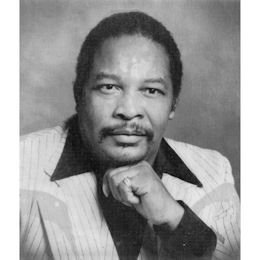 Don Hollinger
One of the best of the hoarse voiced southern soul singers, Don Hollinger didn't have a large number of records issued, but every one has something to commend it and a couple are out and out masterpieces. He was born September 7,1937 in Blakely, GA, but started his singing in church in Newark, NJ as a young boy where he was mainly brought up. Graduating to semi-pro status he may have sung with the Heavenly Lights, a group that also included Nappy Brown and Roy Hamilton at various times. There are rumours that he sang lead on the groups only Savoy 45 "Lord I'm In Your Hands" in 1954 but aurally it doesn't seem to be him. He also toured with Jimmy Outler's Sensational Six before moving to Florida where he was encouraged to go secular by Sam Cooke, and where all his solo recordings were cut.
His first 45 for the tiny Kelane concern showed that he'd spent a considerable time listening to R & B as well as gospel as it was a straight ahead down home 12 bar blues. And of course his astonishingly grainy voice was ideally suited to the material. "I Had A Nightmare" continued that style, even including a blues harp in the instrumental line-up. His next release is the first of the great ones.

Until I Found You is a monumental piece of deep soul emoting from Hollinger, his voice cracking with the strain as he ploughs his way through the back drop of guitar and horns.

Let Him Go is almost in the same league, another dead stop ballad with a classic southern soul arrangement of arpeggio guitar and a big prominent horn section.
He joined Miami's leading record man Henry Stone in 1972 cutting a session which resulted in 2 now very rare 45s for Dash. Although his version of BB King's old warhorse "Rock Me Baby" isn't up to much, the other sides which came out are of the highest possible quality.

I Found Out is a slow, chugging southern groover of immense power, with Hollinger totally convincing as the wronged man. Can't get enough of those horns either!

You Got Everything I Need, an outstanding deep song features another astonishing vocal performance. They really don't come much better than this.
Hollinger's final 45 is the celebrated "Love On The Phone", spread over both sides of the 45 and featuring a lengthy rap. But by this time his usual style of singing was completely unfashionable, and he adopts a smooth approach, and in doing so, sadly loses all his individuality. Listening blind, you'd never guess it was the same guy as cut "Until I Found You". Naturally it was his best seller.
Don Hollinger didn't make much money – if any at all – from his recordings, but made his living touring and as a songwriter. In the 70s he spent time with Swamp Dogg, writing for the likes of ZZ Hill and gigging with the likes of Doris Duke, as well as working with Betty Wright's then husband King Sporty in Miami and around the Caribbean. Heart trouble stopped him working through most of the 70s and eventually caused his death in the next decade. We're left with some wonderful music to celebrate his talent.
UPDATE ~ The wonderful - and rare - photo of Don was sent to me by my great friend Greg Burgess. Don's neice Mrs. Jamilyn Lamarshia Mallard sent it to him - I'm very grateful to both of them. Mr Mallard also says that Billy Wright the blues singer was a cousin of Don's. Johnny Taylor, Bobby "Blue" Bland (he was a close friend of Don's) and John Edwards formally from The Spinners also worked with Don as well. Finally he says that Don sadly passed away in 1992.
Mrs Mallard has kindly been in touch again to make a few corrections in the paragraph above (thank you Jamilyn!) and to say "I am also an established R&B singer and my artist name is "Lady J" I have done American Idol Seasons 4 and 9 and also have been working with many professionals in the business. My great grandmother was Anna Drinkard...Therefore Cissy Houston, Whitney and Dionne Warwick are my cousins as well." What a musical family indeed!
NEW UPDATE ~ Bob Eagle writes to say that "His name was Delton Hollinger and he died in Miami on 27 June 1991". I'm grateful to Bob for taking the time and trouble to send me this excellent info.
Discography
Wild side of life / Inst ~ KELANE 691/KAPP 616 (1964)
I had a nightmare / Where the young folks go ~ JATO 7000 (1966)


Until I find you / Cruel world ~ ATCO 6492 (1967)
I've been hit by love /

Let him go ~ ALBERTA 2401/MERCEDE 3004 (1970)


You got everything I need /

I found out ~ DASH 5008 (1973)
Rock me baby / You got everything I need ~ DASH 5015 (1974)
Love on the phone / Rap ~ RED ROOSTER 005/RED ROOSTER 2204 (12") (1981)
Note 1: The Kapp 45 features Hollinger on one side only and on one issue of the record only. The other side is by Geroge E Lee "Don't Let Him In".
Note 2: The version of "You Got Everything I Need" on Dash 5015 is slightly remixed from the first Dash release.
Note 3 ~ Matt Futerman writes to say that "I Had A Nightmare" is on the excellent compilation Bluesbeat CD "All Tore Up".
Thanks to Marc and Matt Starr (see Links) for extra infoand to Matt Futerman for the CD info.