R L Griffin
For almost 50 years now R L Griffin has been the mainstay of R & B in Dallas. But because his career has been based pretty much in the city and its environs he has never had the commercial or critical success that his music has deserved. Raymond Lewis Griffin was born in Kilgore, TX and learned music in High School, first as a drummer than as a singer. He formed his first band, the Fabulous Corvettes, who played the hits of the day, and who went with him into the studio when R L made his initial recording.
They went to the newly opened Robin Hood studio in Tyler, TX where the owner Robin Brian cut the session. Brian released two sides on his own RBE label, on one of which, "Goodbye Baby", Griffin was the vocalist. This uptempo blues shuffle featured an obviously young man whose tenor range had more than enough "edge" to it to satisfy. Pretty soon after this he moved to Dallas at the request of Big Bo Thomas who wanted him to front his band, the Arrows, at their regular gigs at the Empire Room. Griffin stayed with Thomas for about 8 years opening for every big star who came to town.
Thomas was the king of Dallas at the time and the Arrows were red hot. He started his own Gay Shel label and naturally the first artist to appear on it was Griffin. The storming "If I Didn't Know Better" has only recently been recognised as a dance floor killer but the disc's rarity has meant that it is only available to a handful of people. I much prefer his remake for R & R thanks to Griffin's unashamed Joe Tex impersonation.
Griffin's second 45 for Thomas had a fine strong blues ballad side in "Nobody Cares" and this format was also used on his third Gay Shel release

I'll Follow You on which he gave his best vocal performance to date. Super organ playing too. The dance side "The Ting-A-Ling" gave rise to his first nickname – it was given to him by the notorious Jack Ruby at whose club The Red Jacket R L was a regular attraction. Griffin's final 45 in the 60s was the fine uptempo "Believe In Me".
He opened the 70s recording for Fats Washington, whose Ride label followed him on his constant travels around the South and through California. All four of the songs that Griffin cut for him are good – "If I Didn't Know Better" is the same as the R & R 45 – but my favourite is the downbeat ballad

Give Your Heart. I just love his high tenor wailing on this one. After the Ride singles it was back to even smaller labels, often owned by R L himself, but the quality of the music in that decade just seemed to get better and better.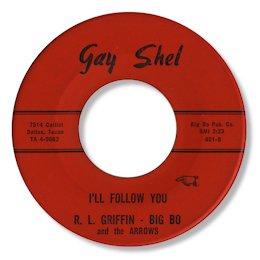 First up was a nicely swaying version of Sam Cooke's "Send Me Some Lovin'" but better than this was his first version of a song that was to become a staple of his shows

It Don't Have To Be This Way. This tuneful ballad features some fine guitar licks, a tasteful female chorus and some lovely soulful phrasing from Griffin. A very fine track indeed. At the end of the decade R L went with Al TNT Braggs, another Dallas resident who had spent much of the 60s as Bobby Bland's opener, in addition to making several fine Peacock 45s under his own name. But with artists like Charlie Roberson and Little Joe Blue, Braggs showed that he was a first rate R & B writer/producer as well as an all round entertainer, and R L was a key part of this purple patch.
Sessions were held at Platinum City in 1979 and the results formed R L's first album, a cassette only release on his own GalaxC concern. Fortunately for everybody outside Dallas the tracks were also picked up by Garry Cape and included on his Black Grape CD "It Don't Have To Be This Way", the first time that Griffin had had a release outside the Metroplex area. And the standard of the cuts is uniformly high. The covers of Bland's "I Smell Trouble" and Feddie Scott's immortal "Are You Lonely For Me Baby" were well judged, and his version of

A Woman A Lover And A Friend was one of the best deep soul tracks recorded in the year. But the standout tracks were undoubtedly the ones written by Braggs himself. The bluesoul ballad "I Don't Think I'm Gonna Make It" was straight out of the Duke/Peacock songbook of the previous decade and

Bringing My Love Down was even better. This sensational deep soul piece was simply awesome, a chugging, sensual hymn to the carnal pleasures sung with real grit and some super wailing screams by Griffin.
In the 80s Griffin made a couple of fine tracks under the guidance of Andrew "Junior Boy" Jones, especially the cover of Bland's evergreen "Cry Cry Cry" but later on and into the 90s the bands got smaller, the horns became synths, and despite Griffin's continuing excellent vocals the magic disappeared sadly. But He was always first and foremost a live performer and he capitalised on this by opening his own club The Blues Alley in 1987, which he now calls the Blues Palace, and which rapidly became the best place in Dallas to hear real soul and blues. Griffin has also branched out into DJ work, hosting a blues show on KKDA on Saturday night.
The world is a little bit better place for R L's dedication to his craft – not just via the thousands who have enjoyed his shows but for the many others who have loved the music from other R & B singers whose careers he has helped to foster. Long may the Right Reverend of the Blues flourish!
| | |
| --- | --- |
| | |
Discography
Goodbye baby / Stagger Lee ~ RBE 104 (1963) (flip is the Fabulous Corvettes only)
If I didn't know better / I've got to go on ~ GAY SHEL 201 (1963/4)
Give yourself another chance / Nobody cares ~ GAY SHEL 203 (1963/4)
The ting-a-ling /

I'll follow you ~ GAY SHEL 401 (1963/4)
Believe in me / Grandma's chicken ~ R&P 7249 (mid 60s?)
Plaything /

Give your heart ~ RIDE 8261 (1971)
If I didn't know better / My gal ~ RIDE 10163 (1970s)
Send me some lovin' / If I didn't know better ~ R&R 5212 (early 1970s)


It don't have to be this way / Got me doing the disco ~ R&R 94-55 (mid 70s)
It don't have to be this way / Put it right there ~ CLASSIC 0003 / 1004 (1979)
There is something on your mind / I smell trouble ~ CLASSIC 0002 (1979)
I don't think I'm gonna make it / Are you lonely for me baby ~ CLASSIC 001
Just the one I been looking for / Heaven help the blind man ~ GALEXC 12688


You're bringing my love down (Bringing my love down) / I wanna be rich ~ GALEXC 12690
You gotta be foolin' / Cry cry cry ~ GALEXC 101648

LPs

I wanna be rich ~ GALEXC CASETTE 101649 (1980?)
It don't have to be this way ~ BLACK GRAPE CDBGCD 103 (1983)
Too hot to stop CD (1999)
Step ~ BLUES PALACE CD (2001)
Special thanks to Garry Cape.