Artie Golden
I would assume that Artie Golden – who's real name was Arthur Eugene Camp – must have come from the Louisiana border with East Texas. His first release for Dodge has a Ferriday, LA address – a town most associated with that wild man Jerry Lee Lewis – but was recorded in Houston like most of his output. "If I Could See My Baby" is rocking R & B while the flip

Goodbye My Love is a gentle Louisiana ballad, a sort of cross between doo wop and swamp pop. Golden gets writers credits along with LaCharles Harper who was very active in the Houston R & B scene in the 50s and 60s.
I've seen Artie's Dart 45 described as "rockabilly" but that term is highly inaccurate. Both sides are straight from the Jay Miller Crowley school of blues but were again written by Harper and recorded in Texas. But Golden's third effort produced his first really top class side in

Advice. This fine blues ballad was produced by pianist Big Walter Price and features some tasteful guitar and steady horns, over which Golden's heartfelt vocal sounds just right. The flip is more good time R & B about a domestic shoot out.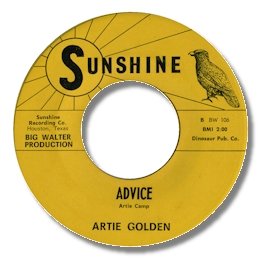 I'd put Artie's own GP release next chronologically and his humorous blues "Mama's Baby" must have predated the more famous take on the same by Swamp Dogg by a good few years. The other side has a very good ballad called "Time" that has a charming simplicity to it thanks to the chord structure and very "open" small band accompaniment. Quite touching.

The odd 45 out from Golden's career was the one on Bill "Bunky" Sheppard's own label based in Chicago. It's possible this was actually cut in the Windy City, but it doesn't sound like that to me. More likely it was cut in the south and found its way northwards. The Northern gang like the rather messy "Bad Habits" but flip it over and you get a heartrending "Soul Of Vietnam" ballad called

I'll Be Home.
Golden's final 45 for Pappy Dailey's D label was pure country honky-tonk.
The Houston Chronicle carried a notice of Arthur Camp's passing on April 29 2000.
Discography
If I could see my baby /

Goodbye my love ~ DODGE 801 (1961)
Give me a little more time / Someday baby ~ DART 149 (1962?)
Look out /

Advice SUNSHINE 106 (1963)
Mama's baby / Time ~ GP 001 (mid 60s?)


I'll be home / Bad habits ~ BUNKY 7758 (1968)
Have faith in what you do / The morning had to come ~ D 1303 (early 70s)