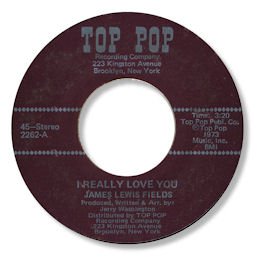 James Lewis Fields
Although the rather lame funk of "How Long Shall I Wait" has garnered some fans on that dance scene, I would much rather go for the ballad flip.

I Really Love You shows off Fields musical tones to far greater effect for a start, and despite it's obvious musical references to "Let's Get It On" it has a much stronger tune and far better arrangement than the other side. The male chorus and muted horns are tastefully done as well but it really is all about Fields delivery. And with his gritty approach and great falsetto whoops he brings it off very well indeed.
Top Pop was owned by Jerry Washington whose smash hit "Right Here Is Where You Belong" first appeared on the label.
Discography
How long shall I wait /

I really love you ~ TOP POP 2622 (1973)