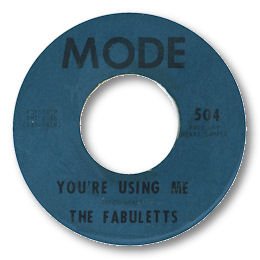 Fabuletts
This isn't the Florida girl group that featured a young Annette Snell but Crescent City vocalists with a very similar name.

You're Using Me is a splendid deep cry of pain over a classic 60s New Orleans slow rhythm and great horns. I particularly like the way a second voice comes in behind the lead – real churchy. Production is by Henry "Hank" Sample local DJ and sometime singer who may just have co-owned the label with Senator and Raymond Jones. It sounds like an uncredited Wardell arrangement.
Discography
If it wasn't for the girls / On the Mardi Gras ~ LOCAL 807 (1964)


You're using me / Can't stay away ~ MODE 504 (1967)

Note ~ Both sides of this 45 can be found on the Funky Delicacies CD "Wardell Quezergue Sixty Smokin' Soul Senders" but as always beware of the appalling sound quality from that source.
Thanks to Bob McGrath for the info on the Local release.