John Edwards

The excellent soul singer John Edwards, who came from St Louis, was one of the very best to emerge into the spotlight in the 1970s. His Sam Cooke influenced tone and phrasing were supplemented by some astonishing falsetto bursts and some Pickett like musical screams. And even if the material or arrangements weren't quite up to scratch you could always marvel at Edwards' top notch vocals – ever the sign of a high calibre artist.
Writer Rob Bowman has identified, correctly in my view, that Edwards superbly hard hitting funky little toe tapper One More Time (To Give Me A Heartache) was recorded at the Stax studios – but he doesn't seem to be aware that it was released on the tiny Chicago Twin Stacks label. The flip, the weaker "Lonely Life" has certain similarities in sound (particularly the upfront congas) to "One More Time" and I'm pretty sure this was recorded at the same Memphis session. The producers were Bob Weaver and Joshie Jo Armstead who were also responsible for Edwards' previous two 45s on Weis.
So the question is – were any of the tracks on the earlier discs cut in Tennessee? There are some very fine Edwards moments on the regretful ballad "My Pride Won't Let Me" which shouldn't be overlooked. But I think there is every likelihood that the second Weis single was a Memphis job. The flip is "Lonely Life" which was on the Twin Stacks 45 as well and the top side

There'll Never Be Another Woman, a wonderful blindingly deep ballad with a perfect emotionally wracked performance by Edwards, has a lot of similarities to the other Stax recordings. In any event this is a key John Edwards record that should be in the collection of every real soul fan.
Edwards' Stax sessions also bring into play the location of his famous Bell 45. Producer Floyd Smith recorded the superb version of Prince Phillip Mitchell's achingly constructed ballad

It's Those Little Things That Count in Muscle Shoals where Mitchell was working but the location of the more famous "The Look On Your Face" is usually given as Chicago. But surely that's the same sticks man and horn section as for the ballad? So I would think that "Face" was also an Alabama cut.

In any event when Edwards and producer Smith joined Michael Thevis' Aware concern in 1974 he had access to writers of the calibre of Jimmy Lewis, Frank Johnson and Sam Dees and became joined to some really important southern soulmen like Bill Brandon and C L Blast – and of course it is to his credit that not only did he fit right in but more than held his own in that sort of exalted company.
The first Aware 45 featured the fine Dees funk title "Stop This Merry Go Round" which gave Edwards his first R & B chart placing. The flip was the sublime deep soul of

You Were Made For Love which was first cut by the outstanding James Phelps. But even in his company Edwards' thrilling rendition isn't out classed – love that little rap in the middle and his run out groove falsetto shrieks and screams. One to listen to time and again.

Like all Edwards' Aware tracks the 45s say that the tracks were cut at the Sound Pit in Atlanta. The follow up to "Merry Go Round" was another melodic number, "Messing Up A Good Thing" from the pens of Frank O, Terry Woodford and Clayton Ivey. I like this track very much thanks to another high voltage Edwards performance. The funk flip "Claim Jumpin'" was further evidence that Edwards was as impressive on uptempo funk tunes as he was on the deepest of ballads.
This track was reprised on Edwards next release, topped by that excellent Jimmy Lewis humorous cautionary tale of "Careful Man". This was succeeded by the brilliance of the Dees / F Knight slowie

I'll Be Your Puppet – one of the best tracks of 1974 and no mistake. The flip "Vanishing Love" was a Philly styled beater of considerable impact which predates Edwards' temporary stint with the Spinners as Phillipe Wynne fell ill the following year.

These 45 tracks were collected together on Edwards' first album "Careful Man" – and thanks to the excellent consistency of the material in conjunction with his always class vocals meant that the set was one of the best LPs of the 70s. As he left for his substitute appearances with the Spinners, Aware released a final single before they fell apart.

Exercise My Love was another killer ballad on which Edwards managed to raise the emotional temperature once again. A reprise of "You Were Made For Love" made this single a perfect send off for this period on Edwards' career.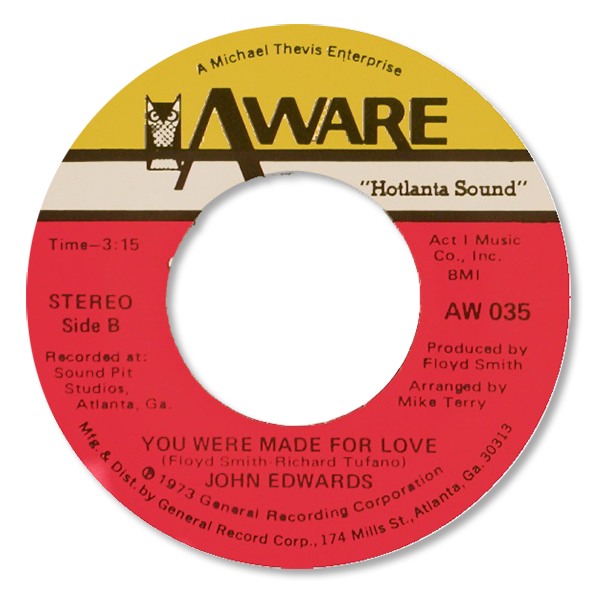 And that was thought to be all the Aware material he cut, but thanks to Ace UK's thorough examination of the tapes from the label, the tracks meant for a second Aware LP were made available via their "Careful Man" CD compilation from 1996. These were cut after Edwards returned from his intial year long stint with Spinners, filling in while Phillipe Wynne was ill. Not surprisingly there are a couple of Spinners sounding songs, the delicate "Everybody Deserves A Second Chance" being a personal favourite, and an overblown version of "The Way We Were" that was a live performance showstopper.

But there are several other good things here such as Edwards cut of the lively "How Can I Make It Without You" best known for the version by Cicero Blake, and the fiery dancer "Time". Phillip Mitchell's "Cold Hearted Woman" brings out the best of Edwards' voice but it is the deep ballad

I Had A Love from the pens of Ashford and Simpson that is the real killer on display.
He returned from the Spinners after a stint of about a year's duration, Edwards signed for Cotillion whose parent company Atlantic released all the Spinners 70s material. He recorded in several top quality studios in the South such as Malaco, Ardent and Muscle Shoals Sound under the direction of producer David Porter. The first fruits of this new partnership were

Baby Hold On To Me, a deep soul ballad of real class – a very rare occurrence in the disco desert of 1976. The lively MSS sound of "Key To My Life" made for an excellent pairing which saw Edwards back in the charts.

The second 45 from Cotillion coupled a pair of Christmas songs back to back. I bow to nobody in my dislike of Christmas ditties and "White Christmas" was predictably awful but

The Christmas Song was a really well arranged sanctified extravaganza – and needs to be much better appreciated – even by Edwards devotees.
Edwards' third and final Cotillion effort appeared right at the end of 1976. Sadly even his vocal prowess couldn't revive "I (Who Have Nothing)" but

Nobody But You was another quite superb deep soul masterpiece which just drifted into the lower reaches of the charts.

But Cotillion to their credit did collect his tracks for the label – minus the Christmas ones – onto his second LP entitled "Life Love And Living" and if this didn't quite reach the heights of the Aware set, it was still a revelation that real top quality soul still existed in 1976. There were two sides to the set – a "Meat" side and a "Sweet" side.

The first contained not only the bouncy "Key To My Life" but also the similarly feeling "Honey I Don't Mind" first recorded at MSS by the fine John Byrd a couple of years previously.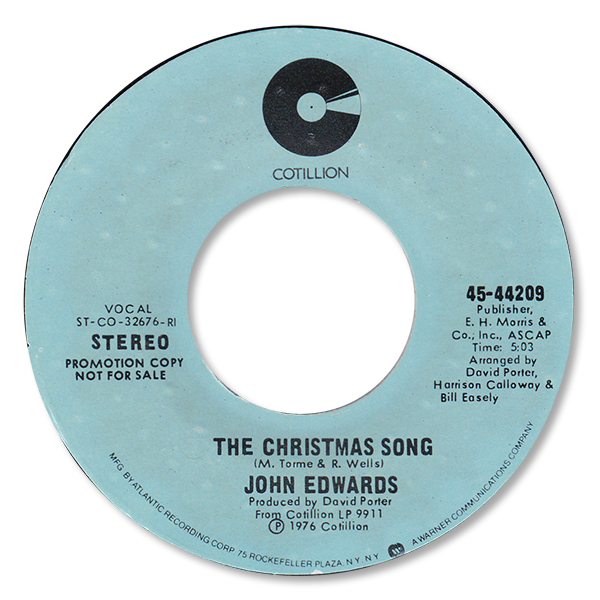 But this side was really well put into second place by the "Sweet" side which contained now just "Nobody But You" and "Baby Hold On To Me" but also a lengthy and highly emotional slowie

You Trouble And Me, a track full of righteous fire which hits with a fierce emotional power thanks not just Edwards' impassioned delivery – one of his very best gritty performances – but also thanks to Muscle Shoals Sound musicians at the very top of their form. Unmissable soul.

And after this Edwards went on to full time employment with the Spinners as Wynne sadly passed on – and he never recorded as a solo act again. But he did lead the Spinners on one of their last big sellers "Working My Way Back To You". Even more sadly Edwards himself fell ill in 2002 and hasn't sung professionally since. But aside from wishing this great artist all the best we can still enjoy his recorded songs – and every music fan who recognises his huge talent will still do so for a very long time I'm sure.
I've placed John Edwards into my Southern Soul Superstars articles – I can hardly think of anybody who deserves it more than he does.
Discography
If I don't use my head / My pride won't let me ~ WEIS 3004 (1969)


There'll never be another woman / Lonely life ~ WEIS 3007 (1970)


One more time (to give me a heartache) / Lonely life ~ TWIN STACKS 5027 (1971)
The look on your face /

It's the little things that count ~ BELL 205 (1972)
Stop this merry-go-round /

You were made for love ~ AWARE 035 (1973)
Messing up a good thing / Claim jumpin' ~ AWARE 037 (1974)
Careful man / Claim jumpin' ~ AWARE 043 (1974)
Vanishing love /

I'll be your puppet ~ AWARE 045 (1974)
Exercise my love / You were made for love ~ AWARE 048 (1975)


Baby hold on to me / The key to my life ~ COTILLION 44203 (1976)


The Christmas song / White Christmas ~ COTILLION 44209 (1976)


Nobody but you / I (who have nothing) ~ COTILLION 44212 (1976)
LPs
Careful man ~ AWARE 2005 (1973)
Life love and living ~ COTILLION 9909 (1976)
CD
Careful man ~ KENT UK 127 (1996)