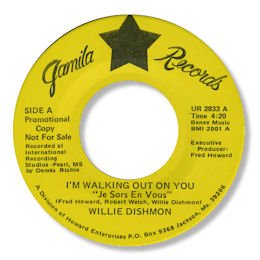 Willie Dishmon
This is a highly unusual 45. It almost axiomatic that if you see the name of the incomparable Tommy Tate in the writers credits that that will be the side to listen to - but not so here. Despite the dancers views "Work On It" may be the worst song the great man ever penned, being largely devoid of melody or chord changes. The only thing it has going for it is the beat - definitely not enough for any real soul enthusiast.
Far better to leave that one dead and buried and move onto the first class ballad

I'm Walking Out On You. The does have a fine melody, some nice chord changes and an excellent vocal from Mr Dishmon. For an early 80s number the dreaded synths are well restrained and the rhythm section - with a special acknowledgement to the fine drummer - lay down a solid foundation for Willie to really get to grips with the mournful lyric.
This was recorded in Pearl, MS and not surprisingly does have similarities to other Mississippi tracks from around the same time by artists like Willie Clayton and the brilliant Ronnie Lovejoy. Deep soul hadn't died by 1980 it just went underground.
Discography
Work on it /

I'm walking out on you ~ JAMILA 1000/2000 (early 80s)
Work on it / Inst ~ JAMILA 2833 (early 80s)