Geater Davis
I have written several pieces about Geater Davis since the 80s and my love for the guy's music continues to be as great as ever. This short tribute will hopefully bring more people to appreciate his wonderful musical legacy. Geater inhabited the twilight world where southern soul meets the blues, and like every other performer of this musical style he owed a huge debt to Bobby Bland. But he was much more than a Bland imitator, possessing an anguished and impassioned voice perfectly suited to the songs of loneliness and despair that he wrote so well, often in collaboration with another southern soul hero Reuben Bell.

At the end of the 60s the late Allen Orange, then a staffer for John Richbourg, was knocked out by hearing Davis and Bell perform and arranged for them to record in Birmingham, AL. He started his own House Of Orange label for their output and was rewarded with a smash for his first 45 with Geater's

Sweet Woman's Love. A super deep blues ballad, it had all the Davis trademark rasps and growls, and the arrangement, particularly the horn section, gave the result great character. This went to no 45 on the R & B charts in the summer of 1970.


Other fine recordings for HOO followed including "I Can Hold My Own", and an intense cut of "Best Of Luck To You". His first album, named after the big hit, contained the early 45s and, interestingly too, a couple of Bland covers, "Cry Cry Cry" and the wonderful "St James Infirmary". It wasn't a great seller but is now considered a deep soul classic.

Orange closed his label around the start of 1972 and Davis moved to Richbourg for the best series of recordings in his career, many using the brilliant Fame Gang musicians. Tracks like "Long Cold Winter", "Your Heart Is So Cold" and "A Sad Shade Of Blue" are the epitome of anguished desolation. The brilliant

A Whole Lot Of Man, which not only has the best guitar fills ever from Muscle Shoals but also Geater singing his heart out with some lovely screams in the run out groove is a masterpiece. The tuneful, loping, conga propelled Fame cut

Don't Walk Off And Leave Me is another particular favourite, as is the superbly structured typical Davis "bad times" song "You Made Your Bed So Hard" - but he didn't make a poor recording during this period. The wonder is that so many of these cuts were unissued at the time.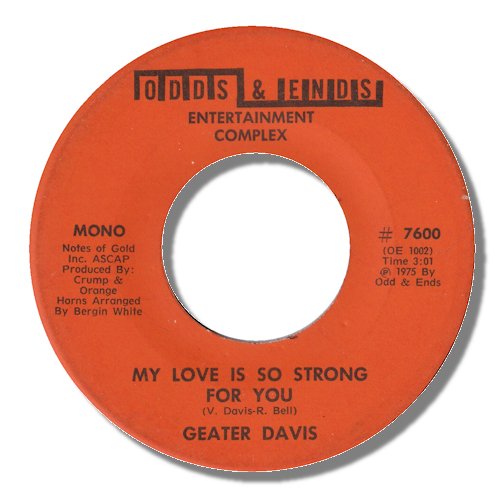 Davis cut sessions for Ace that produced fine tracks like "Nice And Easy" and "There's Got To Be Some Changes Made" in the mid 70s, but his later work in the decade suffered from the dreadful disco disease. Tracks like "Disco Music" and "Booty Music" for the revitalised House Of Orange were as bad as they sound. The best cut from this time was a strange one off "Wherever You Are" for ex-Malaco guitarist Jerry Puckett's Sunbelt label. In the 80s he signed for James Bennett in Jackson, MS who issued several singles and a good LP "Better Days". Like so much of Bennett's output some of the tracks were decidedly underproduced but in

Right Back For More he got it just right. The song was issued twice and the version with overdubbed horns was to be Davis' last great release.
Vernon Davis died in September 1984 – he was only 38. His tortured vocals and spine tingling delivery will continue to be held in high regard by all knowledgeable fans.
Notes:-
1. There's only limited Geater Davis on CD. Westside UK WESA 806 "Sad Shades Of Blue" contains all his issued Richbourg material, and some unissued cuts, the Ace 45s and as a bonus the (uncredited) hugely rare Odds And Ends 45. AIM Australia 1506 CD "The Lost Soul Man" contains Geater's entire Richbourg catalogue. Both are simply essential.
2. The definitive article on Geater was by Jeff Kuhn, published in Juke Blues 37. Buy it.
| | |
| --- | --- |
| | |
Discography

Sweet woman's love / Don't marry a fool ~ HOUSE OF ORANGE 2401 (1970)
I can hold my own / My love is so strong for you ~ HOUSE OF ORANGE 2402 (1971)
For your precious love / Wrapped up in you ~ HOUSE OF ORANGE 2405 (1971)
Best of luck to you / I know (my baby loves me) ~ HOUSE OF ORANGE 2407 (1972)
I've got to pay the price / I'm gonna change ~ LUNA 801 / 77 136 (1972)


Don't walk off (and leave me) / I don't worry (about Jody) ~ LUNA 804 (1972)
Long cold winter / Why does it hurt so bad ~ 77 124 (1972)
You made your bed so hard / Your heart is so cold ~ 77 130 (1973)
Nice and easy / Strange sensation ~ ACE 3006 (1974)
I'll play the blues for you / My love is so strong for you ~ ODDS AND ENDS 7600 (1975)
Tired of busting my brain / There's got to be some changes made ~ ACE 3019 (1976)
Cold love / Short version ~ HOUSE OF ORANGE 2410 (1977)
I'll play the blues for you / Disco music ~ HOUSE OF ORANGE 79100 (1979)
Wherever you are / Pt 2 ~ SUN BELT 7179 (1979)
Right back for more / Pt 2 ~ MT 001 (1981)
I'll take care of you /

Right back for more ~ MT 002 (1981)
Booty music / Breath taking girl ~ HOUSE OF ORANGE 2615 (1982)
Don't give up / Better days ~ MT 005 (1983)
Baby love / Go your way ~ MT 007 (1983)
Sweet woman's love ~ HOUSE OF ORANGE LP 6000 (1971)
Baby love ~ MT LP 0001
Thanks to Peter Hoogers for the discographical update.