Artie Christopher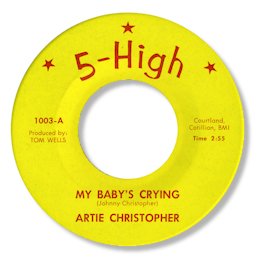 Although he recorded a few 45s under the name "Artie Christopher" I'm 99% sure that this is really Johnny Christopher, the guitarist/songwriter who is best known in soul circles for his work with Chips Moman at his American Studio in Memphis. Christopher's musical credits are both lengthy and impressive but I want to concentrate here on the soul side of his personality. His initial single under his nom-de-disque included the superb deep soul ballad

My Baby's Crying. This has all the ingredients that I love in this genre – some simple gospel chord changes, fine organ/piano accompaniment, a gently cooing chorus and some rich horns. On top of which "Artie" does a really bang-up job of expressing the emotional angst of his own lyric. Was this cut in Nashville? Or Atlanta – where Johnny came from? I don't know. The flip – and both sides of the second Atlantic 45 were certainly cut at American.
"Don't Try It Again" is a strong uptempo side, as is the vamp by the AGP studio band "Stoned Soul". "Hello LA Bye Bye Birmingham" is a funked up version of a Mac Davis / Delaney Bramlett song recorded by several rock artists over the years. But nothing quite like "My Baby's Crying" sadly. The producer of all four sides is Tom Wells. Can anybody shed any light on this guy? It couldn't be Tommy Cogbill in disguise could it??
Chistopher did record under his own name as well but the tracks are not really relevant to this website.
UPDATE ~ Penny Sims has written to me to say that "'My father is Johnny Christopher. His brother Artie died of cancer but my father is still living. He is no longer in the music industry and doesn't really share a lot of his musical past with us." So Artie is a different person to Johnny - very sad to hear that Artie has passed on. I hope that Penny will be in touch again with more info on both Artie and Johnny which I will add to this page.
Discography
Leave me alone / Shufflin' my mind ~ DOPPLER 104 (mid 60s?)


My baby's crying / Don't try it again ~ 5-HIGH 003 / ATLANTIC 2473 (1968)
Hello LA bye bye Birmingham / Stoned soul ~ ATLANTIC 2573 (1968)
Note ~ Only ARTIE CHRISTOPHER releases shown.
Note ~ Special thanks to Roben Jones whose book on the American Studios entitled "Memphis Boys" is required reading for all southern soul fans.