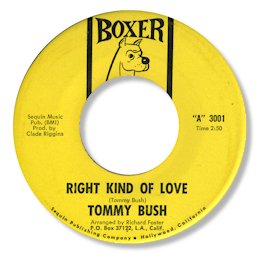 Tommy Bush
West Coast artist Tommy Bush is well known to the funk fraternity thanks largely to his two part "Skin It Back", a very good James Brown pastiche. "Put Our Get Together's Together", produced by Dillard Crume, is pretty much in the same vein but there were other aspects to his music that have been sadly overlooked.
For example he was adept at the sort of soul blues that so many of his local compatriots favoured. Both sides of his Black Prince 45 are more blues than anything else I'd say, and the inclusion of a harmonica makes them sound like the sort of music that Good Time Charlie went for. And "Come On Now" is the sort of funky blue soul hybrid that artists like Rodger Collins performed – but Tommy's raw vocals with some exciting whoops and hollers lifts it out of the ordinary.
But as always the true test of a singer is how he fares on a ballad, when there isn't an incessant beat under which to look for cover. And I'm pleased to say that Tommy passes this test with flying colours. For example

Right Kind Of Love is a great piece of bluesy deep soul from his rapped opening to his screaming through the verses. Love that crying tone he adopts as well – the horn section is notably good.
Bush's rare Rika 45 has a really superb minor keyed blue ballad on it.

Ain't No Guessing Game is on the other side of a really big Northern tune "I Don't Like It" which is a storming R & B number. But the slow song has better depth and passion for me.


UPDATE ~ There is another Tommy Bush 45 on Modern. It is a duet with Larry Perrault, who also recorded with his brother Darryl for Tangerine on the fine ballad "I'll Never Forget You". Sadly neither side of the Modern 45 get anywhere near this level. Thanks as always to Bosko Asanovich for sharing his knowledge.
| | |
| --- | --- |
| | |
Discography
Come on now /

Right kind of love ~ BOXER 3001 (1968)
Skin it back / Pt 2 ~ VIVTOM 1847 / CAL STATE 3204 (late 60s)
Let them talk / ?? ~ VIVTOM ?? (late 60s)
I don't like it (but I love you) /

Ain't no guessing game ~ RIKA 107 (1968/9?)
Letting it all hang out / Some leaving alone ~ BLACK PRINCE 318 (1969)
Daddy's home / Stop and think ~ SPECIALTY 724 (1971/2)
Just to be there / Put our together's together ~ SPECIALTY 730 (1972)

As LARRY & TOMMY
You gotta bend a little / Yo-yo ~ MODERN 1041 (1967)
Note ~ "Stop And Think" can be found on the Kent UK CD "Masterpieces of Modern Soul Vol 3", and "You Gotta Bend A Little" can be found on the same company's "New Breed R & B" CD.