Larry Bell
When it comes down to artists who had an incalculable influence on soul music, Otis Redding must come pretty high on the list. If you want proof listen to Larry Bell's superb

Experienced. Check out his phrasing and tone, the way he drags out words like "sweeeeettt" and "kiiiiisss". And the musical side owes a big debt to the Stax studio, not just via the fine guitarist but those Memphis styled horns as well. But you've got to love this side not despite it's obvious sources but because of them.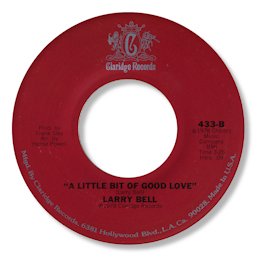 Bell's 70s work on the West Coast for Claridge is good too, especially the excellent mid paced

My Love Is Strong. On this one the best comparison is the broken rhythms that Malaco learnt from Wardell Quezergue earlier in the decade, and which made King Floyd so successful. Sadly Bell's following single wasn't in the same class.
Discography

Experienced / Mess around ~ PHILIPS 40612 (1969)


My love is strong / Sugar Cane (She's my sweet thing) ~ CLARIDGE 426 (1977)
Let's warm up / A little bit of good love ~ CLARIDGE 433 (1978)