Mighty Sam
by Pete Nickols
Back in the late 80's there was a debate about the identity of the greatest soul-singer of all time. In writing his sleeve-notes to a 1988 Mighty Sam compilation, John Ridley noted that claims from various sources had been made for the likes of James Carr, Otis Redding, Solomon Burke and O.V Wright but rightly asserted that Mighty Sam did not deserve to get 'lost in the shuffle', even though his body of work (at that time) was smaller than that of these other singers. Sam's soulful ability was never better demonstrated than when singing country-influenced music, his gruff but very expressive baritone voice, steeped in the gospel-blues tradition, creating from it some wonderful southern-soul, especially on many of his first recordings, cut mainly in Muscle Shoals between 1966 and 1968 for Larry Uttal's Amy label, while he was 'under the wing' of Papa Don Schroeder.
His inspirations included Little Willie John, Clyde McPhatter, B.B. King, and particularly Bobby Bland. McClain recalled the moment he saw Bland at the city auditorium in his native Monroe, La. as 'revelatory'. Years later, Sam would open for Bland at Tipitina's in New Orleans and then, in 2000, Sam would actually come to share a stage with his musical 'hero' (see later).
Samuel McClain was born April 15th 1943 in Monroe, northern Louisiana, one of 12 children. After a parental parting of the ways which saw an apparently abusive step-father appear on the scene, he was partially raised by his grandmother in nearby Winnsboro and, as a five year old, began singing in a small gospel group formed by his mother, Emily Cherry. His interest in blues started in grade school but his mother was totally opposed to 'the devil's music'.
At that time Sam befriended Robert Green, later to become bluesman Little Sonny Green, who went on to sing with the Mississippi born and raised guitarist Melvin Underwood, who had settled in Monroe, his blues-band being regarded as the best in town. Sam dropped out of school after eighth grade, left home at only 13 and began picking cotton. Before he had left, he had been told repeatedly by his abusive step-father that he was 'nothing' and would never amount to anything but, even at that age, it seems Sam was determined to prove him wrong.
Papa Don Schroeder
Sam recalls: "I had to get away from that negative 'crap' my stepfather was telling me before it destroyed me. Singing made me worth something so I left home at a very young age. That's when I started to realise my voice was God's gift. Since leaving home I've been on a musical journey."
Fortunately for the young Sam, his pal Sonny Green soon introduced him to Melvin Underwood and he began working for the blues-man as a valet/gopher, toting instruments etc.. Eventually Sam talked his way into singing back-up vocals with Melvin's band and then, after Green quit the group, Sam, now aged around 15, was promoted to lead-vocalist, using the monicker 'Good Rockin' Sam'. The group were a popular blues club act and toured all over Mississippi and Louisiana.
In 1963, the band hit Pensacola, Florida for a two day stint and Sam ended up staying for much longer, having encountered another band who wanted him to front them called the Dothan Sextet, a group who themselves played all over Florida, Georgia and Mississippi and sometimes backed the touring Otis Redding. Nonetheless, after three years with the Dothans, Sam and the band fell out and he headed off to Mobile to link up with another group called The Rounders. It was while touring with them that a club-owner would mistakenly bill Sam as 'Mighty Sam', thus inadvertently 'inventing' the name by which he would become best-known.
Sam (this time with the Rounders) soon made Pensacola his base once again, the group getting regular gigs at the city's popular 506 Club. It was there, in the summer of 1966, that the local dee-jay/promoter/producer Papa Don Schroeder (himself an ex recording artist) encountered Sam and persuaded him to go with him in his jeep to Fame (where Schroeder himself had earlier cut demos) to make a record, even though Schroeder had no deal at that time with any record company and despite the owner of the 506 Club threatening that Sam would lose his job there if he upped and went.
At Fame, Papa Don wanted Sam to cut a song he liked called "Georgia Pines". Sam would indeed cut that song but Dan Penn (who engineered the first session, Rick Hall not being around) persuaded them to first try the Don Gibson country song, perhaps most associated with Patsy Cline,

Sweet Dreams (Of You). Sam's vocal boasted styles extending from the tender to the assertively dramatic, making the piece a truly memorable soul experience. However, after he'd cut it, Sam discovered that the song had also just been recorded by the similarly-named Tommy McClain (who also hailed from Louisiana) and Sam was clearly worried that no-one would want to release his version. Indeed, Papa Don did have a job to place it and it was only after Nashville P.R.man/producer Buzz Cason gave him an intro to Bell's Larry Uttal (who just happened to be in Nashville on other business) that Schroeder was able to broker a deal for Sam's initial recording of this song to be released on the Bell subsidiary label, Amy (# 957).
Tommy McClain's version on Jin/MSL #197 spent 11 weeks on the Billboard Pop chart, peaking at No.15 but Sam's much more soulful version still got a lot of play in New York, Chattanooga, Florida and Dallas, as well as Buzz Cason getting John R to plug it on WLAC and no doubt Larry Uttal giving it the PR treatment in New York. Certainly it created more than enough interest to send Sam on the road to promote the record and to even win him a slot at the famed Apollo Theater, again possibly partly thanks to Uttal's contacts.
The flip-side to "Sweet Dreams (Of You)" was the Buzz Cason song "Good Humour Man", a kind of country-blues opus cut at Cason's own small Nashville studio, more usually used simply to record demos, which was included on the 45 chiefly as a 'thank you' to Cason for putting Schroeder and Sam in touch with Larry Uttal.
Next up came a cover of Buster Brown's late-1959 Fire 1008 hit "Fannie Mae", a potent but repetitious blues item. This appeared on Amy 963 coupled with another Buzz Cason song, the rather unimpressive storyline piece "Bad Mouthin'", which had not been cut at Cason's studio but at Sam's first Fame session.
Sam's country-soul version of "Georgia Pines" finally saw release on Amy 973. This had also been recorded at his first Fame session and was a pleasant mid-paced opus, glorifying the memory of a rural Georgia habitat (and of the girl the singer had once met there). The flip-side was also in the country-soul mould – an impressive, slower-paced item penned by Dan Penn, Spooner Oldham and Eddie Hinton entitled "I'm A Man" (not to be confused with Joe Tex's self-penned song of the same title).
Sam's first three Amy 45s all saw release in 1966 but 1967 would see some of his finest work for Papa Don duly made available to the public via another three more singles. Sadly, not even these would make the charts.
The next 'vehicle' for Sam was the old Joe Seneca blues-ballad, most associated with Little Willie John, "Talk To Me, Talk To Me" (Amy 984) and a very fine job he made of it too, using his melismatic vocal approach to give the piece much more of the requisite 60's soul sound. The flip was, for me, the best driving piece of soul Sam cut in the Shoals, as he sings strongly in front of a great riff on Penn and Oldham's "I Need A Lot Of Lovin'". Sam's version (surprisingly perhaps) is much more telling than Wilson Pickett's slower-paced interpretation, cut a tad earlier at Fame in May 1966, and which would duly appear on the Wicked One's August 1967-released album "The Sound Of Wilson Pickett" (Atlantic 8145).
The same two writers' gorgeous deep country-soul ballad

In The Same Old Way was just Fame-cut soul perfection and appeared on one side of Amy 990.
Here was a blues-honed singer calling instead on his early childhood gospel experience and vocally expressing himself with terrific involvement, plus, at the track-end, real drama too. The bouncy Oscar Toney and Don Schroeder-penned "Silent Tears" appeared on the flip, cut at American in Memphis.
Solomon Burke, Percy Sledge and Rodge Martin all had a go at

When She Touches Me but Sam's interpretation on Amy 11001 of this beautiful slow-building country-soul ballad with its contrastingly dramatic passages is one of the best.
The flip this time was a Penn and Schroeder collaboration, the rather 'straight' storyline country song "Just Like Old Times" (which Schroeder's duo, the Purifys would also record), although Sam did manage to imbue his version with some fine emotive singing at the end of each verse.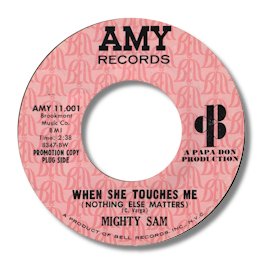 On into 1968, both sides of Sam's penultimate Amy 45 (#11022), were arranged by the country-reared session guitarist Travis Wammack, who doubtless supplied the fine licks and mid-track break on Sam's "Baby Come On Home", a slightly swampy, foot-tapping mid-pacer which also boasted some nice harmonica work. Travis also arranged and played on the very countrified flip "I Just Came To Get My Baby (Out Of Jail)", with its occasional bursts of heavenly-choir back-up singing, this track being recorded on April 27th 1968 at Bevis' Recording Studio on Jackson Highway, the building which, after renovation in 1969, would become the first home of Muscle Shoals Sound.
Sam's final abortive shot at getting a hit on Amy would see release in December 1968. Amy 11044 showcased him on a re-make of Ben E. King's 1963 big-building dramatic hit "I Who Have Nothing", a song also favoured by Jimmy Helms, Dee Dee Warwick, Linda Jones and (woops!) the UK's Shirley Bassey. The flip was the Schroeder co-penned nod to his own 'Papa' monicker, "Papa True Love", a driving, piano-and drum-propelled piece with Sam riding the never-let-up rhythm really well. This track may well have been an earlier recording from circa. 1966.
There were also unissued-at-the-time Amy tracks, the pacy "Nothing But The Truth" seeing its first release in 1968 via the second volume of the UK LP series "Bell's Cellar Of Soul" (# MBLL 107). Then there was "A Stranger To Me" and "She Thinks I Still Care", both cut at Sam's mid-'66 Badmouthin' Fame session. Of these, only the Don Gibson country song "A Stranger To Me" has so far seen release, via Sundazed's fine 18-track McClain retrospective CD from 2000, "Papa True Love: The Amy Sessions" (# SC 11083).
Why some of Sam's fine Amy sides did not chart remains a mystery. Promotion was a problem, especially as Schroeder soon began to give a lot of attention to two of his other acts, both of whom Sam had introduced to him and both of whom – unlike Sam - had managed to 'crack' the charts, namely the aforementioned James & Bobby Purify and also Oscar Toney Jr.. However, Papa Don himself doesn't recall it that way and says: ""I guess he was just a little too black for the white market…not for me though. He was over the line even from Bobby Bland. But he was a great artist…a great artist. And I really tried, man. You see all those sides I cut on him? We just couldn't make it happen."
With no Amy single hits to his name, Schroeder and Uttal were not inclined to issue an album on Sam and it would be UK soul guru Dave Godin who did that, in 1969, by putting 15 Amy sides on the now very rare "Mighty Soul" LP on his own Soul City label (#SCM-004).
Sixteen of Sam's Amy tracks would later also see UK LP release on Charly's 1988 set "Nothing But The Truth". The CD format would only catch up with these Amy gems in 2000, when the aforementioned Sundazed release appeared.
By 1970, Sam had parted ways with Papa Don, now getting his own right-hand man, Charlie Capri, to 'manage' him and it would be Charlie who got Sam a deal with Atlantic which resulted in two singles for the label. Jerry Wexler had tried to sign Sam at the time Schroeder struck his deal with Uttal but even though he had now 'got his man', Sam's 45s still failed to chart. The pick of the Atlantic sides was the 1969-recorded gospel-infused deepie

I've Got Enough Heartaches off of Sam's first Atlantic 45 on #2707 and cut at Muscle Shoals Sound.
It's flip was the bouncy "Lovebones". His follow-up Atlantic release on #2711 was recorded at Criteria Studios in Miami and coupled the deeply-expressed, albeit mid-paced and slightly funky "Your Love Is Amazing" with the atmospheric, moody and multi-paced "Evil Woman". But still commercial success eluded Mighty Sam.
The next year saw him at Malaco, in Jackson, Mississippi, cutting Toni Wine's storyline country-soul song "Mr & Mrs Untrue" (#1011), a song which Candi Staton had a hit with that year on Fame 1478, even if Sam didn't. This is a much-loved song but, personally, it has always disappointed me. The storyline lyrics are great but as a listening experience I find it 'bitty' and lacking a good, memorable tune. In the UK Garry Cape picked the masters up for release on his gallant Hit & Run label. Unfortunately due to a mix-up on the tapes the version that appeared was Tommy Tate's demo. For those of us who love Tate this was a totally unexpected bonus - but it did rob Sam of another UK 45.
Sam was now married and in 1973 he moved to Nashville to concentrate on song-writing and to give up his regular gigging. His wife went out to work to help support them both and Sam would often take menial day jobs just to try to keep solvent.
By 1981 things had gone from bad to worse. Sam's marriage had broken up and in his own words he "had no more doors left to knock on". In the fall of '82 he went back home to Monroe but that didn't work out either and by October that year he had wandered down to New Orleans, completely broke, homeless and initially 'sleeping rough'.
Remembering a club called the 544 on Bourbon Street, Sam made his way there and Mason Ruffiner let him sit in for a couple of numbers with his Blues Rockers band. The band's drummer, Kerry Brown, was impressed with Sam's voice and was just starting his own band, Brownsville. Sam duly began to gig with Brown and his new group around New Orleans and, although things were slow, in 1983 he managed to pick up a solo recording/management deal with local producer Carlo Ditta. However, with Brownsville breaking up, Sam was without a band for a while until he found a two-piece outfit in 1984 before eventually linking with one of the ex-Brownsville guitarists to form the cleverly-named four-piece unit, Soul Purpose.
Meanwhile, his contract with Ditta had yielded only one single, largely financed by a grant of $2000 from the local Jazz and Heritage Festival Foundation, namely "Pray"/"Dancing To The Music Of Love" (Orleans 42784), which was not released until April 1984, "Pray" duly winning the Award for Best Gospel/Inspirational Recording at the American Song Festival that year.
As a result, Ditta cut Sam on some more sides that summer at the city's Visionary Studios, utilising Sam's pal Kerry Brown on drums plus Rick Allen on Hammond B-3, Billy Gregory on guitar, Richard Bird on bass and Sam Levine on alto-sax. It was this session which yielded not only a song called "Backstreets" but also McClain's monumental reading of Sam Cooke's

A Change Is Gonna Come, for me the finest-ever 'cover' of this much-favoured song of hope for racial harmony.
Why I rate Mighty Sam's version of "A Change…" as the greatest of all time is down to two things. Firstly, he finally imbues the song not just with 'meaning' (something several other artists had already successfully achieved) but also with an awesome, at times almost angry, power, as if he's drawing on his own plentiful (and then quite recent) experience of hard-times and racial inequality to try to make the song so potent that it might actually force someone in the American establishment to sit up and do something about the problem! (It didn't, of course, but that's how it comes across, at least to me).
Secondly, Sam's interaction with the band is absolutely terrific, and probably stems from having worked with all or most of them around that time on the Big Easy's club-scene. The musicianship here, from guys barely known outside of New Orleans, is stunning, especially Billy Gregory's guitar, Rick Allen's goose-bump-inducing Hammond work and the gorgeous alto break from Sam Levine. The recording is simply a deep-soul gem.
At the time, both "Backstreets" and "A Change…" were held over, but soon Sam's talents came to the notice of the Japanese promoter, Fumio Nagano, who traced McClain back to New Orleans and contacted him with an attractive offer to tour Japan. Orleans Records duly negotiated the deal through their partner/producer/performer A.J. Loria, while Carlo Ditta decided it would make sense to put out some more Mighty Sam sides before his artist hit the Land of the Rising Sun.
Sam was due to start his Japanese tour in late-April 1986, so, just before that, in March and early April, Sam cut three more tracks, "Why", "Miss Bea" and "Your Perfect Companion" at the Niteshade Studios in the Crescent City, these being combined with the 'in the can' recordings of "Backsteets" and "A Change Is Gonna Come" to form a 5-track mini-album named after "Your Perfect Companion" and rush-released on Orleans 5386. (A CD using the same title and issue number would be released by Orleans much later, in 1994, but the six tracks included on that release would add Sam's Orleans single of "Pray" to the five already on the mini-LP).
In a deal with Orleans, Dead Ball/Vivid Sound recorded most of Sam's concert at Tokyo's Shibuya Live Inn on April 28th and 29th 1986 and nine of the tracks emerged on their now quite rare LP "Live In Japan" (# DB-2508). However, it was a shame that the guys who played on Sam's studio sessions didn't travel with him to Japan. Instead, somehow Orleans recruited Bobby Bland's long-term guitarist Wayne Bennett, who fronted what turned out to be a fairly mediocre all-Japanese 'pick-up' band. Now, Bennett is a fine guitarist with a fine pedigree – but somehow he never quite matched the sound Billy Gregory got on the Orleans studio recordings. Nonetheless, Sam was in great voice and, even if the live version of "A Change…" suffered by comparison to the studio cut, at least the fine bluesoul performance of Bobby Bland's

This Time I'm Gone For Good made up for it.
Later, Orleans themselves would issue no less than 15 tracks from this concert on their identically-named CD on Orleans 9888 but this would exclude Sam's version of Al Green's "The Lord Will Make A Way" (although a much later and less-impressive studio cut of this song would appear on Sam's 1995 Audioquest CD "Keep On Movin'" - see later).
Although Sam didn't hit the big time as a result of all this exposure, it did at least give him a base from which to rekindle his career and Rounder's Hammond Scott brought him to the Black Top label in 1987 to record for Hubert Sumlin's (various artists) Blues Party project (Black Top 1036), chiefly with white blues guitarist Ronnie Earl, with whom he cut a superb seven-minute tortured bluesoul opus for the album (penned by Earl) entitled

A Soul That's Been Abused.
This venture caused Sam to relocate to Boston, where he would base himself until about 1995, after which he would move again, this time to Epping in New Hampshire.
In the early 90's a 24-track bootleg CD named after Sam's Ronnie Earl song appeared, though whether it ever sold commercially at all is doubtful. It featured 17 Amy recordings, the two Malaco songs, two of the Atlantic sides, two Orleans cuts and the Black Top blue soul gem.
Also in the early 90's, McClain met Joe Harley, record producer with the San Clemente, California based Audioquest Music label. A mutual friend, pianist, Bruce Katz, suggested that Sam should send Joe a demo tape. This proved successful and Sam duly signed up with the label, for whom he would cut four new CDs, most of which featured plenty of self-penned songs, some co-penned with Sam's now regular guitarist, Kevin Barry.
The first CD was "Give It Up To Love" (# 1915), recorded at Ocean Way studios in Hollywood on November 14th and 15th 1992, the self-penned, slow-burning blues "Love Me If You Want To" being the highlight.
Next up was "Keep On Moving" (# 1031), recorded at Bearsville Studios, Woodstock, NY on August 22nd and 23rd 1994, my favourites being two slow and again very Bland-like soulful blues, "I'm So Lonely" and "Don't Worry About Me", while Sam's re-vamp of the Ronnie Earl-penned "A Soul That's Been Abused" was not as good as the original from 1987.
"Sledgehammer Soul & Down Home Blues" (# 1042), recorded at Clinton Recording Studio, New York City on April 28th and 29th 1996 - and nominated for a W.C. Handy Award - was Sam's third CD for Audioquest and featured the self-penned potent, slow, greasy blues "When The Hurt Is Over (Maybe Love Will Flow)", which also highlighted some fine guitar-work by Peter Giftos. The same player is very impressive too on another ultra-slow extended blues, "Don't Write Me Off".
"Journey" (#1048), recorded back at Bearsville Studios, Woodstock, NY on September 26th and 27th 1997, concluded Sam's run of all-new-release CDs for Audioquest and did at least feature two tracks which I would call soul rather than blues, a reasonable re-make of "A Change Is Gonna Come" and the very impressive, gospelly

Somebody Help Me, with its genuinely touching autobiographical lyric "Well, I've seen a lot of hurt and I've seen a lot of pain – I keep picking myself up and starting all over again. Well, I've been out here so long, 13 years old when I left home. Somebody help me".
All of these CD's received good reviews from the critics but, frankly, you're going to need to like contemporary blues and bluesoul to enjoy them – as indicated there's nothing here, apart from the two tracks mentioned above on the "Journey" CD, which I would definitely categorise as soul rather than blues.
In 1997 JVC reissued both "Give It Up To Love" and "Keep On Movin'" as part of their special high audio-quality XRCD series, the former appearing on JVCXR-0012-2 and the latter on JVCXR-0026-2.
In 1999, Audioquest themselves would also reissue some of the material Sam had cut for their label over the years under the title "Soul Survivor: The Best Of Mighty Sam McClain". This set included two previously unreleased tracks.
In 1996, Sam had set up his own production company, McClain Productions and also McClain Management, headed up by his wife Sandra and his daughter Jennifer. The singer had already formed his own 'Emily's Son' Publishing company (Sam being Emily Cherry's son) at the time of his first Audioquest CD in late 1992.
Things were now really looking up for Sam, who admitted: "I've had to sleep outdoors and eat out of garbage cans, but it took all of that to make me who I am and what I'm trying to be". Sam had become tired of booking agents, managers and others telling him he couldn't do something. His response was: "I didn't take that from my stepfather too long (but) I took it far too long from the people that were supposedly managing my affairs. So, when I fired all of those people, I know they thought I was crazy. They only thought of me as a blues singer. Years ago I never talked to a record company president, but I do now. It's good to be in control, as much as God allows me control."
After what would be his last new recording for Audioquest in September 1997, the following month Sam toured Germany and, in 1998, Crosscut Records of Bremen in that country issued a 9-track CD "Joy And Pain – Live In Europe" on CCD-11058, which featured performances by Sam at the annual blues festival at Detmold's Town Hall, held on October 11th 1997. These were nearly all of songs Sam had cut previously.
On December 1st 1999, Sam said a sad farewell to his mother, now known as Mrs Emily Smith Cherry, who passed that day, aged 77.
In 2000, the Blues Music Award-nominated "Blues For The Soul" appeared on the Ohio-based Telarc label (# 83487), again recorded at the Bearsville Studios on September 6th and 7th 1999. The 12 tracks were all self-penned items, the Bland-like bluesoul of "No One Can Take Your Place" being perhaps the best, whilst the contentiously-titled "Jesus Got The Blues" raised a few gospel eyebrows.
"Sweet Dreams" followed on Telarc 83528 in 2001 (another Bearsville production, recorded on December 17th and 18th 2000), which saw Sam tackling the very countrified self-penned "Learn How To Love You Again" and also making a good job of the old Staples hit "Respect Yourself".
Then, deciding to form his own label, Mighty Music Records, Sam released "One More Bridge To Cross" (# 101) on his new imprint in 2003 (recorded at CedarHouse Sound in Sutton, New Hampshire between August 19th and 28th 2002).
Here he paid his dues to Bobby Bland via two Joe Hardin songs originally penned for Bobby but 'passed up' by his production folk (mistakenly in my view), and duly offered to Sam, namely the gorgeous opening track

Why Do We Have To Say Goodbye and the nearly-as-good "Been There, Done That". There is a special dedication to Bland by McClain in the sleeve-notes, which includes a big thank you to him for "Being so kind and warm to me" and especially for calling Sam on stage to play with him on August 10th 2000 at the Portsmouth, NH Blues Festival. Sam describes this as "one of the greatest moments of my life and career".
Personally I think this CD is far better and generally much more soulful (in a bluesoul sense) than any of his earlier Audioquest outings and is blessed with some beautifully empathetic guitar-playing from Chris Tofield. Another favourite of mine from this fine set is the excellent self-penned, gospel-influenced mid-pacer, "Witness".
By contrast, "Betcha Didn't Know", Sam's second release in 2005 on his Mighty Music label (#102) was a disappointment to anyone into 'real soul' music, the arrangements being fairly contemporary and the music being chiefly either in the funk or modern blues moulds. The 13 tracks on this CD had been recorded between September 27th and October 8th 2004, once again at CedarHouse Sound in Sutton, New Hampshire.

In 2007, Sam contributed to the "Give Us Your Poor" project, a various-artists CD of this same title also seeing release (with the sub-title '17 new recordings to help end homelessness'). Sam co-wrote the gospel song. "Show Me the Way" with saxophonist Donn Scott Shetler (who had played on Sam's 1995 Audioquest CD "Keep On Movin'") and he recorded it for the CD (on Appleseed 1103) as a duet with Jon Bon Jovi. (Originally, Sam had been due to sing a duet with Bonnie Raitt but Bonnie had been tied up in Hawaii and couldn't make the recording sessions). On this CD, Sam also joins with others to sing on Natalie Merchant's track. In connection with his work for this cause, Sam performed at the Lincoln Center for the Performing Arts in New York and the Kennedy Center in Washington D.C., as well as other venues, sharing the stage with other artists from the project.
In 2008, Sam got a call out of the blue from David E. Kelley to request the use of his song, "New Man In Town" (which had first featured some 10 years earlier on Sam's Audioquest CD "Journey") in the "Ally McBeal" TV show. By August that year, Sam had signed a contract with 20th Century Fox for the video rights to his song, which duly appeared in 12 episodes of the "Ally McBeal Show" and can be heard on video copies of the series sold all over the world. McClain negotiated the deal himself and he recalls: "The 'Ally McBeal' television show put some nice change in my pocket, although I was surprised they chose the song 'New Man In Town' (as) that particular song is about Jesus - Jesus is the new man in town I'm talking about".
Between April and July 2009, Sam recorded an album of duets with the Iranian folk singer, Mahsa Vadhat, to be entitled "Scent Of Reunion: Love Duets Across Civilizations". This would reach #6 in the European World Music Chart when first released in late 2009 by the Norwegian label Kirkelig Kulturverksted, more often abbreviated to 'KKV'. However, the set would also see US release in May 2010 on the Valley Entertainment imprint (#15227). A second set of duets with Mahsa is due out shortly at time of writing (July 2012), under the title "A Deeper Tone Of Longing: Love Duets Across Civilisations", again on Valley Entertainment.
Following his first 'duets' CD, McClain next collaborated with the Norwegian guitarist who had featured on that project, Knut Reiersrud, on another CD entitled "One Drop Is Plenty" (Valley Entertainment 2-VLT-15233), which was recorded in Oslo over 3 days in January 2011. Many of the tracks are in country and/or gospel mode but Sam also gets to sing his very fine interpretation of Jerry Ragovoy's great song

You Don't Know Nothing About Love, originally released in November 1967 on Loma 2086 by Carl Hall (an all-time uptown deep classic) and then recorded on April 14th 1969 by the great Lorraine Ellison, her version seeing release in 1970 on Warner 7394.
Around this time, Sam also sang "Find the Sun", the theme song for the film "Time And Charges", McClain actually performing it in a cameo role in the film itself.
Again, at time of writing (July 2012), Sam is about to release the third CD on his own Mighty Music label (# 103), this time somewhat controversially entitled "Too Much Jesus (Not Enough Whiskey)".
Happily, Mighty Sam McClain is no longer homeless or penniless. He is modest about the resurgence of his career but is very appreciative that he is at last able to make a good living from his fine voice. He is clearly also a religious man. He says: "I don't have a lot of money but I'm as rich as one can be because God in my life makes me a millionaire. I've had it bad, but now I'm good and I wake up every morning thanking God for my life."
Regarding his singing career, Sam observes: "I've never pigeon-holed myself. I've always just said I was a singer. I sing ballads, I sing country. I like country songs – I take 'em and sing 'em, I make 'em my songs. Of course I can sing the blues. I've had 'em for a long time. But I can turn right round and sing gospel. I can turn right round and praise the Lord in the same breath. I just consider myself a soulful singer – just a singer with a lot of feeling and a lot of soul"
No one could argue with that!
UPDATE ~ New info, updates and additions chiefly courtesy of Heikki Suosalo's excellent interview-related article on Mighty Sam in his fine Soul Express magazine, issue no. 3/1998.
Sam's natural father, Jim Earl McClain, separated from his mother Emily when Sam was only 2 years of age and Sam has no memory of him, nor did he ever hear from him. Emily's maiden name was Smith and she would marry four times, Robert Cherry being her last husband before she passed, as already noted above, in 1999.
Sam, too, would marry four times. At age 18, Sam first married a very pretty girl in Little Rock, Arkansas but it seems this was just infatuation as the union only lasted some six months. Sam's second (apparently very 'up and down') marriage was in 1975, to a girl called Angie whom he married in Pensacola and with whom (as noted in the article) he would move to Nashville. The couple would divorce in 1986. He then married Laura, the attorney who had arranged his divorce. This partnership would last only some five years. His marriage to his present wife, Sandra occurred in about 1994.
Sam's early tenure as a lead-singer with Little Melvin Underwood was actually a two-part affair. After some two or three years fronting the band, at age 18, in 1961, Sam had to register for the army in Shreveport and this was where he encountered the group Elgie Brown & The Soul Brothers. Sam would join them for a couple of years before later returning to Melvin Underwood's band.
Moving forward to Sam's final Amy recording, "I Who Have Nothing", this was cut with Moses Dillard's band at Papa Don's new Pensacola Studio, which had been largely financed via Don's new distribution deal with Larry Uttal.
We mention in the article Sam's then new 'manager' Charlie Capri being instrumental in Sam's next deal with Atlantic. Sam had first encountered Charlie when he was Papa Don's recording engineer in Pensacola.
In New Orleans, Sam met Carlo Ditta thanks to his musician-friend Kerry Brown as Carlo and Kerry had apparently been raised together. However, contrary to information from other sources used for our article, Sam denies that he ever formed a group called Soul Purpose with an ex-Brownsville guitarist.
The recording of the magnificent "A Change Is Gonna Come" occurred in the basement of a friend's house in New Orleans and was designed as a demo merely to get Sam some work, although Carlo Ditta duly put it out on the "Your Perfect Companion" Mini-LP.
A. J. Loria was introduced to Sam by Carlo. A.J. and Carlo had also been raised together. A keyboardist, songwriter and would-be producer, Loria accompanied Sam on his visit to Japan.
Loria would also feature on an Orleans CD (#1211) released in 1993 which saw just two solo tracks by Mighty Sam. This was "Midnight At St. Jude's", recorded much earlier at two sessions, on May 3 1987 and March 19 1988, at the weekly midnight masses at Our Lady of Guadalupe Chapel at the International Shrine of St. Jude in the French Quarter of New Orleans. The CD featured Aaron Neville, Allen Toussaint, Edgar Blanchard, Lady B.J., A.J. Loria, Shirley Stewart, Father Jack Franko and Sam., whose tracks were "Pray" and Thomas Dorsey's hymn "The Lord Will Make A Way".
After these recordings, later in 1988, with the music scene going quiet for Sam, he moved to Houston and went into the real estate business, chiefly on the financial strength of his then lawyer-wife, Laura.
When Sam first moved to Boston in 1992, he hooked up with a band called Uptown Revival, and soon brought three of its members over to his own first band, namely Bruce Katz (keyboards), Kevin Berry (guitar) and Lorne Entress (drums). It seems it was Lorne Entress, rather than Bruce Katz, who helped Sam in sending demos to Joe Harley of AudioQuest. Sam had to move temporarily to the West Coast to cut his first recordings for that label and stayed over at Lorne's place there. Later, as noted in the article, he would move to Epping, NH.
Discography
Good humor man / Sweet dreams ~ AMY 957 (1966)
Fannie Mae / Badmouthin' ~ AMY 963 / ANDEE 0016 (1966)
Georgia pines / I'm a man ~ AMY 973 (1967)
I need a lot of lovin' / Talk to me talk to me ~ AMY 984 (1967)
In the same old way / Silent tears ~ AMY 990 (1967)
When she touches me (nothing else matters) / Just like old times ~ AMY 11001 (1967)
I just came to get my baby (out of jail) / Baby come on home ~ AMY 11022 (1968)
Papa true love / I who have nothing ~ AMY 11044 (1968)
I've got enough heartaches / Lovebones ~ ATLANTIC 2707 (1970)
Your love is amazing / Evil woman ~ ATLANTIC 2711 (1970)
Mr and Mrs Untrue / Never too busy ~ MALACO 1011 (1971/2)
Pray / Dancin' to the music of love ~ ORLEANS 42784 (1984)
EP
Talk to me talk to me / Just like old times / In the same old way / I'm a man ~ AMY 001 (1967)
LP
Mighty Soul ~ SOUL CITY UK (1969)
Your perfect Companion - ORLEANS (1986)
Live in Japan ~ DEAD BALL JAPAN (1986)
Nothin' but the truth ~ CHARLY UK (1988)
CD
Live in Japan ~ ORLEANS (1988)
Give it up to love ~ AQM (1993)
Keep on Movin' ~ AQM (1994)
Sledge hammer soul & down home blues ~ AQM (1996)
Journey ~ AQM (1997)
Joy and pain - Live in Europe ~ CROSSCUT (1998)
Soul Survivor: The Best of Mighty Sam McClain ~ AQM (1999)
Blues for the soul ~ TELARC (2000)
Papa true love - The Amy sessions - SUNDAZED (2000) (includes unissued track "A Stranger To Me")
Sweet dreams ~ TELARC (2001)
One more bridge to cross ~ MIGHTY MUSIC (2001)
Betcha didn't know ~ MIGHTY MUSIC (2005)
Scent of reunion: Love duets across civilizations ~ KKV / VALLEY ENTERTAINMENT (2009) (with Mahsa Vadhat)
One drop is plenty ~ VALLEY ENTERTAINMENT (2011) (with Knut Reiersrud)
A Deeper Tone Of Longing: Love Duets Across Civilisations ~ VALLEY ENTERTAINMENT (2012) (with Mahsa Vadhat)
Too much Jesus (not enough whiskey) ~ MIGHTY MUSIC 2012
Individual tracks by Sam appear on Bell's Cellar of Soul Vol 2 (BELL UK), Hubert Sumlin's Blues Party (BLACK TOP 1987), Give us your poor (APPLESEED 2007).
Images and a tiny bit of info courtesy of Sir Shambling. Discography by Pete Nickols and Sir Shambling.
Note ~ You can find Sam's own website here.