20 Caribbean Deep Soul Masterpieces
This is a companion piece to the popular "The Sound Of Surinam Soul" article and is a personal look at another neglected area of deep soul from the rest of the Caribbean. Almost all the islands developed a love of ballad singing in the 60s often via listening to doo wop and soul tracks from their own and occasionally US radio stations. This sort of music was interspersed with all sorts of varieties of jump up music from calypsos, and later soca, through to spouge. The dominant from of music though was the sound of Jamaica, starting with ska, through rock steady (the soul beat) and on to reggae.
Sadly a lot of soul fans don't "get" Caribbean music at all, especially reggae. As someone who has been immersed in this music for over 40 years I find it both mystifying and rather depressing. I think this is due to problems understanding the rhythms and different songwriting forms particularly the lack of a "bridge". There is also the impenetrable nature of much of the lyrics. And a particular problem with poor reggae covers of soul songs. Sometimes you couldn't get near the counter at popular record stores in London like Record Corner and Contempo in the late 60s and early 70s on Fridays and Saturdays because of the crush of UK based reggae producers trying to be the first to get the hot US imports to cover. And it must be said that most of the covers – from London or Jamaica - were pretty bad. Brilliant renditions like Otis Gale's cool jazzy "I'll Be Around" or Ken Boothe's moody and menacing "Is It Because I'm Black" were the rare exceptions.
So before writing about indiginous forms of Caribbean music I thought it might be sensible to soften up a strongly soul based readership with 20 favourite songs of that type first. I've avoided soul covers as far as possible and included several of the best singers. But many more great artists aren't here – no Ken Boothe, Mighty Sparrow, Delroy Wilson, Slim Smith, Freddy McGregor or any of the fabulous Jamaican groups like the Techniques, Ethiopians, Justin Hines & the Dominoes, Gladiators – but you get the drift. They will have to wait for another day.
WORRY NO MORE
JOE HIGGS ~ ISLAND UK 3026 (1966)
One of the greatest Jamaican singers, Joe Higgs was scandalously under appreciated during the 60s and 70s when he was at his artistic peak. His gruff tones were ideally suited to the R & B he cut with Roy Wilson as part of the Higgs & Wilson duo early on thedecade and his sparse later solo recordings. He taught harmonies to the Wailers and was a father figure to many of the up and coming singers of the 60s. Of his recordings from that time "Worry No More" is a stand out – a showcase for his terrifically emotive delivery and sensitive interpretation. His magnificent mid 70s LP for Pete Weston "Life Of Contradiction" would easily get into my top 10 albums list. His later sets at the end of the decade and into the 80s before his sad death in 1999 could not match it. But he remains one of the great Jamaican artists.
I'LL NEVER GROW OLD
RAY WILLIAMS ~ VASKO 050 (mid 70s)
Ray Williams came from Grenada but cut a lot of his best work in London. His 45s "I'll Never Grow Old" and "It's Been A Long Time" were big sellers to the expatriate West Indian population in the 70s and as a result they were included on a fine Vasko album. The other cuts comprised the usual mix of jump up tunes and reggae but these two cuts have long been deep favourites in the UK. High time that one of them at least had a wider audience. Note that this artist isn't the same as the US singer who cut for Space and Ala.
I WOULD BE A FOOL
BOB ANDY ~ STUDIO 1 LP (1966)
Like Higgs Bob Andy was another under appreciated Jamaican singer/songwriter of considerable finesse and intelligence – about as far removed from the "let's cut 25 versions of this rhythm before dinner" brigade as it's possible to be and still be in the same genre. His early work for Coxsone Dodd was groundbreaking soul influenced rock steady most of which can be found on his superb "Songbook" LP. "I Would Be A Fool" has some delicate touches of doo-wop in the harmonies, a great melody and a simply wonderful vocal from Andy. Check out the ethereal falsetto and the American pronunciation of "aks" for "ask". Gorgeous.
PUT YOUR TEARS AWAY
JACKIE EDWARDS ~ ISLAND UK LP (1968)
Wilfred Jackie Edwards has claims to be Jamaica's greatest balladeer as he possessed a rich deep voice to which he added velvet touches somewhat akin to Joe Simon. Every time you hear him sing a song you get something new. Early tracks like "Your Eyes Are Dreaming" and "Heaven Just Knows" are first class doo-wop and later efforts such as the excellent "At The End Of The Rainbow" add sweet soul to the mix with really good effect. Edwards cut a soul album for Island called "Put Your Tears Away" in 1967 a version of which containing largely the same material was issued in the US by Veep. Buddy Scott's title track is a sensational uptown ballad of great beauty – one I can listen to time and again. It was supposedly cut in London rather than New York where it sounds as if it came from. If that's true it makes this track one of the very best soul records ever cut in England. Sadly Jackie had many personal problems and died young in 1992.
MABELLE
JACKIE OPEL ~ ISLAND UK 203 (1965)
My friend Greg Burgess has already written the definitive story of this wonderful singer which you can find here. I've nothing to add except to say that I've found another wonderful 45 by this most committed of singers. The gritty deep "Mabelle" is yet more proof – as if it was needed – that this little man was one of the true greats.
ONLY A FOOL BREAKS HIS OWN HEART
TONY GREGORY ~ JA SUPREME 45 (1966)
Experts in this sort of music like my friend Ben the Balladeer may tell you that Tony Gregory was the greatest soul singer ever to come out of Jamaica. And when you hear his purity of tone and subtle use of dynamics you probably wouldn't argue. A prolific artist and writer - he's cut at least 7 LPs - he is hardly known at all outside his native land which is a scandal frankly. His first LP for Studio One simply entitled "Tony Gregory Sings" is an outstanding set of songs, almost all of them from his own pen and contains this gem of a ballad. It all seems so simple – just an organ, guitar, bass and drums behind a man singing his about his love troubles – but how often does it sound as good as this? Listen closely to Tony's oh-so-cool vocal – so many fine touches of emphasis and timing – every time you listen you hear something new. And that is the infallible sign of a singer of the highest class.
IT'S NO USE
TOOTS & THE MAYTALS ~ JA BRM LP "SENSATIONAL MAYTALS" (1965)
No question Toots had it all – the voice, the songwriting and the charisma. I've been hero worshipping this little man with the huge talent for over 40 years and through all that time he's made music like nobody else. Although he's been called the Jamaican Otis Redding his connections with the soul world were largely based on the fervour of his singing which came from his formative experiences in the Pentecostal church. Even though it wasn't until 1985 that he cut his only true soul LP "Toots In Memphis" with backing singers Jerry Matthias and Raleigh Gordon he brought much of the same vocal strengths to his reggae discs of the 60s and 70s. His excursions into soul were few and far between. The exceptions were a few tracks like "I Know", "I Shall Be Free", "I Need You" and the aptly named "The Preacher" all of which give clear and unambiguous reasons why Toots Hibbert is up there with the very very best of post war singers.
WHEN
ROY DOCKER ~ PAMA UK 750 (1968)
Roy Docker made several soul based 45s for the Palmer Brothers in London in the 60s, mostly covers of US numbers. This super tune however comes from his own pen and shows what a fine clear voiced singer he was. The arrangement is pretty cool as well – considering the band was a UK one.
HARD ROAD TO TRAVEL
JIMMY CLIFF ~ ISLAND CAN 6011 (1967)
Jimmy Cliff was the first true international Jamaican star. Althoug he started recording as a 13 year old with ska songs like "King Of Kings" it was his association with producer Leslie Kong that brought him stardom with songs like "Vietnam" and "Suffering In The Land". His light tenor voice wasn't perhaps up to his songwriting abilities but he used it to it's full potential. He wrote several stone soul classics including "Sitting In Limbo" which he cut at Muscle Shoals and the brilliantly evocative "Many Rivers To Cross" which was covered by Little Milton. One of his best songs was "Hard Road To Travel" which in it's recut reggae version was deservedly a big hit. But the fact that he recorded it as a deep soul song first isn't so well known but it is a quite brilliant effort. A tip of the hat to producer Jimmy Miller for his imaginative arrangement. This is the Canadian 45 version – slightly longer and better mastered than the version on his Veep LP.
I'M SORRY PLEASE ACCEPT MY APOLOGY
SMOKEY 007 ~ SONESTA 9882 (Early 70s)


PLEASE DON'T MAKE ME CRY
SMOKEY 007 ~ BIRLAND (Early 70s)
In my view Leroy McKenzie was one the greatest singer ever to come from the Caribbean. He had several very big sellers in his native Bahamas in a variety of styles ranging from doo-wop ballads like "Laura" to jump up dancers like "My Lovely Island Woman". He cut several deep covers including "Tennessee Waltz", "Sad Shade Of Blue" and "Cry To Me" all of which were very fine. But for me it is his work in Miami in the early 70s that really showed his class. The two sides that make this list are two of his own compositions "Please Don't Make Me Cry" and "I'm Sorry Please Accept My Apology". The first of these is a pleading desperate tale on which Smokey is simply outstanding over a plodding rhythm and a full horn section. Listen in awe as he gets into the second verse especially just before he brings it all down to sob out his heart. "I'm Sorry" is just as powerful and equally well arranged. The piano player is just right, the strings complement the horns superbly and his group, the Exciters, back him up to a T. But the focus is really all on Smokey's fervour as he tries to explain his errors. Quite magnificent. If only we had more tracks like these to savour. Sadly he died in 2004 but his legacy is a fine one.
DON'T LOSE YOUR GOOD THING
BLUES BUSTERS ~ SHOUT Unissued (1968)
Phillip James and Lloyd Campbell were amongst the most soul orientated of Jamaican singers. Active as recording artists from the late 50s they cut great ska like "Behold" and "Soon You'll Be Gone" as well as ballads like the famous "Wide Awake In A Dream" before relocating to the US. Among their visits was a trip to Muscle Shoals where they cut super versions of "I Can't Stop" and "Inspired To Love You" which came out on Shout. Even better was their cut of a Fame classic most closely associated with Jimmy Hughes and Etta James "Don't Lose Your Good Thing" which for some reason remained in the can until recently. And it is to the guys great credit that they certainly aren't disgraced in this company. Like so many other Caribbean stars Philip and Lloyd went to Miami in the 70s but their recordings for Konduko were a rather ordinary mix of disco and reggae. Both Phillip and Lloyd sadly passed on at the end of the 80s.
I DON'T WANNA CRY
JIMMY JAMES ~ HBR 496 (1966)
Jimmy James was born in Jamaica in 1939 and recorded a few ska tracks there before moving to England around 1964. Over the next couple of years his band the Vagabonds established themselves as one of the leading soul groups, being especially popular with the mods in London. "I Don't Wanna Cry" is his best deep record ever featuring a classic arpeggio guitar and organ, some fine background harmonies and James himself giving it his all. Love that meandering sax. In the 70s he hit with some disco material like "I'll Go Where The Music Takes Me". Nowadays he remains a good draw on the UK oldies circuit.
NOTHING SWEETER
ALTON ELLIS ~ DUCHESS 45 (1966)
Sadly "Mr Cry Tough" passed away in 2008 but he left a huge legacy of the coolest rock steady music. A survey of his hits would take far too long for this brief intro to his music but his nickname and the evergreen "Girl I've Got A Date" may be the pinnacle of a huge catalogue. Alton's vocals were oh so smooth and beautifully modulated. He continued recording after the rhythms quickened again as reggae got established at the end of the 60s and was still active in the studios well into the 80s with his expressive vocals strength scarcely diminished by the passage of time. He didn't cut a lot of straight soul but "Nothing Sweeter" from 1966, located somewhere between doo-wop and sweet soul, is a fine showcase for his talents.
CHILDREN'S WORLD
GEORGE FAITH ~ BANANA 45 (1978)
Faith – or Earl George as he was sometimes called – is best known to Lee Perry collectors for his series of recordings for the Upsetter in the 70s. Like many of his discs these were mainly soul covers of middling success. But he did cut at least one soul original as you can hear. To my mind this rare 45 is his one masterpiece. A song of considerable power as well as beauty "Children's World" is a vocal tour-de-force as Faith moves from his normal baritone to a sumptuous falsetto. The end 30 seconds or so of the record moves into a reggae rhythm so in order not to upset those of a delicate disposition I've removed this from the soundclip. He died in 2003.
CHANCES ARE
BOB MARLEY & THE WAILERS ~ WAIL'N SOUL'M 45 (1968)
I've never really rated Bob Marley's vocals all that highly – maybe a slight absence of musicality in his tone – but his songwriting is another story altogether. Although most critics have focussed on his militant lyrics which the radical chic crowd adored I think his genius lay in his melodic inspiration. Time and again he showed an almost unparalleled ability to write catchy tunes and hooks which stuck in your consciousness for days after you heard them. His greatest artistic productivity came in the 60s although his international reputation in the 70s came mainly from recuts of material from that period. He didn't write much straight soul even in his time with Johnny Nash and Danny Sims' Joda organisation but "Chances Are" may just be the best of the few as not only is the song itself a good one but also Bob's voice conveys just the right hint of pathos. Love that slurred delivery! This is the first cut of this title.
SHE LEFT ME IN MY OWN TEARS
GULLY ROOSTERS ~ (ATLANTIS LP "SOUL OF GREEN TURTLE CAY") (1970s)
The Gully Roosters produced an LP entitled "Soul Of Green Turtle Cay" which pinpoints both their style and their location in the Bahamas. The deep soul of "She Left Me In My Own Tears" is a fine example of their heavy approach – great lead vocals from Vincent Cooper. The band - in a somewhat changed form - still performs regularly on their home turf.
I'VE BEEN PUSHED AROUND
BLUE RIVERS & THE MAROONS ~ BLUE BEAT UK 45 (1967?)
One of the great blue beat bands of the early 60s Blue Rivers & The Maroons built up a strong reputation for a great show at mod clubs like the Marquee in London. A lot of their recorded output was ska based but Rivers himself was a far better vocalist than he is usually credited with – not surprising as the band were really noted for their frantic horn based instrumentals. But a lot of the soul material they cut were ballads and perhaps the best of them is "I've Been Pushed Around". When last heard of Rivers had moved to Switzerland.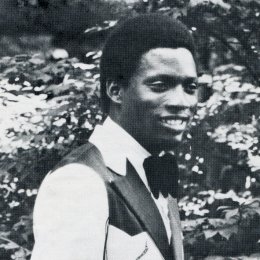 HEART OF HEARTS
LEVI JOHN ~ WIRL 45 (mid 70s?)
I've written about this fantastic slab of deep soul before and found a lot more vinyl from this fine hard edged singer who may well have come from Grenada. But nothing I've heard has come even close to reaching the heights of the Jamaican recording "Heart Of Hearts". The song is a very strong one and the arrangement is first class. Too bad that most of the other material by this talented artist seems lightweight in comparison. John is still singing his heart out as you can see from the Youtube clip here.
WHAT TO DO TO STOP FROM LOSING YOU
L B REYNOLDS ~ BRA 1102 (late 60s?)
BRA was a label which issued mainly soul 45s mainly from Byron Lee's productions in Jamaica. Among them is this fine but obscure ballad by L B Reynolds. Although he was born in Nassau he was raised in Ft Lauderdale. He is still making music from his home in Virginia.
SPECIAL BONUS TRACK!
MEAN OLD WORLD
MAYNELL WILSON ~ CBM UK 001 (1967)
Maynell Wilson had a couple of singles issued before this one on the UK Carnival label - one a duet with Errol Dixon. But this outstanding - and totally unknown - deep soul cut knocks the spots off her previous effort. Great arrangement from the Pat Daniels Band - classic guitar and organ lines plus fine unusual horn support - which provides a perfect back drop for Wilson to sing out her frustrations. And she makes a realy fine job of it. This cut can be found on the double CD "The Ember Records Story" but beware as most of the tracks are 60s pop.
Special thanks to Ben The Balladeer Feurich and Greg Burgess for enthusiasm and inspiration. And to Dave Else for spotting a huge error now corrected.