Various Artists "South Texas Rhythm 'N' Soul Revue" (Kent UK CDKEND 390)
By Sir Shambling
Go Go Train ~ Jackie Paine; Doggin' Around ~ Jean Knight; Get To Gitten' ~ Big Walter; Tennessee Waltz ~ Warren Storm; Trick Bag ~ Sunny & The Sunliners; Pick Me Up On Your Way Down ~ Margo White; Long Gone ~ James Young; Out Of Sight ~ The Insight; Time ~ Charles Berry; If You're Looking For A Fool ~ David "King" Thomas; Let Them Talk ~ Johnny Adams; That Is Why The End Must Begin ~ Joe Masters; Irene ~ Rockin' Dave Allen; Slow Walk You Down ~ Johnny Copeland; Fat Man ~ TV & The Tribesmen; If Only You Were Here ~ Margo White; Five Long Years ~ Tee Bee Fisher; A Place Called Home ~ Johnny Adams; I Found A Love ~ Maxine Davis; Sufferin' City (Version 2) ~ Johnny Copeland; Friends In Show Business ~ Joe Melvin; Go Go Train (WMCA Version) ~ Jackie Paine; Neighbor Neighbor (Demo) ~ Alton Valier; You'll Lose A Good Thing (Demo) ~ Barbara Lynn.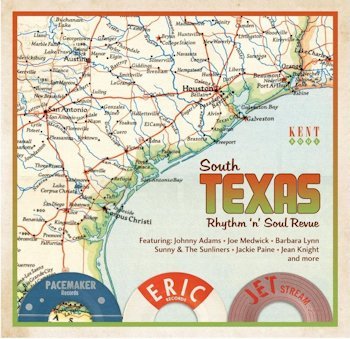 Some years ago now Demon UK issued over 40 CDs from the enormous catalogue of the odious Huey Meaux's lengthy musical career. And while the music was often absolutely essential – the Joe Medwick, the two Oscar Perrys and the super swamp pop of Jimmy Donley for example – the packaging was poor, the notes often worse, and the covers lack lustre to put it mildly. And strangely, Demon didn't release any totally R & B compilations.
Now Ace UK are promising to put things right via a series of CDs from the same source, and – wonderfully – they've kicked off with this compilation. There are many top vocalists featured including Johnny Adams, Jean Knight, Barbara Lynn and Johnny Copeland, and their contributions here are among the highlights. Adams' version of the old warhorse "Let Them Talk" isn't his best on Pacemaker but it's still very good, Copeland's "Slow Walk You Down" is a masterpiece of blues balladering, and compiler/annotator Tony Rounce has generously included Lynn's demo for her smash "You'll Lose A Good Thing".
There are plenty of lesser names here too, four of whom are featured on this website – Margo White, Charles Berry, Maxine Davis and the hugely gifted Joe Medwick. And it is not surprising that these singers provide some of the best soul on view – White's excellent mid paced "If Only You Were Here", Berry's heartfelt deep ballad "Time", and Davis' cut of "I've Found A Love", my favourite female recording of this great song.
But pride of place must go to Medwick, who features on three tracks here, all under aliases. The thumping "Fat Man" as TV & The Tribesmen, the deliberate blues ballad "That's Why The End Must Begin" as Joe Masters and "Friends In Show Business" as Joe Melvin. This last is one of those "mention the stars" tracks on which Medwick's powerhouse vocal is just unstoppable. One of the nicest surpises here is the inclusion of an Alton Valier track - the original demo of "Neighbour Neighbour". This very talented songwriter never had a 45 out but the total of his writer's credits may well have equalled Joe Medwick's, if both of them hadn't signed away their rights to Meaux so often.
As the title suggest the vast majority of the tracks were cut in Houston's ACA studios, and the style is raw, crude even, compared to the smoother sounds and higher production values from major studios in Memphis and Muscle Shoals. And the emphasis is on the blues and R & B traditions rather than 12/8 country soul slowies. That trend is exemplified by the inclusion of blue eyed guitarist Tee Bee Fisher's superb version of Eddie Boyd's angry blues "Five Long Years", long a personal favourite. But aside from Rockin' Dave Allen's fine swamp pop "Irene" which provides a lovely New Orleans change of pace, and the deadful white pop of the Insight track, this is a southern soul and R & B CD of really high quality.
One thing to note however is that in common with so many Ace CDs of the last few years, the sound has been heavily compressed - take any of the tracks here and do an A/B comparison with the original 45 to check. While this gives the tracks an immediacy (the reason for doing it of course), this is really a cheap trick and doesn't in any way improve the original recording. Despite this fault, this super collection has all the Ace virtues of attractive packaging, interesting notes, and illustrated booklet and is therefore stronlgy recommended – and I can't wait for vol 2.
March 2013