Mickey Murray "People Are Together" (Secret Stash LP 284)
By Pete Nickols
Fat Gal ~ Try A Little Harder ~ Ace Of Spades ~ Going Back To Alabama ~ I Wanna See My Baby ~ Money (That's What I Want) ~ People Are Together ~ The Buzzard ~ Explosive Population ~ Fever ~ I Found Out ~ I Don't Know Why.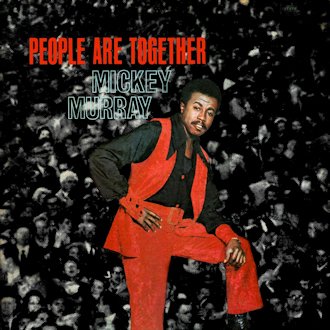 This is not a CD but rather a nicely-packaged, gatefold-sleeved LP reissue of Murray's original Federal 13000 release from circa 1970. It's available from Secret Stash of Minneapolis in the USA, apparently in limited numbers, although hopefully they will meet such demand as they receive. You can contact them via their website here.
The nice thing is that early customers also receive a bonus 7 inch 45 of two other Murray Federal tracks (mine was a reissue of his Federal 12571 single "I Can't Tell You"/"Ain't Nothing We Can Do About It") and, perhaps in this digital age, even more importantly, you also get a code to use on Secret Stash's web-site to allow you to download (in full quality) MP3s for all of the tracks on the album (though not those on the 'single').
Murray was born in Aiken County, North Augusta, South Carolina in 1938. He has always rightly been associated with the Augusta, Georgia scene since, for those not familiar with the area, the 'suburb' of North Augusta just happens to be situated in a different State of the Union to the main city. He started out singing gospel alongside his younger brother (and also later soul-singer) Clarence - see here for more on Clarence, who sadly passed on 31 Jan. 2011 and whose biggest claim to fame was becoming, in the 70's, a joint lead singer of the local but long nationally-recognised Swanee Quintet - and especially his tough but very expressive and soulful lead on the group's huge 1973 gospel hit "How Much Do I Owe Him" (Creed 5221).
It's claimed Mickey helped form the Augusta-based Dixie Jubilaires as early as around 1951 when he was still only 13 but they appear not to have recorded before 1966/7 (a lone 45, cut in Augusta, on Em-Jay 103). It seems unlikely that Mickey was featured on this release, as by then he was well into secular music. Having been first discovered (and regularly rehearsed) by his high school band-teacher, Raymond Dean, Mickey next encountered Sam Gantt, manager of the Zippers, whom Mickey fronted for a while before being 'discovered' yet again by Blanche Carter, who took both Gantt and Murray to Macon to meet producer Bobby Smith.
You can pick up the rest of the Mickey Murray story on his artist-page here and, from that, you will realise that some of the tracks from his pre-Federal SSS-Int. days are probably the best he ever recorded. If you want more than the sound-clips provided, the best CD release of Murray's work from this particular era appeared in 1998 under the title "Shout Bamalama – The Very Best Of Mickey Murray" on Collectables CD-6023.
After SSS, Mickey tried to join Stax but they found his ties with Shelby Singleton's label were hard to break. Meanwhile by late '68, Starday's takeover of King Records had left that company in a poor state and looking round for another 'James Brown'. Bobby Smith's good contacts with King allowed Mickey to sign for their Federal label and the "People Are Together" album was recorded, apparently late in 1969.
The trouble was, the first 45 extracted from it in 1970 and offered to the southern 'black station' jocks for radio-play was the title-track but this song's very direct message about racial equality actually made those guys fear for their jobs if their white station bosses heard them promoting a song which began: "Take a pinch of white man, wrap him up in black man, add a pinch of blue blood, then a little pinch of red Indian boy!" At the same time King/Federal largely lost interest in promoting new 'front line' product (their owners Starday/Lin Broadcasting were more interested in budget reissues of back-catalogue material); hence Murray's album 'died' virtually before it was 'born'. Although other Murray singles also emerged on Federal, none received enough promotion to create any kind of national attention.
Having, however, enjoyed earlier national success on SSS with Otis' "Shout Bamalama" it's perhaps not surprising that another Otis item, "Fat Gal" opens up Side 1 of the LP. This gently funky piece sings the praises of those 'big leg women' apparently so beloved by certain black performers. The melodic and very soulful slow-paced country-soul of "Try A Little Harder" is a standout, as mentioned on Mickey's artist-page, where you can hear a clip. If you like O.V. Wright's version of "Ace Of Spades" as much as I do, you will barely recognise this mid-tempo funky 'take' on what was yet another fine song from the entirely imaginary pen of Don 'Deadric Malone' Robey. The same comment about recognition applies to Murray's bouncy cover of Barrett Strong's superb slab of proto-Motown, "Money (That's What I Want)", with Mickey also doing his best JB impression on the extended, funky outro. "Going Back To Alabama" is a fine southern foot-tapper, which, from its format (mid-track 'rap' excepted), could easily have been a follow-up to Arthur Conley's "Sweet Soul Music". "I Wanna See My Baby" certainly appeals to me – after an extended lay-back 'rap' intro, Mickey empathises beautifully with this slow, very soulful piece – and there's some great guitar-playing too.
The contentious (at the time) title-track opens Side 2. Actually it's a very well sung piece of 'message soul', with a lovely organ backdrop and a fullish back-up chorus towards the song's end. The lyric also unashamedly borrows at one point from "What The World Needs Now Is Love". "The Buzzard" was a failed attempt at launching yet another dance-craze; while the surprisingly short "Explosive Population" was a pacy message-piece about the dangers of too many babies coming into the world and sounds almost like it could have been a Swamp Dogg song. Mickey's take on Little Willie John's "Fever" isn't half bad – it's moody and at least the man can sing – a tribute perhaps to the magnificent voice of the original purveyor of the piece. The album ends with two songs written for Murray by revered deep-soul man Thomas Bailey (see here) who was recording for Federal around the same time as Mickey, although both songs are mid-paced funky items, not recorded by Bailey himself.
If you can get hold of this album, I would recommend it – there's enough good soul to make it interesting and Mickey Murray certainly could sing - but you might also need to like 'that funky music' too to obtain maximum enjoyment from it.
Feb 2012