Various Artists "Deep & Gritty: The Sound Of The City Vol.7:
Los Angeles Part One" (Sounds Good To Me SGTM 908)
By Pete Nickols
I'm A Whole New Thing ~ Ural Thomas ~ Uni 55003; I Need Your Lovin' ~ The Turn-A-Rounds ~ Minit 32047; Together At Last ~ George Torrence & The Dippers ~ Duo Disc 117; You Should Have Told Me ~ The New Yorkers ~ Tac-Ful 101 & Radio City 1001; Every Woman Has A Right (To Change Her Mind) ~ Carl Underwood & Dealia Copeland ~ Kujinga 101; I'm Sorry We Had To Part ~ Bobby Kimble ~ JAB 101; Million Dollar Man ~ William 'Blues Boy' Wells ~ Pandora LP APN 1000; Stop Dragging My Heart Around ~ Bobby Taylor ~ Club Long Island 200; A Woman Has Taken Her Place ~ Linda Evans ~ Watts Sound (no number); Let Me Love You ~ The Fuller Brothers ~ Soul Clock 101 & Bell 734; Standing Here Crying ~ The Incredibles ~ Audio Arts 60017 & Tetragrammaton 1515; Good Things Come To Those Who Wait ~ Pat Hunt ~ Grand 161; Faith ~ Ray Agee ~ Krafton 512 & Diving Duck LP 4301; Just Won't Believe ~ Claude Huey ~ MIOB 1283; This Time (I'll Be The Fool) ~ Darrow Fletcher ~ Crossover 983; Still I Love You ~ Johnnie Ruth King ~ Pzazz 009; A Lover's Blues ~ The Raelettes ~ Tangerine 976; For Goodness Sake ~ Jimmy Robbins ~ Ala 1173; Leon Haywood ~ Just Your Fool ~ Capitol 2584; Same Time Same Place ~ Sweet Linda Divine ~ Columbia 9771.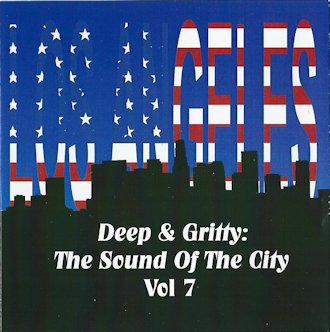 This continuing series moves out to the West Coast for the first time via this 20-tracker, 10 of which have already been featured as audio samples in the artists' section of this web-site.
Portland, Oregon's Ural Thomas, perhaps remembered best for his "Pain Is The Name Of The Game", kicks off the proceedings with a nice rolling mid-pacer, although it's neither particularly deep nor gritty.
The Turn-A-Rounds' piece has a 'smooth' feel to it but the lead vocal is much tougher and deeper than the 'backdrop' would indicate. Nice track.
We get even deeper with ex-doo-wopper George Torrence's great Duo Disc outing which you can catch on his artist page. You can also link to the fine New Yorkers' track which is a tad pacier but boasts a great lead-vocal which this time is very much both deep and gritty.
Carl Underwood and Dealia Copeland's contribution is on the R&B side of soul, a tough conversational piece with the female vocal responding to the male one, with no harmony-singing involved.
Bobby Kimble (aka Neal Kimble) sings mournfully about his girl leaving him but his voice here is a touch 'straight' for my own soul tastes except when he gets dramatic, demonstrating then that he can scream and shout with the best of 'em.
William Wells' song is a 1979 offering from Wells' rare "Blues Boy" LP, cut for ex Swingtime owner Jack Lauderdale's Compton-based Pandora logo. It's a lovely piece of emotive blues-soul, almost ala Bobby Bland.
Bobby Taylor's offering is on his artist page. It features some fine interpretive singing, especially on Taylor's very melismatic finale.
Re the Linda Evans track from an unnumbered Watts Sound 45, you can tell she has a good voice but the song is a rather ordinary and meandering piece.
Gospel-soul duo the Fuller Brothers sound as good as any other of the better-known such combinations, the lead high-tenor voice being particularly impressive on this impassioned performance.
The Incredibles boasted two guys and two gals with Cal Waymon taking lead here on "Standing Here Crying". As the title suggests, it's an emotional song but, although black, Waymon's fairly 'straight' delivery sounds almost 'blue-eyed'.
Pat Hunt was related to Brenda Holloway but she seems to have been an even 'tougher' singer and "Good Things Come To Those Who Wait" is a fine track.
Ray Agee is one of the more prolific recording artists on this set and "Faith" is an excellent piece of West Coast slow-paced bluesoul with some great guitar accompaniment.
You can read all about Claude Huey on his artist page and "Just Won't Believe" is one of his best soul-ballads, with a good girl chorus in support of his partly-spoken but still strong lead-vocal.
Another lateish track is "This Time…", one of Chicago native, Darrow Fletcher's last recordings, cut while he was resident on the West Coast. It starts out 'smooth' (hardly deep or gritty) – however Fletcher's emotion increases significantly as the piece progresses.
Again, you can enjoy Johnnie Ruth King's waltz-tempo soul-ballad on her artist page. It's a nice lay-back but strongly-sung piece, with a good piano and brass accompaniment.
One of the stand-out tracks of the CD for me is the Raelets' (sic) powerful deepie "A Lover's Blues" from their Tangerine 976 single, as opposed to Margie Hendrix & the Vocals' (actually the Raelettes') slower and more jazzy earlier version on Tangerine 940, which you can hear on Margie Hendrix's artist page.
Jimmy Robins (awarded two 'b' s to his name on this track) is one of the great powerful, gruff-voiced 'preaching' soul vocalists, his "I Made It Over" being a stone deep-soul gem. The superb cut featured here (his penultimate 45) runs it very close, even though it stems from as late as 1972/3.
Leon Haywood was a fine singer, keyboardist, songwriter (and later label-owner). He cut his impressive song, "Just Your Fool", twice. This is the earlier 'moody' slow-to-mid-paced Capitol original from 1969. The sleeve-notes suggest it was better than his later 20th Century version. I'm not sure. They're both great in different ways. You can enjoy the later, more funky mid-70s version on the fine "Back To Stay/Keep It In the Family" UK Shout 071 CD from 2011.
There's more than a touch of Kim Tolliver about the dramatic vocal phrasing of Sweet Linda Divine (Linda Tillery), who makes a truly great job of this Mabel John original, complete with a fine mid-track rap. A terrific recording, although soul music would sadly soon lose Linda to more rock and jazz-influenced stuff.
Again a fine compilation in this series. It comes well recommended, even though half the tracks can be sampled here.
April 2012