Various Artists "Dave Godin's Deep Soul Treasures Volumes 1 to 4" (UK Kent CDs CDKEND 143 (1997), 158 (1999), 200 (2000) and 230 (2004))

By Pete Nickols
THESE 4 CDs ABLY DEMONSTRATE WAS IS MEANT BY 'DEEP SOUL'
VOL 1
The Knight Brothers~I'm Never Gonna Live It Down; Timmy Willis~Easy As Saying 1-2-3; Zerben R Hicks & The Dynamics~Lights Out; Irma Thomas~Anyone Who Knows What Love Is (Will Understand); Jean Wells~Have A Little Mercy; Dori Grayson~Try Love; Brendetta Davis~I Can't Make It Without Him; Kenny Carter~Showdown; Larry Banks~I'm Not The One; Jimmy Holiday~The Turning Point; The Incredibles~Standing Here Crying; The Just Brothers~She Broke His Heart; The Untouchables~You're On Top; Reuben Bell & the Casanovas~It's Not That Easy; Van & Titus~Cry Baby Cry; Jean Stanback~I Still Love You; Bessie Banks~Try To Leave Me If You Can (I Bet You Can't Do It); Raw Spitt~Songs To Sing; Lee Moses~How Much Longer (Must I Wait); Billy Young~Nothing's Too Much (Nothing's Too Good); Sam & Bill~I Feel Like Cryin'; Eddie & Ernie~I'm Goin' For Myself; The Knight Brothers~Tried So Hard To Please Her; Pearlean Gray & The Messengers~The Love Of My Man; Jaibi~You Got Me.

VOL 2
Doris Duke~How Was I To Know You Cared; Eddie Holman~I'm Not Gonna Give Up; The Soul Children~The Sweeter He Is (Parts 1 & 2); Tony Owens~I Don't Want Nobody But My Baby; Bobby Moore & The Formosts~It Was A Lie; Jimmy & Louise Tig And Companymp3 available~A Love That Never Grows Cold; Ben E King~It's All Over; Nat Phillips~I'm Sorry I Hurt You; Wendy Rene~What Will Tomorrow Bring?; Arthur Conley~I'll Let Nothing Separate Us; Irma Thomas~These Four Walls; Johnny Adams~If I Could See You One More Time; Ruby Johnson~I'll Run Your Hurt Away; The Premiers~Make It Me; Eddy Giles~Losin' Boy; Doris Allen~A Shell Of A Woman; Otis Redding~Just One More Day; Bessie Banks~Go Now; George Perkins & The Silver Stars~Cryin' In The Streets Part 1; Big John Hamilton~How Much Can A Man Take?; Barbara West~Anyone But You; Carla Thomas~Stop! Look What You're Doing; Toussaint McCall~Nothing Takes The Place Of You; Eddie & Ernie~Hiding In Shadows; Lisa Richards~Let's Take A Chance.

VOL 3
Toussaint McCall~I'm Undecided; Baby Washington~Breakfast In Bed; Dee Clark~In These Very Tender Moments; Jean Plum~Look At The Boy; James Brown~Lost Someone; Eddie & Ernie~Thanks For Yesterday; Bessie Banks~It Sounds Like My Baby; Bobby Womack~Baby I Can't Stand It; Etta James~I'd Rather Go Blind; Syl Johnson~Is It Because I'm Black?; Maxine Brown~All In My Mind; Robert Ramsey~Like It Stands; Irma Thomas~Wish Someone Would Care; Ray Gant & Arabian Knights~Don't Leave Me Baby; Carla Thomas~I Can't Take It; J R Bailey~Too Far Gone To Turn Around; Betty Lavette~Let Me Down Easy; Bobby Bland~I'm Too Far Gone (To Turn Around); Barbara & The Browns~I Don't Want To Have To Wait; The Enchanters~I Paid For The Party; Rozetta Johnson~Who You Gonna Love (Your Woman Or Your Wife); Rick James & Friend~Ebony Eyes; Doris Duke~He's Gone; The Impressions~My Deceiving Heart; Loretta Williams~I'm Missing You.

VOL 4
The Knight Brothers~Temptation 'Bout To Get Me; Eddie & Ernie~I Believe She Will; Matilda Jones~Wrong Too Long; Bobby Bland~I Pity The Fool; Chuck Edwards~I Need You; Ruby Andrews~Just Loving You; Clarence Carter~Slip Away; Black Velvet~Is It Me You Really Love; Paul Kelly~The Day After Forever; Gladys Knight & the Pips~Giving Up; Arthur Conley~I'm A Lonely Stranger; Jackie Lee~I Love You; The Miracles~The Tracks Of My Tears; Roosevelt Matthews with Billy Ball & The Upsetters~You Got Me Diggin' You; Doris Duke~I Don't Care Anymore; Lawrence & Jaibi~You Make Me Feel Good; Barbara Brown~Can't Find No Happiness; Garnet Mimms~My Baby; The Webs~It's So Hard To Break A Habit; Irma Thomas~Time Is On My Side; Tony Owens~This Heart Can't Take No More; Jaibi~It Was Like A Nightmare; Roy Hamilton~The Dark End Of The Street; Jimmy Robins~I Made It Over; Bob & Earl~Don't Ever Leave Me.

Dave Godin was a lifelong UK champion of black American popular music who, in addition to having been an R&B/soul music record-label owner and journalist, is credited with coining the phrases 'northern soul' (for the soul music to which fans frequenting clubs primarily in northern England liked to dance) and 'deep soul' (for that special kind of very emotional, gut-wrenching and soul-searing soul music that displays, through its lyrics and its singer's involved interpretation of them, the mental anguish caused almost exclusively by a lost love – the only sub-genre of soul music which closely mirrors the fate-bemoaning intensity of the more potent examples of Delta Blues). You can read my own attempt at a fuller definition of 'Deep Soul Music' here.
This series of 4 CDs from UK Kent was issued, not together as a set, but separately in 1997, 1999, 2000 and 2004 and, by the time the last volume was compiled, Dave Godin was sadly close to death (he died aged 68 on 15th October 2004). The whole series can therefore be regarded as his testament and the last of his many major attempts to expose people to examples of the kinds of soul music which often differed in style from many of those soul recordings which proved commercially successful.
Whilst I would personally not have classed all of the 100 recordings featured here as 'Deep Soul', certainly the vast majority were and, what's more, many of the very finest examples of this sub-genre are included.
It's true that most singers who recorded what we call 'deep soul' were gospel-influenced and many had earlier experience of at least singing regularly in church if not actually as significant adult solo, quartet or choral gospel performers. Many – indeed most – remained relatively obscure as secular performers simply because, by its very nature, the kind of soul music they were singing was rarely commercial enough to even break into the so-called R&B ('black music') charts, let alone the 'crossover' Pop ones. Nevertheless this is not to say that better-known performers weren't also capable of recording in this style if their vocal ability was 'up to it'. Examples of such performers whose work in this field appear on these CDs include Irma Thomas, Ben E. King, Arthur "Sweet Soul Music" Conley, Otis Redding, Carla Thomas, James Brown, Bobby Womack, Bobby Bland and Clarence "Patches" Carter.
However, the vast majority of tracks on offer here stem from artists whose names only those who have dug deeper into soul music will already know. This is not really important since the raison d'etre of the CDs in this set is to make available to the listener great examples of a specific significant soul-music style, almost regardless of the names of the singers who performed them.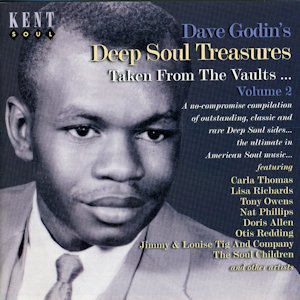 From these wonderful CDs, for me the outstanding tracks of so many fine ones include the following:
There's Timmy Willis' magnificent, funereally slow-paced, dramatic crie de coeur "Easy As Saying 1-2-3", the title referring to just how insanely easy it is for a once loving relationship to be ended in a way which takes absolutely no account of the heartbreak being experienced by the participants. The lyrics and 'meaning' of such songs are just as important as the soulful musical quality of the recording; but even on the latter score, this example is typical of top-drawer 'deep soul' with the vocalist just so 'involved' that he gives the impression he is 'living' the hurt he is describing, the piece ending as his vocal becomes ever-more dramatic before it finally departs into the 'fade', an almost ever-present nuance of deep-soul recordings, very few of which ever actually ended abruptly on a final 'note'.
Another stone deep winner is the almost ominous-sounding "I Made It Over" by the powerfully-voiced soul baritone Jimmy Robins. Where many soul singers use extended and/or bent notes Robins' voice is pretty straight-ahead but still possesses what seems to be an inherent sincerity for the message he is conveying. It's that kind of involvement in a soul performance which earmarks it as a genuinely deep one.
Jean Wells had a magnificently interpretive voice and I had the huge pleasure back in 1994 of actually compiling and annotating the first-ever retrospective CD ("Soul On Soul" UK Kent CDKEND 111) of her wonderful material, cut out on America's East Coast. On her outstanding recording "Have A Little Mercy" she plays the role of a girl completely besotted by her would-be 'man' whom she is desperate should understand just how badly she 'needs' him and how he should show her so much more attention than he is apparently doing. It's extremely common in 60's soul music for women (as many black women in particular did in the society of those days) to take a submissive role to that of the man in their relationship. Today this might be regarded as 'old fashioned' or even simply unacceptable but 60's soul music reflected the black society of its time and this is quite simply how it often was 'back then'.
Some deep soul is almost lay-back whilst other examples can be right 'in your face'. A prime example of the latter style can be found in Lee Moses' quite staggering recording "How Much Longer (Must I Wait)", which is also a rare example of top-quality deep-soul which is sung to a mid-to-fast tempo – nearly all deep-soul is slow-paced. Lee has nothing short of anger in his voice as he musically 'shouts' his frustration at not being able to make his girl see how much he loves her and why she can't simply accept him for what he is, mistakes and all.
A female recording also in the 'in your face' category is the astonishing "A Shell of A Woman" by Doris Allen, in which she berates her 'ex' for taking everything from their relationship and never giving anything back, at first in demonstrative but fairly straight-ahead soulful tones before suddenly letting rip with a soul-vocal tour de force so potent that it leaves the listener weak-kneed and would probably leave the recipient of her soul-baring wrath fearing for his life!
Quite the antithesis of this style but still just as riveting in its way is the soulful quiet-fire of Louise Tig on a sparse but extremely descriptive piece in which she pleads to her unreliable lover that what she really needs is "A Love That Never Grows Cold". Also using the 'spare' approach to terrific effect is Barbara West on a deep-soul version of "Anyone But You", a song originally cut seven years earlier by veteran female R&B star Ruth Brown. This performance's similarity to the equally impressive (and commercially successful!) "Nothing Takes The Place Of You" by Toussaint McCall (also included here) is perhaps no surprise as McCall had production and probably also musical input into West's recording.
Otis Redding's slow-paced early recordings are themselves fine examples of deep-soul (his "Just One More Day" is featured here) and his protégé Billy Young makes a superb job, somewhat after Otis' style, of the lay-back but very expressive "Nothing's Too Much". Similarly, another Redding protégé, the aforementioned Arthur Conley, offers spellbinding versions both of his mentor's own soulful promise to a loved-one, "(I'll) Let Nothing Separate Us", and also another great deep song Arthur co-wrote with Otis, "I'm A Lonely Stranger". Meanwhile a lady who toured regularly with Otis as his 'opening act', Loretta Williams, cut just one deep gem but her "I'm Missing You" (on Otis' own Jotis label) was so impressive that it left a permanent mark in deep-soul history.
The so-called 'soul duo' is personified perhaps by Sam & Dave, who themselves cut some great deep-soul recordings (like the much covered song "When Something Is Wrong With My Baby" – not included here) but there were many other less well-known male duos in soul music history who, on their day, could easily rival Sam & Dave in terms both of great vocal harmony and counter-singing. The unconnected Sam & Bill were one such and their superb recording "I Feel Like Cryin'" is a terrific example of ultra-emotive gospel-influenced duo deep-soul. As with all the best deep-soul outings, the empathetic musical backing is also a very important factor in the aesthetic success of the performance as a listening experience. Eddie & Ernie and The Knight Brothers were two other top-drawer soul duos and there are fine examples of their output on offer here too.
Still with a strong gospel influence, Pearlean Gray offers up a truly deep rendition of a song which itself was much-recorded by several deep-soul protagonists, "The Love Of My Man", a secular song based very closely on the gospel standard "The Love Of God", which actually made it to both the R&B and Pop charts back in 1963 when first sung by the equally little-known Theola Kilgore.
New Orleans' Johnny Adams had a long career in R&B and soul music and his strong clear voice with its terrific range and penchant for hitting (and holding) high notes earned him the nickname the Tan Canary. Using fewer bent-notes than most deep-soul singers, Adams still conveys tremendous empathy with the message inherent in his majestic song "If I Could See You One More Time".
Also from the Crescent City, Irma Thomas nevertheless cut her superb heart-felt plea "Wish Someone Would Care" out on the West Coast. Her involvement in the lyric of this great song is so real that it can raise goose-bumps. Just as impressive is another musical plea, by Michigan-based Betty LaVette, to "Let Me Down Easy", a song she actually recorded at the painful end of an affair, the intense emotion she expresses, especially towards the song's climax, therefore coming straight from her own heart. For top-flight deep recordings this one is also unique in that it uses a tango rhythm.
Paul Kelly is a highly-regarded southern singer/songwriter and, as an example of melodic southern country-soul also acquiring that more intense deep 'edge', just revel in his beautiful performance of "The Day After Forever".
Space does not allow me to cover any more of the fine recordings on offer here but I hope I've given you a 'feel' both for what 'deep-soul' is about and also for just how good this set of CDs is.
Dave Godin's boundaries for deep soul were musically a bit wider than my own, some of the tracks included here not quite having the degree of intensity that I regard as fundamental to deep soul while a few others also boast tempos a tad faster than I would normally deem appropriate for the sub-genre; however, I'm splitting hairs here – the 4 CDs taken together do make for a wonderful Deep Soul Primer and in any case who am I to take exception about what or what might not be 'deep-soul' with the very man who invented the term?