Les Watson

The talented Les Watson, with his group the Panthers, was a stalwart of the Dallas, TX scene for pretty much the whole of the 60s. Although there is over dubbed applause on the discs, you get a real flavour of his club act on the two rare albums that came out in the mid 60s. My view is that the first of these was the "Blackout Club" one which featured Willie Charles Gray on vocals, as well as Les himself. The material was recent R & B hits like "High Heel Sneakers" and "You're So Fine" together with the odd standard like "Bill Bailey".

The second LP on his own Panther label was the mixture as before and must have been recorded closely in time to the first set as the members of the Panthers are the same guys. No Willie Chalres though as he had moved on to a solo career. Old time songs like "Over The Rainbow" do sound a little incongruous sitting next to fine uptempo workouts like "Don't Do It" and "Soul Time" but as a way of getting the feel of a 60s Texas club I don't think you can do much better.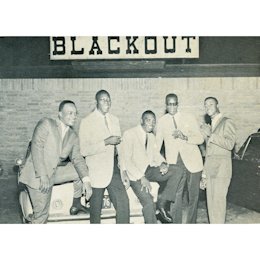 His first overtly studio recording was the Cottonball relase which I'd put around the same time as the LPs, on one side of which he duets with Delores Johnson. Les' solo effort

I Tried To Love You is still very much in the R & B bag – a chugging mid paced blues ballad which I have a big soft spot for. It wasn't until the later 60s when he joined Pat Morgan's Pompeii label that he moved fully into the soul world.

His 45 for the Vesuvius subsidiary featured a stirring version of the evergreen soul hit

Hurt and a very lively uptempo "I'm Gonna Cry" complete with a large and forceful horn section. This was recorded in Dallas but the location of his two Pompeii 45s is rather more difficult to work out. His initial single was produced by that old reprobate Ike Turner and featured a deep soul cut of

A Love Like Yours (Don't Come Knockin' Every Day) which I like a lot, and a funky little "Of Yeah". Since Ike was living in LA at the time it may well have been cut on the West Coast.

No Peace No Rest from what proved to be Les' last 45 was penned by two of St Louis' finest writers, and was possibly recorded there, or maybe back in LA. In any event the tune had a strong chord structure, a big arrangement and a committed vocal on top – maybe Watson's best ever. His own "Soul Man Blues" sadly didn't reach those heights.
The Panthers appeared on Episode 14 of "The Beat!!!" performing "Beg Me" and "A Change Is Gonna Come" - and very good they sounded too.

UPDATE ~ I am delighted to have been contacted by the Panthers Howard Davis, and have sent him a CD of their recordings. He reports that sadly Les Watson passed away a couple of years ago, but that Perry Roquemore is still around.
Discography

I Feel Good (I Got You) / I Got Love (For You Baby) ~ COTTONBALL 1000 (as LITTLE GARY & THE PANTHERS)


I tried to love you / It hurts me so bad ~ COTTONBALL 1001 (mid 60s) ("Hurts" duet with DELORES JOHNSON)


Hurt / I'm gonna cry ~ VESUVIUS 1004 (1968/9)


A love like yours (don't come knockin' every day) / Oh yeah ~ POMPEII 6669 (1968)


No peace no rest / Soul man blues ~ POMPEII 6689 (1968)
Occasionally I cry / Teardrops on your letter ~ POMPEII 2001
LP
From the Blackout Club ~ JARRETT 21516 (1964/5)
Soul time with the Panthers ~ PANTHER 1101 (1965/6)
Thanks to Bob Abrahamian for extra discographical info.