James Williams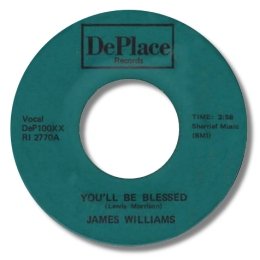 This Washington, DC obscurity is the only disc I know by James Williams – but it's certainly one to look out for. Great plodding rhythm, big horn section, tasteful female chorus – all the right ingredients and on top of them Williams sings beautifully as well. Listening to this gives added evidence that DC really is a southern city. I presume the instrumental on the flip gives the date of the 45?
Discography

You'll be blessed / 69 ~ DePLACE 100 (1969?)
Thanks to my friend Naoya Yamauchi for the suggestion.