Freddie Tate
Although he is known as a Compton, CA singer, Freddie Tate was born in Brookville, MS, only moving to the West Coast when he was 8 years old. As with so many other performers he sang at school and in local church choirs before forming his own group, the Iridescents – not the doo wop group on Hudson. Freddie sang background on a lot of 60s and 70s sessions but started to record under his own name for Johnny Pope's Soul Staff in the mid 70s. His first 45 was the fine ballad

Things Ain't Going Right.
This tasteful number features one of Freddie's best performances, and the rap is very well judged. I would have liked a few more horns in addition to the single meandering tenor sax but you can't have everything this late in soul history. This song was also issued on Pope's Solid Soul in an extended version without some of the Soul Staff overdubs and the cut you can hear on this website is the longer take.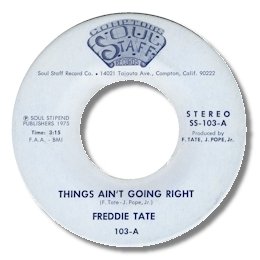 Tate's second Soul Staff 45 another strong beat ballad in "I Didn't Believe You" complete with a full band, as well as an interesting clash of styles in "Funky Country". In 1980 Tate cut the rather discofied "Right Kind Of Woman" for Hunter Hancock's Swingin label – one of the last 45s the company released.
In the later 80s Tate rerecorded this track for Mel Alexander's Kris label, and also cut a lovely sweet ballad called

Little Girl Of Mine on which the synths are very much under control I'm pleased to say. Hense Powell did the more than acceptable arrangement which put Tate's emotional baritone in a fine setting – and I'll bet Powell did the multi tracked background vocals as well.
Powell produced Tate on his only album to date, "Been Here All The Time" from 2009. This featured new recordings of tracks like "Funky Country" and "I Didn't Believe You" as well as older tracks like "Liittle Girl Of Mine" and the Kris version of "Right Kind Of Woman" that Powell produced on Tate previously. Perhaps we can look forward to some new tracks from this fine singer in the future.
Discography

Things ain't going right / The la la song ~ SOLID SOUL 828 / SOUL STAFF 103 (1975) (Note ~ the Soul Staff recording is some 1 min and 10 secs shorter and has overdubs)
I didn't believe you / Funky country ~ SOUL STAFF 108 (1978)
Right kind of woman / Inst ~ SWINGIN' 656 (1980)


Little girl of mine / Inst ~ KRIS 8126
Right kind of woman / Inst ~ KRIS 8145
CD
Been here all the time ~ HPMUSICPROD (2009)
Note ~ You can find "Little Girl Of Mine" on the Ace UK CD "Los Angeles Showcase Of Soul" (CDKEND 162).