Charles Smith (1)
Of course the area around Sheffield, Alabama is like Mecca to southern soul fans who eagerly snap up recordings made there, many of which have been covered in these pages. One of the least celebrated of the studios in Muscle Shoals is the small one established by Dewey Vandiver which he called Quad City after the local name for that area of the state. So it is a real pleasure to present here the tracks that Dewey recorded for his key artist Charles Smith, to highlight not just the eight which were issued commercially but also some interesting alternate takes and a couple of demos. This is southern soul at its most potent. Please note that the New Orleans artist Charles Smith whom you can read about here is a completely different artist altogether.

I had the satisfaction of talking to this Charles Smith a few years ago now and he told me a little bit about his background. "I was born in a little coalmining town called Coaling Alabama and I sang all my life in the local church. It was quartets mostly. Me and some other guys got ourselves a little group that we called the Entertainers. There was me and Jeff Cooper and Roy Lee Pertley who was the lead tenor and Greg Quarles. Well we went to see Rick Hall and he kind of liked us so he took us into his studio – Fame – and we got ourselves a record. Roy Lee sang the lead and I think Dan Penn also sang on it as well."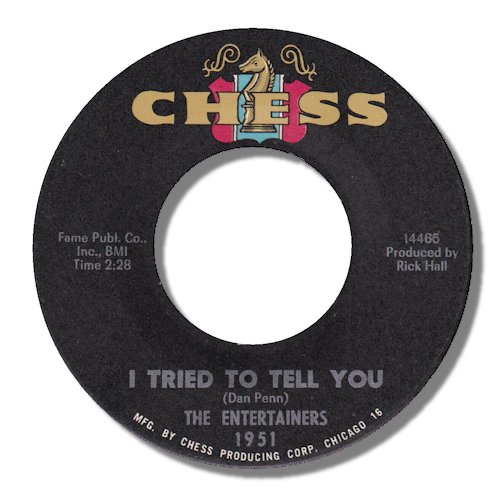 Both sides of Chess 1951 are good strong soul. "Too Much" is a jaunty midtempo number with a strong bass lead and nice harmonies from the other guys.

I Tried To Tell You is a demonstrative ballad written by Dan Penn which contains some more fine vocals. Charles continues the story – "well we toured around and we got busted up in Ohio. Me and Cooper we went back to Alabama and that was the end of the Entertainers. After that we used to go up to Tennessee on a Sunday morning, there was a guy who had a small studio in a barn and we used to drink beer and make up a few little songs. Well this guy liked us and he told Dewey Vandiver about us."

While Charles Smith was trying to make a living in the music business, Dewey Vandiver was also getting interested in it. When I called him he told me that "when I went into the air force I got interested in electronics. I'd always lived in the country around Muscle Shoals, my daddy was a farmer, and I grew up listening to Hank Williams one of the best ever songwriters.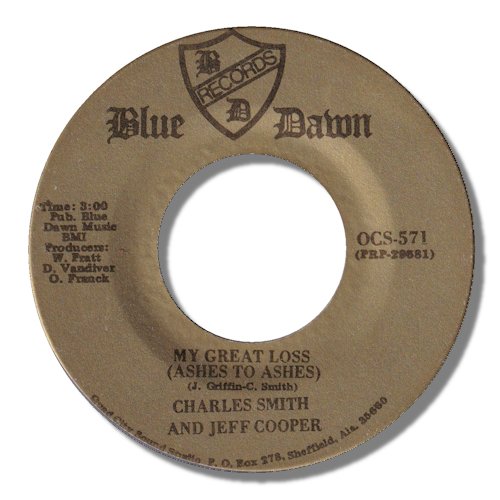 So when I was a civilian again in the mid 60s I got interested in music from two angles the electronic and the musical. Muscle Shoals was getting bigger then and I met people like Buddy Killen and Quin Ivy. I used to go by and see Judd Phillips and he listened to some of my songs. He had great ears and was one of the best music promoters of them all and he said "Ashes to Ashes" was the best song of all. So when I signed Charles Smith I dug it out again and we took it into the studio. Quad City was about 40 yards off Jackson Highway down towards the little town of Sheffield. We'd moved from our original location – this one had far better acoustics."

"Me and Warren Pratt my partner who was just into the electronics side of it took Larry Griffin on guitar, Larry Hunter on drums, Chick Brewer on piano and Earl Tank on bass – they were just local guys – and we set about recording. I was very particular about the guitar sound I wanted and we also tried it with the girls like Jeanie (Green) and Sue (Pilkington) and Donna (Thatcher) on it but it just didn't sound right so in the end we just went with Charles and Cooper. In the end it took 31 takes. We put it on our little Ampex two track recorder. Everything just came together and we decided to do a test run within a 50 mile radius of Muscle Shoals and we were selling 50 copies a day – over 4000 in all."
These initial copies were pressed up on two different labels, Blue Dawn and QCS, and Dewey thought that the Blue Dawn was the one that kicked the record off. It's possible that the QCS 45 was more of a promo thing than anything else. Since it looked like he had a hit on his hands Dewey decided to go for a wider distribution. "I went to Muscle Shoals Sound (studio) and the guys there listen to it and Barry Beckett said that

My Great Loss (Ashes To Ashes) ought to be the A-side. Well they were thinking of setting up their own label and Barry wanted to sign Charles Smith to it. But since it wasn't cut and dried I decided to put a 90 day rider into the contract. Well the Muscle Shoals thing never really happened and I invoked that rider. So I went to see Kelso Thurston and he suggested I should call John R. He came over and loved the disc but said he couldn't handle it as he had too much product already. He suggested I should go see Freddie North who was setting up a new label called Mankind. Well I was just getting ready to call Freddie when the phone rang and it was John R saying he was putting the other product back just so he could run with Ashes. Soon we had the fastest selling record in the South, we were doing more sales than Aretha Franklin and in the end we sold over 350,000 copies."
Sadly due to the way the national charts were compiled in those days it never made it onto the Billboard or Cashbox lists but "My Great Loss (Ashes To Ashes)" has stood the test of time remarkably well. As Dewey put it to me, "Even today whenever I play the song to people they all love it." And of course for many deep soul fans it has been awarded "classic" status for a long time now. The flip "Glad to Be Home" is in a similar vein and it too has a great following amongst southern soul devotees. The interplay of Smith and Cooper together with the tasteful country soul arrangements make 77 106 a double sided winner.
Perhaps part of the reason that sales weren't even better was down to the fact that John Richbourg had no national distribution deal for 77. Dewey Vandiver said to me "he was running a small operation. We got plenty of plays from WLAC but we never really broke out of the South." And this issue seems even more relevant when Vandiver and Warren Pratt were looking for a follow-up. "John R said to me that I should split up Charles and Jeff so that we had two acts rather than one. The problem was that Jeff couldn't hold time on his own. He had no sense of meter. He was fine singing backup or with somebody else like Charles but we tried and tried with him and still couldn't get a decent vocal track on him. So in the end I had to go with Charles on his own."
The next release which coupled the funky "Pull Me Out Of the Water" with the intense deep soul of

I'm Useless was recorded at Fame. "We used people like Bob Wray on bass and Clayton Ivey on piano. These were top-class musicians." And you can hear Ivey's wonderful chorded piano on both these tracks. "I'm Useless" may just be the standout track that Smith ever cut. Sadly for all concerned sales did not reach anything like the level achieved by Ashes to Ashes.
Ivey is also prominent on Charles Smith's third 45 "It's Getting Harder To Get By" and the brilliant deep soul

Why Can't I Cry. The label on this latter tune give the writer credits to Smith himself, Dewey Vandiver and Frank Johnson who was making a name for himself as one of the Shoals' best down home writers (but see UPDATE below). In fact Johnson was the first songwriter specifically employed for that purpose by Ivey and Terry Woodford's Wishbone productions. The lovely big horn section on "Harder" was arranged in Nashville by long-time John R associate Bergen White.
Smith's final 45 was cut at Muscle Shoals Sound and both "I Want to Love You" and "Full Time Fool" are every bit as good as all his previous releases. In fact Vandiver cut the latter song at his Quad City studios but when he took it to John R he made a specific suggestion. "John R said we should add a little funk to it and give it a beat so I went back from Nashville to Alabama and straight into the Muscle Shoals Sound studios." You can hear one of the original Quad City takes of "Full Time Fool" on the Soulscape CD "Ashes To Ashes" (deatils below) and it is interesting to compare that with the funkier and better arranged version that was issued commercially. John R really knew his stuff!
Of the tracks that never made it to commercial release, several were reissued in the 1980s in both the UK and Japan. The fine mid paced "Stand Up And Take It Like A Man" was penned by the great George Jackson with a rare cowriter credit to guitarist Jr Lowe. But I think Charles was at his very best on the ballads and in

Two Pillows he gives a tremendously impressive vocal. Once again Clayton Ivey illuminates the song with some beautiful keyboard fills. But the best of these tracks which have already appeared is undoubtedly Prince Phillip Mitchell's hard-hitting, indeed desperate, ballad

The Only Time You Say You Love Me. I would think that Bettye Swann's breathy vulnerability on her version would be many soul fans favourite, and the lyrics certainly suit a female vocalist the best, but Smith runs her a very close second, particularly when he lets loose as the song begins to fade. Vandiver told me that Charles Smith "was the reason the Phillip Mitchell stayed in Alabama – they got on so well." Another reason to be grateful to Mr Smith!
Of course the most interesting tracks here for real soul aficionados are the ones which have never appeared before in any form. A few of them, like the version of George Soule's exquisite

How Many Times, have Jeff Cooper singing second vocal – how nice it is to hear him and Smith harmonising again. "Answer My Prayer" also has the duo's lovely interplay and this beautiful country soul song also features some superb guitar work, possibly by Larry Griffin. This country feel is also apparent on "Walk Slow" on which Charles again gives a first class display of classic southern soul singing. The lively "Reach That Mountain" provides a welcome change of pace but surely the pick of the sides that have remained in the can is Tim Drummond's delicate country ballad

Loves Old Triangle. The way Smith almost caresses the lyric is wonderfully well done.
After the fourth 45 was released there was no coming back for Smith. "I did a lot of touring by myself but after John R we just dropped it. We couldn't get nobody to pick it up. I went back to school , trade school at the Muscle Shoals Technical Institute and learnt to be a car repairman. Jeff was in that trade too – he died about 7 years ago. I still sing in church, I'm a born again Christian. Looking back I enjoyed it I really did". So that is the consolation for him in his well-earned retirement.

As for Dewey Vandiver he too recalled those days with fondness. "We had a great time. But I never quit my electronics business – still got it here." And thanks to this CD we too can relive those days when Alabama produced the best music in the world. Timeless soul
UPDATE ~ Dewey Vandiver himslef has been in touch via email. He says "on the Song "Why Can't I Cry", Charles Smith did not write anything on it, Dewey Vandiver wrote the entire song ,and Frank Johnson Changed one Word" although he doesn't explain why the writer credits on the 45 are so completley different I've no cause to doubt what he says. After all it wouldn't be the first time - and certianly not the last time - that writer credits on a 45 label were inaccurate!
Mr Vandiver adds that "The 2 ladies background singers on "Glad To Be Home" Are Laura Stuziki, and Sue Richards."
I'm grateful to him for the clarifications.


Discography
As THE ENTERTAINERS



I tried to tell you / Too much ~ CHESS 1951 (1966)

As CHARLES SMITH & JEFF COOPER



My great loss (ashes to ashes) / Glad to be home ~ QCS 571 / BLUE DAWN 571 / 77 106 (1971)

As CHARLES SMITH



I'm useless / Pull me out the water ~ 77 115 (1972)
It's getting harder to get by /

Why can't I cry ~ 77 121 (1972)
Full time fool / I want to love you ~ 77 129 (1973)

CD

Ashes to ashes ~ SOULSCAPE SSCD 7029 (2011)


Notes ~
1. The Soulscape CD contains all of Charles Smith's solo releases plus his 45 with Jeff Cooper. In addition it includes the following unissued sides:-

How Many Times / Answer My Prayer (both with Jeff Cooper) plus these solo recordings ~
Stand Up And Take It Like A Man /

The Only Time You Say You Love me /

Two Pillows / Walk Slow /

Love's Old Triangle / Reach That Mountain plus alternate takes of these issued sides:-
Why Can't I Cry / Full Time Fool / It's Getting Harder To Get By.
2. The Entertainers "I Tried To Tell You" can be found on the Ace UK CD "A Road Leading Home" (CDCHD 1370), "Too Much" can be found on the same company's "The Fame Story" box set CDs (KENT BOX 12). A demo of "I Need Someone" by the same group can be found on the Ace UK CD "Hall Of Fame" (CDKEND 372).


Special thanks to Charles Smith and Dewey Vandiver for their reminiscences and their music. Thanks also to Dave Turner.