Morris Francis
There aren't too many 80s discs mentioned favourably in the pages of this website. There were some good singles released in the decade of the indie soul revival but far too many of them featured the dreaded and hated synths – mostly horns / strings but also even worse syndrums. For those us who preferred real people playing drums behind a real band of musicians and horn players timer were hard and you had to look in some often hidden locations to find 45s to savour.
Among those places was Lafayette LA where bassist Morris Francis and his Push Button Blues Band made their music. Francis played in almost all the styles favoured in rural Louisiana including Swamp Pop, Blues, Southern Soul and zydeco. I'm partial to all these genres but of course Southern Soul is my favourite.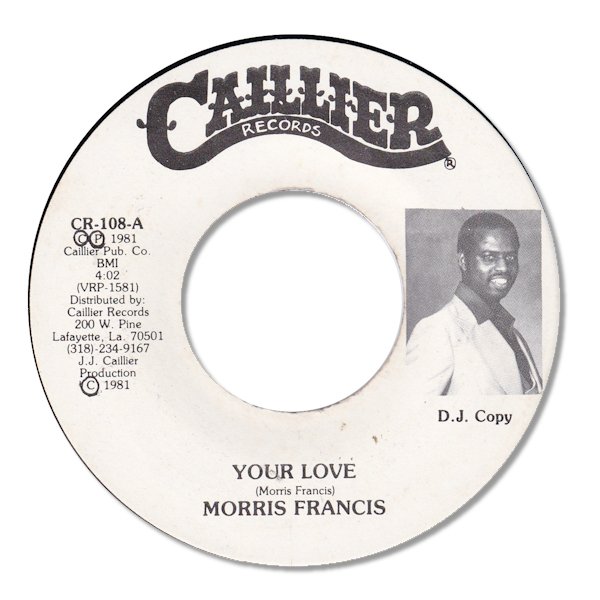 Francis' first records would appear to be ones he recorded for local music man J J Caillier, for whom he also played sessions on bass. "Babysitter" is a fine modern slow blues, while "Take Your Time" is a strong slice of uptempo 12 bar opus with some prominent horns. Very nice. "Let Me Be" from his second Cailler 45 is right in the rocking blues bag as well, but

Your Love is a splendidly downbeat blues ballad which I really like. Check out the tasty chord changes and the way Francis mournful tones blend so well with the blue licks from the guitarist (brother Dalton Francis?) and the horns.
Francis' music for his own Blue Black label later in the 80s also runs the gamut of Louisiana music from blues to southern soul via zydeco and swamp pop. "Baby Doll" from his initial Blue Black single is a pleasant uptempo soul workout, with the flip

My Mother Say being a swamp pop ballad of no little charm. Love this sort of stuff to death – pumping piano over an excellent horn section while Francis hollers out the sad lyric. His second Blue Black release couples the rousing down home blues of "Change My Number" with perhaps Francis' best deep track

Sharing One Moment With You. This features more classic chord changes, some excellent female harmonies and a heartfelt vocal performance from Morris.
Zydeco is the name of the game for "Fun In Arcadiana" / "I Want To Dance The Zydeco" and Francis proves himself a more than adequate accordion player on the 45 and on the tracks on the following album, which includes "Tonight Is A Good Night" from his final Black Blue 45. I'm not to strong on Christmas tunes and "Celebrate Christmas" doesn't do a lot to change my mind.
Francis' final 45 was produced under his own steam but was leased out to Cajun entrepreneur Floyd Soileau from Ville Platte. "Out For A Real Good Time" is a joyful foot tapping zydeco workout, but I prefer the slow swamp pop of "Wasting All My Time".
Discography
Babysitter / Take Your Time ~ CAILLIER 105 (1981)


Your love / Let me be ~ CAILLIER 108 (1981)
Baby doll /

My mother say ~ BLUE BLACK 400 (1985)
Change my number /

Sharing one moment with you ~ BLUE BLACK 401 (1985)
Fun in Arcadiana / I want to dance the zydeco ~ BLUE BLACK 402 (1985)
Celebrate Christmas / Tonight is a good night ~ BLUE BLACK 403 (1985)
Wasting all my time / Out for a real good time ~ MAISON DE SOUL 1042 (1987)
LP
Fun In Arcadiana ~ MAISON DE SOUL 1018 (1986)