Marie Franklin

A West Coast singer of great power with a really tough tone, Marie Franklin had a recording career that stretched almost 15 years, but without seeming to have attracted any attention at all sadly, despite the fact that she never made a bad piece of vinyl. I hope my brief look at her recording career will prompt somebody to come forward with more details of her life and musical calling.

The dating and ordering of some of her 45s is a bit hazy due to the fact that so many of her releases were on small local LA labels, but undoubtedly amongst her earliest singles was the lively "Blues Medley In G". This is a fine showcase for her raw, no nonsense approach and its pace has brought it to the attention of the R & B crowd.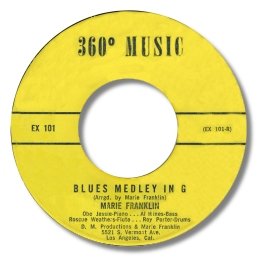 Rather more to my taste however is the excellent double sider

Every Night About Midnite /

I'll Forget About You. The former is a slow West Coast blues of the type I'm nuts about – wonderful lead guitar, subdued horns and some fine organ holding it all together. Plus Marie's forthright and hard toned lead topping it all off. The flip is a mid paced piece of tuneful R & B perfectly suited to Marie's screaming vocal. Both sides were written and produced by Willie Norfor, and they first appeared on his (and Marie's?) Normar label before also appearing on the more commonly seen Resist concern.
Although the Maverick release was more overtly in the soul bag than her previous 45s, her singing was still blues based and full of passion and commitment. Both sides are just great – "Don't'cha Bet No Money" being as upfront and tough as you could want. And

You Ain't Changed being one of the slinkiest slabs of bluesy funk ever recorded. Just check out Marie's gruff hollering – totally convincing and full of scorn. Note also the involvement of Ernie Shelby as co-writer and co-producer on this one. Her one –off duet with Vernon Garrett on the sister label Venture label is another very good one. "Second To None" is hard and uncompromising funky soul, with the vocalists egging each other on.

Without You is a bit deceptive. The addition of strings might give the listener an early thought that somehow the music has softened up a bit – but as soon as Marie and Vernon get started that idea goes out of the window. They are just as hard hitting as before – nothing like Marvin Gaye and Tammi Terrell whose duets the arrangement here is intended to sound like.
Marie's stay with Ray Charles' Tangerine set up had the virtue of three Jimmy Lewis songs. "I Don't Need No Man" is about as clear a sentiment as you could find, and boy does she nail it, making her position absolutely certain over a stomping beat and a strong horn section. Even better was the funky "Keep On Keeping On" and the deep ballad

There's Always Room which might just be her best ever track. Both these sides were produced by Lewis himself and you've just got to love his gospel based organ / piano combination on this one. And of course Marie does the song justice – soaring all above the cooing background singers, confident and persuasive.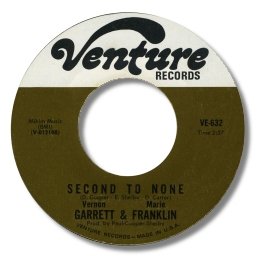 The writing credit on the fourth Tangerine track was given to Ike & Tina Turner, and Marie may well have been involved with their Revue around this time, as it was via their tenor sax man J D Reed that she recorded her most celebrated number. "Bad Bad Woman" is a funk classic no question, heavily anthologised of course, and Marie's boastful performance is a masterclass in the way to ride such a tricky rhythm. The track first appeared on the tiny Terecor label, and by the time the Westbound 45 came out, Reed had added a very fine horn chart to the mix, which undoubtedly added to the track's effectiveness. The new issue also lost the really good flip to the Terecor 45 "You're Coming Home" which would undoubtedly feature here but for an awful "Funky Worm" type synth which totally ruins the mood.
Both of Marie's last 45s both feature one great ballad. The rare Stage Music release features her take on

Move On Love, also cut by Charles Perry for Mutt & Jeff, and I have to say she does a fine job on this tuneful song, with just some strings very low in the mix for company. What power she generates here! The flip is a little too messy to be first class funk, but Marie's vocals are as good as ever. I quite like the modern soul groover "Being In Love Ain't Easy" but Marie is just too restrained for my taste, but her performance on the deep ballad flip

Don't Hurt Me No More is absolutely outstanding – all slow burn pleading and tearful defiance. Who couldn't be moved on hearing this? A sensational final track.
I love West Coast R & B and Marie Franklin was one of the very best purveyors of it. When you consider how many ladies of lesser talents are praised to the skies it makes you wonder why she has never garnered the plaudits she so richly deserved. One day she will be recognised as a great singer I'm sure of it. That day can't come soon enough for me.
Discography
Blues medley in G / Moon river ~ 360° MUSIC 101 (mid 60s)


Every night about midnite /

I'll forget about you ~ NORMAR 330 / RESIST 011 (1966)


You ain't changed / Don'tcha bet no money ~ MAVERICK 1002 (1968)


Without you / Second to none ~ VENTURE 632 (1969) (Duet with VERNON GARRETT)
I don't need no man / Anything you wasn't born with ~ TANGERINE 1008 (1970)
Keep on keeping on /

There's always room ~ TANGERINE 1016 (1971)
Bad bad woman / You're coming home (Ain't cha baby) ~ TERECOR 101 (1976)
Bad bad woman / Pt 2 ~ WESTBOUND 5021 (1976)
Why do you build me up /

Move on love ~ STAGE MUSIC 304 /6 (late 70s)
Being in love ain't easy /

Don't hurt me no more ~ CASTLE 78102 (1979)
UPDATE ~ Both Pete Nickols and Marc Demuynck have written with details of a mini CD called "Bad Bad Woman Is Back!!" (TERECOR CD - August 2011) which is avaialble from your favourite download store. The tracks are:-
You're Coming Home
I'm So Alone
Who Will You Call On
Bad Bad Woman
All these tracks must have been recorded at the time of the Terecor 45. The version of "Bad Bad Woman" however is the Westbound one with the horn section surprisingly. "I'm So Alone" is the pick of the tracks being a strong blues ballad - always Marie's forte.
Marc has also found this quote from Vernon Garrett about his duet with Marie from the article 'Vernon Garrett Interviewed by Steve Propes' (Blues & Rhythm # 177 - March 2003):-
"That was Mickey Stevenson.Sam Goldberg was managing Marie and myself at the time,but Venture squashed it,at Number 33 on the (soul) charts,Venture was a write-off for MGM.They wanted to get rid of a quarter of a million dollars".
Very interesting indeed - I'm grateful to Marc and Pete for their help and excellent info.
Notes:-
There is a pressing fault on all the copies of Marie's Resist 45 that I've come across. There's a 5 second deep bass hum right at the start of "I'll Forget About You". I'd stick with the original Normar 45 – if you can find it.
You can find the horns version of "Bad Bad Woman" on the UK BGP CD "Mighty Mighty Super Funk Vol 6".