RHODES CHALMERS & RHODES
By Tom de Jong
Around 1996 I wrote a small article on Rhodes, Chalmers & Rhodes (RCR) in "Voices from the Shadows". At that time I was surprised by the fact that Al Green, OV Wright and many great soul artists recording in and around Memphis were all supported by this white backing group. I began noting credits on albums, listing the songs RCR wrote and tried to list their solo recording as well as I could. That soon turned to be an impossible task because they were hugely productive in the seventies and they could be singing behind Aretha Franklin on one day and then on the next have a gig with Kris Kristofferson. The only area where I could strive for completeness was the solo recordings and I then made a first attempt. I made some mistakes and over the years picked up some obscure records that were new to me. To see what I had missed, I recently typed in "Rhodes Chalmers Rhodes" and "discography" into Google. Surprisingly that did not yield much useful information. So I will try to update the discography.

RCR consists of Sandra Rhodes, Charles (Charlie) Chalmers and Donna Rhodes. All three group members are still alive and kicking. In 2003 they backed Al Green on his "I Can't Stop" album that was produced by the late Willie Mitchell. From his website here I learned that Charlie Chalmers is still active as producer in his own studio in Branson MO. He performed alongside Paul Anka in Vegas. Sandra Rhodes was married to Charlie but they are now divorced. She still plays a mean guitar at local country shows and Donna Rhodes occasionally fills in. What I didn't know before, but learned from the internet, was that Sandra and Donna's parents were Dusty and Dot Rhodes, both established country musicians. Some work by Dusty & Dot is on the Sun Memphis Belles CD box, released on the Bear Family label.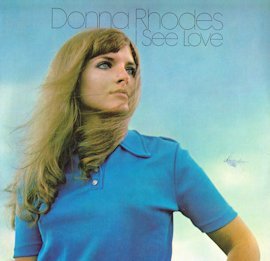 No point repeating here the scattered information on RCR that is available on the internet. But I'll make two exceptions. First, the unsurpassed reissue label Kent put out three CDs of recordings on the XL / Sounds of Memphis label and a separate CD on Barbara and the Browns. These CDs deserve mention since Charlie Chalmers was involved in many superb deep soul records made by artists like William Bollinger and Barbara Brown. Second, in 1994 RCR were involved in recording a CD single for Reuben James in the UK. A soundtrack of
"Hold On My Heart" is included here (See PS below) for you to enjoy because it is well within the scope of the Sir Shambling website and seriously obscure. I got my personal copy through Voices.

The career of Sandra Rhodes got a great start when she wrote
"How Much Can A Lonely Heart Stand" that was recorded by country star Skeeter Davis, who had a minor hit with it. The take by the Rhodes Sisters on Dot has bigger production than the one on Penthouse, so I imagine the latter was the first one to be released in 1964. The early 45s were between country and pop. The Epic LP by Donna Rhodes contains deserving covers of soul classics, among which
"Your Good Thing". Her singing reminds me of Jackie Deshannon, whom she covered in Put A Little Love In Your Heart. RCR are prominent in many tracks recorded in the seventies by Willie Mitchell at the Hi studios.
In the Hi sound there was always a black/ white contrast between lead singer, like Al Green or OV Wright, and the backing group (RCR). But the contrast is far less then in, for instance, Ray Charles Modern Sounds in Country and Western. And RCR were soulful by themselves, as Dan Penn, Donnie Fritts, Jeannie Greene or Bonnie Bramlett were in that period. Especially Donna Rhodes had a big voice and
"Where's You Love Been" on Hi is as good as the other female deep soul output on that label. Both Warner Brothers 45s have class and were recorded at Fame.
"Just Someone You Had" is my favourite.

Charles Chalmers began playing saxophone at many sessions in and around Memphis. He contributed to the background vocals in the Hi studios because this produced a fuller sound. His Chess instrumentals now sound dated to my ears. But I could imagine that some of these would fit very well on a sixties movie soundtrack. I see no reason why, for instance,
"White Dove" when picked up by the right producer, say Quentin Tarantino, would not be a movie hit.
Discography
In the previous discography I had included two 45s on Epic by Dot Rhodes, both produced by RCR. It now seems unlikely to me that Donna would use her mother's name for that. The tracks are: Dot Rhodes "We gotta get along"/ "Warm and Tender Love" ~ Epic 5-10655 (1969) and Dot Rhodes "Love's Not The Name Of The Game"/ "Never Grow Old" ~ Epic 5-10720 (1970). Warm And Tender Love is also on Donna's Epic lp, similar voice but the 45 is definitely more country. I am inclined to think that Dot Rhodes leads on these two Epic 45s and the daughters do the backing. The 45 version of
"Warm And Tender Love" is included here so you can make up your own mind. For the Sandy Rhodes 45 on Private Stock I can be 100% sure: this is not our Sandra Rhodes but he is a male pop singer. With some new additions this gives the following list.

45s

Rhodes Sisters How much can a lonely heart stand/ Why why why ~ Penthouse 5001 (1964)

Rhodes Sisters The difference in me is you/ How much can a lonely heart stand ~ Dot 16615 (1964)

Rhodes Sisters Your birthday present's birthday/ I can't believe ~ Dial 4005 (1965)

Charles Chalmers Take me (just as I am)/ A whiter shade of pale ~ Chess 2019 (1967)

Charles Chalmers Judy in disguise/ Poppin' ~ Chess 2040 (1967)

Charles Chalmers Poppin'/ Soulin' ~ Chess 169540 (1967, released in France)

Charles Chalmers Softly/ White dove ~ XL 361 (1967)

The Lonesome Rhodes Make like the wind/ Love is ~ RCA Victor 47-8972 (1967)

The Lonesome Rhodes Nothin' but heartaches here/ The least you could have done ~ RCA Victor 47-9134 (1967)

The Lonesome Rhodes The delight of my day ~ RCA Victor 47-9305 (1967)

Charlie's Children Lady Madonna/ Finally found out ~ Holiday Inn 2204 (1968)

The Lonesome Rhodes Mister/ The day love comes ~ RCA Victor 47-9402 (1968)

The Lonesome Rhodes The lights of Dallas/ I'm missing you ~ RCA Victor 47-9629 (1968)

Joint Venture Sweet smoke/ No place for me ~ Diamond 268 (1968)

Donna Rhodes I see love/ You got power ~ Epic 10611 (1968)

Sandy Rhodes Buttons to push/ Tomorrow means goodbye ~ Senate 2102 (1971?)

Sandra Rhodes Where's your love been*/ No one else could love you more ~ Fantasy 692 (1972)

Joint Venture When the battle is over/ I'd rather hurt you now ~ Hi 2230 (1972)**

Donna Rhodes I just can't love you enough/ Where's your love been*** ~ Hi 2254 (1973)

RCR Out of my mind/ Would you do it to me again ~ Warner Brothers 8085 (1975)

RCR Just someone you had/ Look at me and love me ~ Warner Brothers 8108 (1975)

RCR Scandal/ Moments of magic ~ Radio Records GS 711 (1980)

RCR Scandal/ Give it to you ~ Radio Records GS 111 12 inch (1980)

RCR Give it to you/ Moments of magic ~ Radio Records GS 712 (1980)

RCR Scandal / Freedom nights/ Me & you ~ Radio Records GS 112 12 inch (1980)

Donna Rhodes E.T. (Extra Terrestrial) ~ Ramshorn 1165 (1982, released in the Netherlands and also on 12-inch)
LPs

Charles Chalmers "Sax and the single girl" Chess 1518. Take me (just as I am)/ Satisfaction/ Groovin'/ Two in the morning/ Velvet soul/ Night rumble/ A whiter shade of pale/ Girl you'll be a woman soon/ Poppin'/ The sidewinder/ Woolley bulley/ Soulin' (1967)

Sandy & Donna "The lonesome Rhodes" RCA Victor LPM3759. The last thing on my mind/ I can't grow peaches on a cherry tree/ Fully prepared/ Love is/ Make like the wind/ Your overpowerin' love/ I wanna be free/ Not this time/ The least you could have done/ Nothin' but heartaches here / It's rainin' anyway/ Blowin' in the wind (1968)

Donna Rhodes "I see love" Epic E 30136. I never loved a man/ Baby I need your loving/ Your good thing/ When something is wrong with my baby/ Warm and tender love/ You've lost that lovin' feeling/ Mama's boy/ Closest at hand/ Something I can count on/ Put a little love in your heart/ I see love (1970)

Sandra Rhodes "Where's your love been" Fantasy 9419. No one else could love you more/ I think I love you again/ No such thing as love/ Sho' is rainin'/ It's up to you/ Where's your love been*/ You can't always get what you want/ Never grow old/ The best thing you ever had/ Sowed love and reaped a heartache****(1973)

Rhodes Chalmers Rhodes "Scandal" Radio Records GS 5001. Scandal/ Give it to you/ Freedom nights/ Don't throw love away/ Love is gone/ Call me/ Me&you/ Moments of magic/ Where there's love around (1980)

Note ~
You can find the tracks marked * on these CDs:-

*On CD "Country Got Soul Vol.1." Casual 4 (2003)

**Both sides available on Hi CD7 "Hi Girls" (1994)

***On "Trouble, Heartaches & Sadness: Hi records deep soul sisters". Hi CD 188 (2002)

****On CD "Country Got Soul Vol.2" Casual 8 (2004)
PS by Sir Shambling
I had the great pleasure of meeting Charlie Chalmers when he came to London heading up the horn section that Willie Mitchell brought with him on his Waylo European tour in 1982. I talked to Charlie and veteran trombone man Jack Hale in the bathroom (!) of a central London hotel. It was a real pleasure as both men were southern gentlemen who were only too ready to answer my questions – plus of course I had the satisfaction of being able to tell them face to face just how much musical delight I'd had from their efforts.
Joining me in the conversation was another English music fan called Dave Williams who, unlike me, earned his living in the business and was a talented musician in his own right. Dave started out as a song plugger for Stax, a career choice I wish I'd made, and had recently set up a small studio and publishing company called Frontier in a London suburb to showcase the songs he'd written. One of his best songs called
"Hold On My Heart" he recorded with a vocal by a Reading taxi driver called Reuben James. Charlie Chalmers provided the excellent horn charts and Sandra Rhodes added those lovely Memphis guitar licks. Together they sang the background vocals. The end result has a very strong claim to be the best ever British soul track – if you forget the additions provided in the US by those very nice people Chalmers and Rhodes.
UPDATE ~ Peter Hoogers has written with a new addition to the discography:-

Donna Rhodes
He's my man/ No such thing as love ~ Charlsand 31/32 (1974)

The seriously obscure Charlsand 45 has two great country soul tracks. "He's my man" was written by Dee Barton. The other side written by CC and SR is also on Sandra's Fantasy lp. The Stax markings in the dead wax suggest a recording date in 1974.

Both Tom and I are grateful to Peter Hoogers for sharing this excellent info.