Quin Ivy And His Norala And Quinvy Studios, Part 11 – 1971-1973 The final years of Quinvy
by Pete Nickols
In this, our final Part in the long-running saga of the Norala and Quinvy Studios, we look at the (non-Swamp Dogg produced) tracks which appear to have been cut at the studio in the years 1971 to 1973 leading up to David Johnson's purchase of Quinvy from Quin Ivy sometime in that final year, after which it would become known as Broadway Sound.
In truth 'things Quinvy' were already beginning to fall apart for Ivy by the beginning of this period. Jerry Wexler was no longer giving any financial support beyond the 'rake off' on Sledge's sales for Atlantic and these would now begin to decline abroad as well as in the States. What's more, Quinvy's 8-track studio could not match MSS's new 16-tracker nor even Fame's facilities. Neither could it match these two studios' ability in the early 70's to attract 'outside' record labels, producers and artists who could generate national sales potential.
It did try to keep its 'pot boiling' however with ads like the one shown close by, which Ivy placed in Billboard in May 1972.
Ivy had not been around for the 1970/71 Swamp Dogg sessions and in fact David Johnson, who had engineered those, was now the 'main man', organising the day-to-day running of the studio.
Through '71 to '73, David has said that he and Allen Walden got more and more into 'white rock' acts and this in itself was something which apparently held little interest for Quin Ivy, who (as noted by Bob Wilson in an earlier Part) tended to concentrate ever more on other business interests. Quin's main Quinvy-related interest remained Percy Sledge, whose career and 'live gigs' he continued to oversee.
Sledge was clearly seen by Ivy as more 'country' than 'soul' simply because Percy regularly pulled in white country fans at live appearances and had achieved good 'cross-over' record sales with his earlier hits. However, despite some very countrified recordings in the late 80's, in my opinion Sledge was never a black-eyed country singer. Charley Pride and O.B. McClinton became black-eyed country singers because, despite the colour of their skin, they sang 'country' after the style of a white country performer, i.e. with little or no soul content. Sledge did not. He always retained considerable soulful stylings and phrasing in his vocal performances and that is why he is rightly remembered today as a country-soul singer and, along perhaps with Joe Tex and Joe Simon, amongst the finest of them all.
In May of 1971, Percy had returned briefly to the South African chart for just 3 weeks with his version of "Help Me Make It Through The Night" which peaked at No.13 and, clinging on to a fading but still extant international appeal, in 1972 he once again spent a long period of time touring Africa. He featured at the Rufaro Stadium in the Mbare suburb of Harare in Zimbabwe where a mere 500 watt PA system was brought in from South Africa to try to cater for the 10,000 strong crowd. In the same year, African-based jazzman David Bestman remembers warming up for Sledge at a gig in Francistown, Botswana. Percy also appears to have visited both Malawi and Zambia that year.
In fact Percy recorded only spasmodically through 1971-73 and saw only four 45s (and no LPs) actually issued during this period, namely:
Atlantic 2826 – "Stop The World Tonight" – see Part 8 for label shot and hotlink to an MP3 of the track (Quinvy sheets indicate recorded 6 May 1970, whereas the Rhino book-set wrongly indicates 5 July 1970 - as noted in Part 8, Sledge was playing a gig in Africa on this date).
"That's The Way I Want To Live My Life" (Quinvy sheets indicate recorded December 1970, whereas Rhino book-set indicates simply '1971').
Single released August 1971 – not a Billboard hit - entered the Cashbox R&B chart on 18 September 1971 (2 weeks on chart, peaking at No.49).
Atlantic 2848 -
Rainbow Road (Quinvy sheets indicate recorded 24/25 August 1971, while Rhino book-set indicates simply '1971').
"Standing On The Mountain (Quinvy sheets indicate recorded October 1968, while the Rhino book-set indicates November 1968).
Rhino book-set indicates single released March 1972 – this is wrong and is more likely to be January 1972 as, whilst not a Billboard hit, the record had entered the Cashbox R&B chart by 5 February 1972 (3 weeks on chart, peaking at No 32).
Atlantic 2886 –
Sunday Brother, written by W.C. Quillen and Grady Smith (Quinvy sheets indicate recorded 24/25 August 1971, while Rhino book-set indicates simply '1971').
"Everything You'll Ever Need" (Quinvy sheets indicate first recorded May 1970 but Rhino box-set indicates a re-recording on 4th October 1971 – note: not May 1972 as stated in Part 8, where I erroneously quoted the release date instead of the recording date). This song by Swamp Dogg was included on his Macon-cut "Total Destruction To Your Mind" Canyon LP with Pete Carr on guitar but Pete had also earlier played on the original, also cut at Macon, by a girl called JoAnn Bunn, who Swamp Dogg says later got pregnant and opted to be a housewife (I have resisted quoting jokes about bun(n)s in ovens!). Single released May 1972 (not a hit).
Atlantic 2963 – "Sunshine" / "Unchanging love" (Recorded in Philadelphia circa March/April 1973 by The Young Professionals (LeBaron Taylor, Phil Hurtt & Bunny Sigler), the latter two guys having written both songs. Joel Whitburn claims the Pointer Sisters were used on back-ups.
Rhino book-set indicates single released August 1973, but more likely to be July 1973 as the record had already entered the Billboard R&B chart by 4 August 1973 – it was not a Cashbox hit).
This non-Quinvy 45 was to be Sledge's last Atlantic outing, the singer reappearing on Capricorn in 1974, thanks chiefly to Quin Ivy's connections with the Waldens, for three singles and the "I'll Be Your Everything" LP.
Other unreleased-at-the-time recordings by Sledge cut between 1971 and 1973 include:
Percy's version of Dan Penn and Bobby Emmons' "Love Is A Job", which was produced by Quin Ivy and Marlin Greene on 29th January 1971, according to Rhino's Sledge Book-Set and features on Disc 4 of that set, although the Quinvy sheets place its recording date as December 1970 (see Part 8).
"Same Old Loverman" (written by Gordon Lightfoot), which was recorded on 24th or 25th August 1971 according to the Quinvy sheets and also makes its first appearance on Disc 4 of the Book-Set.
"Nothing But Love" and "Crazy Love" were both also recorded at the above session, which featured Chuck Leavell, Lou Mullenix, Charles Hayward and Pete Carr. Once again, Temple Riser (see Part 7) would join Mary and Ginger on back-up vocals.
The Rhino book-set claims a Sledge version of George Soule and Steve Wiggins'
What I Don't Know Won't Hurt Me was cut by Percy on 4th October 1971. This would have been a re-cut of a song Percy had first recorded on 6th or 7th May 1970 (see Part 8) and the performance appears on Disc 4 of the Book Set.
At the same October 1971 session, apparently Percy cut his take on Pickett and The Falcons' "I Found A Love", his version of Margaret Ann Rich's song "Life's Little Ups And Downs" and also the little-known item "Time". However, the first-named track (or perhaps the first Sledge version of it) was cut much earlier (in August 1970 according to the Quinvy sheets – see Part 8). The first two performances listed above saw release on the 1974 German Midi-LP "The Golden Voice Of Soul" (German Atlantic 20085), while "Time" would make its first appearance on Disc 4 of the Book-Set.
Here I Am (written by Dolly Parton), which would see release on the aforementioned German Midi-LP, was recorded in April 1972 according to the Quinvy sheets. It's a fine performance, complete with occasional gospelly back-up vocals, and indicates just how much 'soul' Percy could inject into a good country song
"You Can Always Get It WhereYou Got It", the Swamp Dogg-penned song which he cut at Quinvy on Brooks O'Dell (see Part 9), makes its first Sledge appearance on the Rhino Book-Set and was also recorded in April 1972 according to the Quinvy sheets, although the book-set dates it simply as '1971'.
This April 1972 Sledge session featured Clayton Ivey, George Soule and Bob Wray and therefore might just have been held at Fame or even MSS rather than Quinvy – we cannot say for sure.
The (clearly incomplete) Quinvy session sheets themselves only document a few sessions by other artists throughout the entire 1971-3 period. These were as follows:
On 8th to 11th March 1971, singer-songwriter W.C. Quillen cut six tracks. Four of these, "All Day Singing", "White Dove", "Danville Train" and his own song, co-penned with Grady Smith, "Sunday Brother" (which Sledge would cut that August - see above) all remained unissued at the time. However, his version of Hank Williams' "I Saw The Light" coupled with his and Grady Smith's "Glory Child" would see release together in about July of that year on A&M 1272. The then regular Quinvy rhythm section of Messrs. Hayward, Mullenix, Leavell and Carr were on the session, while Jeanie Greene joined Rhodes, Chalmers & Rhodes on vocal back-ups.
In March 1971 Gemini (presumably a pair of twins, as the session sheet actually adds the word 'twins' in parentheses) duly cut four apparently unissued sides at Quinvy, two on 12th March ("I Remember Me" and "Which Way Did You Go") using the same session men as those used above by W.C. Quillen, and two on 15th March ("Love Is Bigger Than Baseball" and "How Great A Life Can Be") this time using Carr, Jasper Guarino and two people referred to simply as Tracy and David. Could these have been the twins themselves, playing along to their own songs? Who knows? If anyone has any information on this Gemini pairing please let us know.
On 25th June 1971, W.C. Quillen was back in the studio to cut "Livin' On" and "Bodies", again presumably two unissued tracks.
On 24th and 25th August 1971 Percy Sledge had a two-day session, which has already been described above.
The very next day, 26th August 1971, saw Percy Sledge's pre-teen son Percy Sledge Jr. record the sickly-sweet 'kiddy-pop' item "Sugar Makes Everything Sweeter" which would see release on South Camp 7110, although it should be noted this was long after Atlantic had ceased to distribute this label, the rights to which had now reverted to Quin Ivy who had only his own regional distribution to rely on. The flip of the 45 utilised Sledge Jr's only other recording that same day, namely the Marlin Greene song "Sugar Puddin'".Again the Leavell, Hayward, Mullenix and Carr crew were in evidence. The Sledge Jr. 'A' side can be found on Charly CD 200 "Rare Soul From Alabama – The South Camp/Quinvy CD", which was issued in 1989 further to that company's fine 5-LP set - but if you never get to hear this particular track you won't have missed much!
On 17th September 1971, W.C. Quillen was back yet again to lay down two more songs called "Indian Joe" and "Muddy Water".
The only other Quinvy session sheet in existence is for Percy Sledge's April 1972 session, also already dealt with above.
However, it's certain that there were many, many more undocumented sessions. Some of those probably involved the white rock acts to which Johnson refers and are now lost perhaps even from the memory of David himself but we do have other undated data documenting the recording, most likely between 1971 and 1973, of quite a body of unissued-at-the-time soul-related material, much of which first surfaced while research was going on in the late 80's, leading to the creation of that fine series of five Charly LPs in 1988/89, mentioned so often throughout this entire article. Of course, these Quinvy-cut sides were first featured on these albums and we should make mention of them.
We'll kick off with Bill Brandon as, for some unaccountable reason, I omitted in Part 8 to include reference to the last of the seven Quinvy label 45s issued that year, namely his "Since I Fell For You" and "Strangest Feeling", which were coupled together on Quinvy 7007. My omission was probably because they had both been recorded so much earlier (on 17th May 1967 – see Part 3), with Brandon's "Strangest Feeling" pre-dating Ted Taylor's version on Ronn 29.
Of course, as I did indeed mention in Part 8, we are assuming that Tony Borders' "Promise To Myself" and "Mix And Mingle" on Quinvy 7101 was an early 1971 release in view of its prefix, even though, as also noted in that Part, the tracks on it were cut back in mid-July 1970.
But returning for now to Mr Brandon, his unissued-at-the-time recordings which most likely stem from the 1970/71 period (because Brandon was cutting for Moonsong by 1972) include the following:
When You Get What You Want is probably the best of Brandon's unissued sides – a beautiful, slow-burning William Jenkins and Howard Evans-penned ballad, sparse and with a simple musical structure but quite superbly interpreted by Bill. It's believed this track was just a demo – but what a demo!
"All I Need Is You" is by the same two writers. Not so impressive this time, nonetheless it's a pleasant-enough laid-back mid-pacer with, unusually, an xylophone, possibly played by Spooner Oldham, featuring prominently.
"I'll Be Your Baby Tonight" is a beat-ballad version of Bob Dylan's 1967 composition first recorded by John Wesley Harding but probably best remembered today for the Robert Palmer/UB40 version first released in the UK in November1988 and a single hit there soon after its re-release in October 1990 on EMI EM 167. While the song itself isn't Brandon's finest, his vocal interpretation is very soulful.
"To Make My Life Beautiful" is an appealing country-styled ballad with strong storyline lyrics and occasional dramatic passages. The original of this fine song was recorded in 1971 on Capitol 3172 by its composer, American country singer-songwriter Alex Harvey (not to be confused with the British artist of that name who headed the so-called Sensational Alex Harvey Band!). You can hear Harvey's original version on You Tube, as at time of writing.
"Your Big Chance" was a Brandon demo which, to my knowledge, has not yet seen release but which John Ridley, in his sleeve-notes to the excellent Soulscape SSCD 7001 "On The Rainbow Road" Brandon compilation, states was sung by Bill purely to the accompaniment of a single guitar.
Next we look at Don Varner's later unissued-at-the-time tracks:
"He Kept On Talking" was of course the song Swamp Dogg had penned for inclusion on Sandra Phillips' Macon-cut Canyon 7712 LP. The arrangement behind Varner's version is almost 'lush' and the whole thing, with its string overdubs and full 'orchestral' sound, could almost have been a Dogg production – except it wasn't, it being a rare example for Quinvy of sophisticated rolling-paced soul produced by Quin Ivy himself, quite possibly in 1970 not too long after hearing Phillips' original and before Swamp Dogg himself appeared at the Sheffield studio.
"I'm Still In Love With You" and "One Woman Man" were both produced by David Johnson when, to quote Don Varner himself, "Quin had pretty much stepped out of it". This places them probably around late '71 or into '72. The former song was also penned by Swamp Dogg and is a typical mid-paced storyline item, well enough handled by Don, while
One Woman Man was not the old Garnet Mimms song but a lovely slow-building slice of meaningful southern soul, penned by David Johnson.
Don's wife Brenda also cut two unissued-at-the-time sides, probably at one of Don's later sessions, circa 1972, with David Johnson not only producing but penning both songs. As noted by John Ridley on the Charly CRB 1219 LP which first featured Brenda's "Don't Give Up On Me Baby", she sounds very like Bettye Swann on this countrified, almost cheery mid-pacer. It's certainly no demo as it boasts a full brass accompaniment as well as good work by the rhythm section. "Let Me Be A Woman" has the same full accompaniment plus a very gospelly back-up group – indeed it's a fine piece of gospel-meets-country-meets-soul and would have been well worthy of release at the time. It seems Brenda's vocal prowess was considerable, judging by these examples. You can read more about Brenda Varner - or Brenda Duff as she was better known - and listen to "Let Me Be A Woman" here.
Eddie Bradford hailed from Columbus, Georgia. Most of his sessions were produced by Quin Ivy with just one, probably the later one, by David Johnson. It seems likely that these were held in, or very close to the same year, 1972, that two of his Quinvy sides duly appeared on Chess 2133. These particular songs were produced by Ivy with Johnson doing the engineering and featured Eddie's punchy version of "Push Mr Pride Aside" (first cut by Percy Sledge at Quinvy in 1969 - see Parts 6 and 8) and his strong interpretation of the strutting southern funk of George Soule and Terry Woodford's "You Made Your Bed".
His unissued-at-the-time sides were:
"Little Bit Of Love", also produced by Ivy, which is a nice gently-driving, mid-paced foot-tapper with Eddie's voice in a somewhat lower register than on his released sides. There's some good guitar work, some punchy brass and also some fine femme back-up singing, yet, somehow, it still seems that a bit more work on the track would have been required to warrant a release.
Eddie's "It Sure Was Fun" is wrongly credited on the Charly CRB 1224 label to Bob Jubilee, whereas it was of course a Swamp Dogg and Gary Bonds composition which had already been cut at Quinvy for Mankind by Doris Duke (see Part 9). This might just place Eddie's very acceptable and release-worthy version somewhere closer to 1971 than '72.
"Can You Handle It" is a wonderful slice of southern funk, fully realised, with some really potent brass as well a fine rhythm track and good, synchronised back-up vocals which cut in on the title phrase. Again Ivy undertook production duties.
The lone David Johnson-produced Bradford track was Eddie's very fine version of the gospel-influenced Jackie Avery mid-pacer
A Mighty Long Way, which its author had already cut himself for Capricorn as "Your Love Has Brought Me" (#8008, from late-1970). There's some great back-up singing, some fine brass and in particular some very impressive righteous piano-playing – and Eddie's involved vocal tops it all off wonderfully.
In Part 8 we made reference to Buddy Causey's very creditable unissued-at-the-time Quinvy 'cover' of James Brown's "It's A Man's World", which, with a somewhat longer title, James had taken to the top of the US R&B charts back in 1966 on King 6035. As Causey's track was only found by Cliff White (then at Charly Records) and David Johnson when they were searching the Quinvy vaults, it's likely that this David Johnson production was from early to mid 1973 as David would probably have laid more claim to it if it had been cut any later (i.e. after he had bought the studio and re-named it Broadway Sound). This theory would probably tie in chronologically with Causey's move in 1974 to Jerry Fuller's Moonchild productions (again see Part 8).
The final thought re recordings not yet discussed which were cut at Quinvy between 1971 and 1973 would be, did any other outside labels make use of the studio during this period for their own contracted artists? Well, with MSS and, to some extent, even Fame being the main such 'magnets' in the greater Shoals area post-1970, it seems Quinvy largely lost out on this particular score. Only three such issued-at-the-time singles come to my mind but, if you know of any more, please send us details and, if it seems likely you're right, we'll gladly award the information an update at the foot of this page with a due acknowledgment to the info-provider.
The first and second examples are the two 1972 Quinvy-recorded Polydor 45s by Ernie Shelby.
The 7 Souls
Shelby's first ever 45s had been recorded out on the West Coast, "Tonight You Belong To Me"/"That I'm In Love With You" on Capitol 4879 from 1962 being more pop than soul, while "Summertime"/"Ducky (So Can I)" on Melic 4145 from 1964 was closer to big band jazz. It's rumoured that he had also been a member of the Seven Souls (sometimes called The Fabulous 7 Souls) who cut "Got To Find A Way" and "Groove In" on Venture 614 in 1968. I say rumoured as the source for this information was a contributor to the Funk 16 Corners web-site, whereas The Seven Souls web-page on the Soulwalking web-site makes no mention of Shelby. Mind you, the group, formed in L.A. in 1964 and who had earlier cut "I Still Love You" and "I'm No Stranger" on Okeh 7289 in 1967, had regular personnel changes and were produced by Larry Williams and Johnny Watson at Okeh and just by Larry at Venture, where apparently they were also regularly used as the studio 'house' band. With Shelby's close connections with both of these guys and also with both the Okeh and Venture labels (see shortly) it is certainly possible that he may have sung with the group at some point.
Anyway, in 1972 when Terry Woodford, a partner with Clayton Ivey in what was then their fledgling company, Wishbone Productions, got a call from the West Coast about the possibility of working with Shelby, he knew nothing about the guy. He need not have worried though, for, despite having cut only two singles as a solo performer, Ernie was primarily a songwriter and he already possessed an impressive portfolio of songs he'd written (or co-written) for other artists to record.
Shelby's first songwriting success seems to have been to secure 'opening track' status on Stevie Wonder's 1966 breakthrough Tamla album "Up-Tight (Everything's Alright)" for his and Beth Beatty's song "Love A Go Go". This Motown connection was probably how Ernie first encountered one of his future co-writers, Clarence Paul, then very much a significant figure in young Mr Wonder's development.
This song earned Ernie more 'bread' when it became a big European success a year later for Norwegian songstress Wencke Myhre (I kid you not!) on Norwegian Polydor NH 66794.

The group The Truth would much later also cover the song on their 1983 "Confusion (Hits Us Every Time)" double-45 'pack' (WEA Truth 1F), their version having been recorded live at London's Marquee Club on 27th March that year.
Shelby next obtained regular songwriting deals in 1967 with the Okeh label and, shortly after, also with the MGM soul offshoot Venture Records (which ran from 1967 to 1969).
For Okeh, Shelby teamed up again with Beth Beatty and also Dick Cooper to pen several releases including Larry Williams' "You Ask For One Good Reason" (Okeh 7280), The Autographs' "I Can Do It" (Okeh 7293) Little Richards' "Never Gonna Let You Go", penned just by Shelby and Cooper (Okeh 7278 as well as featuring on Richard's "The Explosive.." Okeh 12117(m) & Okeh 14117(s) LP) and two songs which would also be later much covered by other artists and which, over time, would clearly bring plenty of dollars to the Shelby coffers, namely Little Richard's "I Don't Want To Discuss It" (Okeh 7271 and again also on "The Explosive.." LP) and a release called "Nobody" (Okeh 7300) performed by Larry Williams & Johnny Watson with The Kaleidoscope. Also in 1967, while at Okeh, Larry Williams cut a song which seems to have emerged in 45rpm format only on Johnny Watson's Jowat label (#118). Personally, I've only seen this release awarded to Watson's "Ain't Gonna Move" and "Baby Don't Leave" but a couple of Williams discographies has him singing the Shelby, Beatty and Cooper song "Love Is Such A Funny Thing" under this release number. Anyway, this Williams track, along with Watson's "Ain't Gonna Move", duly (and definitely) appeared the same year on the Okeh 12122 LP "Two For The Price Of One", which featured both Williams and Watson.
Shelby's much-recorded song "I Don't Want To Discuss It" was sometimes called "You're My Girl (I Don't Want To Discuss It)" and, in 1968, Elektra's intended 'supergroup' Rhinoceros were probably the first to cover it, on their eponymous LP (Elektra 74030). In the same year, the UK's Amen Corner included it on their "Round Amen Corner" album (Deram SML 1021) while it featured again on their "World Of Amen Corner" retro-set from the following year (Decca SPA 33). In 1969 The Misunderstood (a Psych rock band 'discovered' by UK dee-jay John Peel) cut a version which would only surface much later on a 1984 8-track compilation album "Golden Glass" on Time Stood Still Records LP1. By early 1970 a live version of the track would appear on the "Delaney & Bonnie & Friends On Tour With Eric Clapton" album (Atco 326). Then in 1970 Rod Stewart sang it on his big-selling "Gasoline Alley" LP (UK Vertigo 6360 500 and US Mercury 61264). On 8th February 1973 Rod and The Faces would also cut a live version for the BBC at The Paris Theatre in London, this first appearing in the summer of 2004 on a two-disc CD entitled "In Concert 1973" (Trial-007), which paired the so-called "Too Drunk For The BBC" February 1973 sessions with the April 1st 1973 Paris Theater "BBC In Concert" recordings. Even as late as 1991, ex-Allman Brothers re-union member Johnny Neel featured the song on his "Late Night Breakfast" CD issued on his own Breakin' Records and reissued in 2000 on Silverwolf.


"Nobody", Shelby's other much-recorded song (originally cut in 1967 by Larry Williams & Johnny Watson with The Kaleidoscope on Okeh 7300, as noted above), was covered successfully later that same year by Kim Weston, her version on MGM 13881 entering the R&B charts on 20th January 1968 and peaking at No.39. Kim's then husband, William 'Mickey' Stevenson, who was running the Venture label, would make use of the song again too (see shortly).
Also to cover it in late-1968 were Three Dog Night, their single of it on Dunhill4168 bubbling under the Hot 100 at No.116 on 25th January 1969, while their version also featured on their eponymous album (subtitled "One") on Dunhill 50048, which first hit the US album charts at exactly the same time. In 1969 they featured the song on their "Captured Live At The Forum" set, a No.6 US album charter on Dunhill 50068. Then in 1970 it would reappear on the same group's "Golden Bisquits" LP on Dunhill 50098 which would become their biggest-selling US album, charting for a full 61 weeks starting in February 1971 and peaking at No.5.

In 1969 The Jerms cut a version for the Shelby Singleton-distributed Honor Brigade label (#4) while in 1970 UK rock band Toe Fat featured the song on their eponymous UK Parlophone PCS 7079 LP. Meanwhile, in 1971 Bill Cowsill also included it on his album "Nervous Breakthrough" (MGM 4706).

Then, in 1972, Hodges, James, Smith & Crawford (Pat Hodges, Denita James, Jessica Smith and former Motown artist Carolyn Crawford) cut their version, which was a Mickey Stevenson and Clarence Paul production, on Mpingo 14000. The group was Stevenson's brainchild and HJS&C were intended to rival The Supremes, which is hard to believe because their sound was more aggressive and a lot more Soul/R&B orientated. They later became a trio after Crawford dropped out and Hodges, James & Smith would re-cut the song for inclusion on their "Power In Your Love" 1975 LP (20th Century 475) which became a No.58 US R&B album hit. (Before that, in 1973, the trio had also cut a single on the People label (#1006) which had featured Shelby, Paul and Carter's "Somewhere A Valley").


For the short-lived MGM soul offshoot Venture, which ran from 1967 to 1969 under the control, as we've noted, of Mickey Stevenson, Shelby's regular co-writers included Clarence Paul (who was A&R boss for the label), Dick Cooper and Darryl Carter. Here he co-penned the Natura'elles "Show Me The Way" (#609 and #633), Vernon Garrett's "Second To None" (#623) which, using the same backing track, was also cut as a duet by Garrett and Marie Franklin on Venture 632, Neil Kimble's "You Sure Got A Funny Way" (#631) and Madlyn Quebec's "The Love I've Been Looking For", the flip of her superb Clarence Paul penned "Better Than My Best" on #639, the last-ever Venture 45.
While at Venture, Shelby and Cooper also penned (and produced) the great "You Ain't Changed" by Marie Franklin, though this was released on the Maverick label (#1002), which was still distributed by Venture. (The 45 appeared on MGM, Venture's parent company, in the UK).

As the Venture door closed, the Uni door would open for Shelby in 1969 when he co-penned (still with the likes of Clarence Paul and Dick Cooper for the trio's Today Production company) "Ain't Much Of A Home" for Jesse James (Uni 55171) and both sides of the Mirettes' Uni 55147 single, "Ain't You Trying To Cross Over" and "Whirlpool", the latter song also being the title-track of the Mirettes' Uni 73062 album which was produced by the Today 'team' who, between them, penned six of the ten tracks on it. The Mirettes of course were ex-Ikettes Robbie Montgomery, Jesse Smith and Venetta Fields.

By 1970 Ernie was 'flirting' (professionally, that is) with another girl-group, the Sisters Love, who at this time comprised Gwen Berry, Lillie Fort, Jeanie Long and Vermettya Royster. They had been the first-ever 'R&B' act on Herb Alpert and Jerry Moss' A&M Records when they joined in 1969. Shelby alone produced two of their six A&M singles, namely "Now Is The Time"/"Blackbird" (A&M 1178) and "Rise"/"Ha Ha Ha" (A&M 1235), writing all of the sides except "Blackbird" which was a Lennon and McCartney song. All four tracks were cut in 1970, although "Rise" would be A&M's first 45 release of 1971.

Shelby sold his wares where he could and, still in 1970, he and Clarence Paul both penned and produced "Love, Guess Who" for Martha Reeves & The Vandellas (Gordy 7098), which proved a popular flip to the non-Shelby song "I Should Be Proud". Both these sides found their way onto the group's 1970 'message' album "Natural Resources" (Gordy 952).

Also on the album was the Shelby song "I'm In Love", which had by then already been cut by Bettye LaVette (see shortly), as well as a song Ernie co-penned with Clarence Paul, Dick Cooper and Morris Broadnax called "Easily Persuaded". This song would reappear on the Afghan Whig's 1994 UK 4-track CD-single of sessions cut for UK dee-jay John Peel entitled "What Jail Is Like" on Blast First BFFP96CD.


Still in 1970, Shelby, Cooper and Paul's "The Love I've Been Looking For" was featured by Kim Weston on her Volt 6014 album "Kim, Kim, Kim".
Ernie Shelby had also involved himself with three of Quincy Jones' Film Soundtrack projects. Back in 1968 he and Quincy had co-penned "It's Just A Game Love" for the MGM crime film "The Split", based on a book by Richard Stark called "The Seventh", which starred Jim Brown, Ernest Borgnine, Jack Klugman, Donald Sutherland and Gene Hackman. No soundtrack album appeared at the time but in 2009 it was finally issued in CD format on FSM 1213, Track 2 being Jones and Shelby's song, sung by Arthur Prysock.
In 1969, The Friends Of Distinction included this very song on their "Highly Distinct" album (RCA 4212), which made it to the lower reaches of the US album chart, and a year later Peaches & Herb cut it on their Date 1669 single.

In 1969 Shelby and Jones collaborated on some of the music for two more films. Firstly, "I Needs To Bee'd With", sung by Johnny Wesley, featured strongly in the comedic Columbia picture "Cactus Flower", starring Walter Matthau, Ingrid Bergman and Goldie Hawn. The soundtrack album appeared on Bell 1201.
Also, in 1969 Jones again called on Shelby to help with the music for Universal Studios' "The Lost Man", starring Sidney Poitier (often referred to as the first true 'blaxploitation' film). This may well have been because of Shelby's connections with Uni that year as the Mirettes and Venetta Fields from that label featured on various songs from the film, the soundtrack album also being on Uni (#73060). Shelby, Dick Cooper and Quincy Jones collaborated on "He Says He Loves Me" (sung either by Ernestine Anderson or Louise Whitney – sources differ, together with The Pree Sisters), "Rap, Run It On Down" (sung by The Mirettes, Venetta Fields and Nate Turner), "Sweet Soul Sister" (sung by Nate Turner) and "Try, Try Try" (sung by The Mirettes). Another song from the film penned by the trio was "Last Night 'Na Night Before" (although it's not clear whether this made it onto the soundtrack album).
One of Ernie Shelby's more significant soul connections was his collaboration in 1969 with Joseph Buckner to pen "I'm In Love", a song which Bettye LaVette recorded no less than three times during her September 1969 to July 1970 Memphis dates for Lelan Rogers' Silver Fox and Shelby Singleton's SSS-International labels, though all of the versions remained unissued at the time. It would be Bettye's second version cut in January 1970 which would first see release on UK Charly's 1982 "Southern Soul Belles" vinyl compilation on CRB 1035. As already mentioned above, the song would later also be cut by Martha Reeves & The Vandellas.
However, this would not be Shelby's last connection with Ms Lavette, as his and Phillip Mitchell's call for racial harmony "All The Black And White Children" would be a highpoint of Bettye's unissued-at-the-time November 1972 sessions in the Shoals for what was intended to be her 1973 Atco album, "Child Of The Seventies". Of course this never materialised but finally the album was effectively put together from master-tracks first of all in 2000 by Gilles Petard on his Art & Soul 851012 CD "Souvenirs" and then by Rhino in 2006 via their "Child Of The Seventies" RHM2 7899 CD.
In 1973 another Mitchell and Shelby song was cut in the Shoals by Carla Thomas, namely the plaintive ballad "Love Among People", which saw release on Carla's last-ever Stax single (#0173). A year later, the song would also feature on Percy Sledge's Capricorn 0147 LP, "I'll Be Your Everything" and then in 1975 on Peter Yarrow's also Shoals-recorded "Love Songs" album on Warner 2891.

So, returning to 1972, when we said earlier that Terry Woodford knew nothing of this West Coast guy, Shelby, whom he was being persuaded to entertain, this says much for the 'regionalisation' of American music at this time. The Shoals had justifiably come to be regarded as a recording 'hot spot' in its own right by 1972, although it often looked to nearby Nashville for country input (whether it was songs or sidesmen) and similarly to not-too-distant Memphis for blues and soul input as well as string 'sweetening' for its rhythm tracks (see Part 7). Of course, it had also forged limited, though important contacts with the big northern cities of New York, Chicago and even to some extent Detroit via the interest shown in its indigenous musicianship by northern producers and labels seeking a good southern soul sound for their performers. However, the far-flung West Coast was another matter altogether. There was hardly any musical connection at all between California and the Shoals and this is why it's possible to easily understand how Terry Woodford knew absolutely nothing about a West Coast songwriter who, as we have seen, already possessed a really quite impressive and wide-ranging song portfolio and who had rubbed shoulders with significant industry 'names'.


In 1972, as Ernie Shelby was due to arrive in the Shoals, Wishbone did not yet have its own studio and Ivey and Woodford made regular use of the various existing ones in the area. They duly booked Shelby into Quinvy for some sessions but the idea was that the songs for these would first be penned by Shelby and a new writing partner whom Wishbone assigned to him - none other than 'Prince' Phillip Mitchell. Wishbone duly flew Shelby in from the West Coast and put him up in a local motel room containing an electric piano and a reel-to-reel tape recorder. Mitchell would call by daily, bringing his guitar with him, and the two, who according to Shelby 'hit it off' immediately, apparently penned some eleven songs together in about so many days.
Woodford and Ivey duly produced Shelby's two Quinvy-cut singles with David Johnson at the board on each occasion. Polydor 14124 would feature the melodic, catchy mid-pacer "Carry Me" (which you can hear here), penned by Ernie and Phillip Mitchell, a song which would feature the same year on Mel & Tim's "Starting All Over Again" Stax 3007 LP and again on Joe Simon's fine 1974 LP "Mood, Heart and Soul" (Spring 6702). Joe's version saw single release in '74 too, on Spring 145, the 45 becoming a No.12 R&B hit. Also on Joe's album was Shelby and Mitchell's "I Would Still Be There", which might just have also been penned during their same concentrated song-writing session in the Shoals motel-room. Returning to "Carry Me", even reggae artist Desmond Dekker would get into the act as late as 1999 with his version on his Trojan CDTRL 433 CD, "Halfway To Paradise". Shelby's flip to his own 45 was George Soule and Terry Woodford's "Right Here Where You Left Me", although Ernie's released version is not as telling or involving as Soule's own excellent demo of the song, which can be found on his "Let Me Be A Man" retrospective CD from 2011 on Soulscape 7027.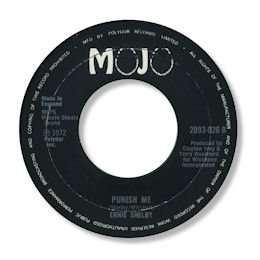 The second Shelby Polydor 45 (#14137) combined two other Quinvy-cut sides, namely another Shelby-Mitchell-penned mid-pacer in "Punish Me" and the fine, still mid-paced country-soul of Ivey, Woodford and Soule's "Bend Over Backwards" (which you can hear here). Once again, Soule
demoed this track himself. This time you can find his own fine version on the 2006 Zane Records' Soule compilation "Take A Ride" (ZNCD 1024). Incidentally, George played drums on all of Shelby's Quinvy sessions.
These sessions also threw up at least two cuts unissued at the time. The first of these was the Shelby-Mitchell song "I May Not Be What You Want", which is a nicely handled mid-paced country-soul item. Once again Mel & Tim took the song on-board and included it in their aforementioned "Starting All Over Again" LP, this version also seeing later single release in January 1973 on Stax 0154 (a No.33 R&B hit/No.113 'bubbling under' pop hit) as well as featuring on the 1973 Wattstax 2 film soundtrack double-album "The Living Word" (Stax STS-2 3018).
The second unissued Shelby cut was "I'll See You Through", penned solely by Ernie, a good mid-pacer with some fine organ work from Clayton Ivey. However, this song would later become the opening track of Reuben Howell's eponymous Motown M771L album in 1973, the result of a deal that Wishbone would strike with the ex-Detroit company who had moved a year earlier to L.A.
It was Terry Woodford who took on the 'Mr Fix-It' role for Wishbone and it was he who duly hawked the Shelby tapes around New York to five or six companies, including Polydor, without any immediate success. However, on his way back to the Shoals, Woodford had a stop-over at Atlanta where he was paged for a phone-call from Polydor who had decided they were interested after all and a deal was soon struck.
You can hear all six of Ernie Shelby's known Quinvy recordings on the fine 2011 CD, "The Wishbone Masters – Volume 1" on Soulscape SSCD 7028. The related UK Hit And Run label has also issued the two previously unissued Shelby Quinvy cuts together on a 45rpm single (HR 1507).
Before we leave Ernie Shelby's connections with Quinvy it's interesting to surmise what happened to the other new songs which clearly Shelby and Mitchell created during their short-lived but concentrated songwriting 'bash' in 1972 at that Shoals-based motel. It certainly seems quite likely that the aforementioned Bettye LaVette track "All The Black And White Children" was conceived there as it was cut so soon afterwards.
A message in the archives of the Yahoo southernsoul group about Shelby and Mitchell's work indicates a number of other Shelby-Mitchell collaborations. However three of the suggestions were in fact penned solely by Mitchell, viz. Archie Bell & The Drells' 1973 Glades 1711 side "Ain't Nothing For A Man In Love", a song called "Here, Take The Key To My Heart" for which credits provided on the 2004 UK Grapevine GVCD 3012 "Just The Beginning" make plain was also a 'Mitchell-only' song, and Na Allen's Pedestal 120 single from 1973, "Love Don't Come Easy". However other songs mentioned in the southernsoul group posting are "All The Unborn Children", "Don't Mind Working For A Woman", "We Made A Promise", "What Would I Do Without You" and "You're Gonna Find Yourself In Love". I know nothing about these songs so if anyone knows any more about them please speak up; however, as it stands, with three suggestions already shown to be 'Mitchell-only' songs, I am bound to feel sceptical about these others being Shelby-Mitchell collaborations.
However, a usually very reliable musical copyright web-site does indeed note four other Shelby-Mitchell song collaborations about which I also know nothing. These are "You Can Always Come Back To Me", "A Woman Is So Much Stronger", "Whatever's Fair" (not the later Jerry Butler track of that name) and "Save Your Tears". The interesting thing about these four titles is that they are shown as registered in September 1972, which would seem to tie in well with Shelby and Mitchell's first concentrated songwriting session (albeit the Polydor-released "Punish Me" is shown on the same web-site as being registered a tad earlier in July 1972). Perhaps these four titles at least were among the as yet unissued songs penned together at that time by our two songsmiths.
The only other example that I can recall of other labels' artists visiting Quinvy between 1971 and 1973 relates to the two sides,
Ten Carat Fool and "My World Tumbles Down", which go to make up Jimmy Jules' Abet 9451 single, also from around 1972. These were certainly Quinvy Studio recordings, this time actually produced by David Johnson, as the label itself makes quite clear.
In reviewing this fine single I can do little better than quote from a blurb attached to a sale ad. on the web for a 2nd-hand copy, which states: "Fabulous Quinvy production! Top side is a relentless piano-driven mid-tempo piece. Flip it over and you'll become immersed in a pool of deep soul in the form of a Terry Woodford and Geoge Soule penned ballad (except it's more of a mid-pacer than a ballad – author). A rare southern soul production of the highest order!"
Both sides of this 45 can be found on the 1997 UK Ace CD "The Heart Of Southern Soul Volume 3: The Flame Burns On" (CDCHD 660), both having first seen CD release on 1994's Jap. P-Vine PLP-2782/3 double-CD "The Excello Soul Story". However, it's worth pointing out that once again George Soule demoed
My World Tumbles Down and his great interpretation can be heard on both of the retrospective Soule CDs detailed just above in the section about Ernie Shelby's Quinvy-cut sides.
Jimmy Jules was an interesting character and worthy of some background info. Born Charley C. Julien in New Orleans, he first linked up with the short-lived AFO organisation cutting some sides for them under the pseudonym of Pistol, none of which seem to have been released on AFO although two were leased out to Atlantic in 1961 for release on #2120 (using the name Jimmy Jules), namely "Talk About You" and "Take It Like It Comes". Two other Pistol AFO recordings appear on the 1993 CDs "Gumbo Stew" and "More Gumbo Stew" (Ace CDCHD 450 and 462 respectively).
Jules claims to have a number of other pseudonyms including God's Gem, Music Shepherd and St. John Icon; however I suspect these religious-sounding terms stem from his more recent days playing and singing gospel in church, as all of his post-AFO solo recordings seem to have been credited simply to 'Jimmy Jules'.
The next Jules outing was a Carnival 534 single from 1967 which coupled "Don't Let Yourself Go" with "Nothing Will Ever Change (This Love Of Mine)". The former side can be found on the 1995 UK Kent CD "A Carnival Of Soul: Feelin' Good" (CDKEND 118), while the latter deep gem is on the earlier, related 1994 CD "A Carnival Of Soul: Wishes" (CDKEND 108). An unissued slow-paced Carnival Jules track "Just One More Time" appears on the third CD in this series, "A Carnival Of Soul: I Wanna Be" (CDKEND 124).
Next, Jimmy was off to Muscle Shoals where he cut two singles, firstly, in 1971, a Gamble 4018 single, recorded at Muscle Shoals Sound, featuring a fine version of Phillip Mitchell's song "Women Gonna Rule The World" coupled with "I Should Have Listened", and shortly thereafter, he would cut his Abet 45 at Quinvy, referred to above.
Jules had earlier formed his own Jim-Jem label under the name of Charlie Julien and for this he cut "The New Year" and "It's Impossible" on JGS 002, both of these sides also appearing on the Jim-Jem JGS 1001 LP "Xmas Done Got Funky", which was credited to 'Jimmy Jules & The Nuclear Soul System with Jackie Spencer'.

Having thus got on board the late 60's/early 70's funk 'train', Jules next jumped instead onto the late 70's disco 'wagon' when he joined the group Southern Cooking, who cut "Everything's Disco"/"It's Time To Party" on Polydor 14537 and "You Are My Inspiration"/"Meddlers" (some sources quote "Short" instead of "Meddlers") on Polydor 14555. The group were also awarded an LP in 1979 entitled "City Of Soul" (Polydor 6195).
Jimmy is still alive and kicking at time of writing as you can see if you Google his name and look up his own web-site (which I have to say does include a few inaccuracies!).
Back at Quinvy in the early 70's, despite all of Quin, and especially David Johnson's best endeavours, and even despite the generally successful transition from the great, early-years rhythm section to other various successor combinations, the hits would still not materialise for the studio and Ivy himself was fast coming to the conclusion that this lack of 'current' commercial success meant that all his eggs were going to remain firmly in the Sledge basket, a basket which, rather than eggs, now probably contained more dollar bills emanating from Quin's production/managerial role in overseeing Percy's live appearances than from the singer's actual record sales. Hence, things like the 1972 Billboard ad. featured near the start of this Part were probably almost 'last-ditch' attempts by Quin to salvage Quinvy's once not-inconsiderable reputation.
Perhaps then, in hindsight, it was no real surprise when, probably in
late-1973, Quin finally decided to throw in the 'musical' towel, selling his studio to his faithful producer/engineer David Johnson, who, as we've noted several times before, promptly renamed it Broadway Sound, after the street on which it was situated – and quite probably in order to give it a 'new start' to match the often 'new' kind of product he himself would choose to record there; though the Quinvy soul legacy would live on at Broadway Sound through fine recordings by the likes of Freddie North, James Govan, Sandra Wright and Pep Brown. However, the story of Broadway Sound deserves a full assessment in its own right and is not part of the Norala/Quinvy story.
Having sold his studio, Ivy said a complete goodbye to the music industry and soon departed for Ole Miss where he eventually obtained an accounting degree. With this to fall back on, in 1980 he began a teaching career at the University of North Alabama, one which would last until his retirement in 1996.
Johnson would run Broadway Sound Studio until near the end of the 1980's, some of his last projects being the big-selling 1986 and 1987 risqué-soul albums on John Abbey's Ichiban label by blind southern soul legend Clarence Carter.

Then, in 1989, David took on the role of Executive Director of the Alabama Music Hall Of Fame, an often demanding position which he would hold for no less than 21 years, until April 2010.
David Johnson with Laura Lee outside the Alabama Music Hall of Fame
I'm very glad to be able to say that at time of writing Quin Ivy and David Johnson are both happily still very much with us and both were kind enough to make the odd contribution to these pages. Obviously both Quin and David were fundamental to the success which Norala/Quinvy enjoyed over the years 1965-73 and there is no doubt that, in the earlier years, the important roles played back then by Marlin Greene and the more-or-less-regular members of the 1966-1969 Fame and Quinvy 'house band', together with Jeannie Greene and her cohort of back-up singers, should not be overlooked.
Although inevitably (and rightly) Percy Sledge, whose name unquestionably first put Quinvy on the recording-studio 'map', has received much coverage in these pages, I hope the attention I have given to the myriad of other performers who recorded there has demonstrated that the studio was far from being a 'one-artist' entity. From rock 'n roll, to country pop, from French invaders to Lynyrd Skynyrd, from unknown wannabies to the great James Carr, Z.Z. Hill, Ted Taylor, Ben E. King and Kip Anderson and the many seldom-lauded aesthetically impressive Quinvy/South Camp soul singers remembered
today only by southern-soul enthusiasts – and let's not forget (who possibly could?) Swamp Dogg and his fine bevy of Mankind artists. Quinvy entertained them all. Yes indeed, its importance as a southern studio certainly goes well beyond its often unjustified 'merging' into what tends to be the rather glibly termed, all-embracing 'Muscle Shoals' scene. The success of the Shoals was down to the success of its several fine constituent studios and Quinvy was one such studio which certainly played its full part in helping forge the Shoals' thoroughly deserved musical reputation.
UPDATE ~ I'm delighted to say that Ernie Shelby himself has been in touch. He's pleased with the description of his musical career both in this Part of the Quinvy story and on the page devoted to his music here. He writes
1.) In the late 60's, Dickie Cooper and myself were writing very successfully for Okeh Records (non-exclusively). Then we signed an exclusive songwriter/production contract with Venture Records. Interestingly, when Dickie and I personally produced the Kim Weston version of "Nobody", neither Mickey Stevenson, Dickie nor I were aware of the fact that Larry Williams and Johnny "Guitar Watson were rushing to release their version on Okeh first. There was a nasty dispute between Mickey Stevenson and Larry Williams about who owned the publishing... Without getting involved in the ugly details, they finally agreed to split the publishing. Both versions made the R&B charts at the same time.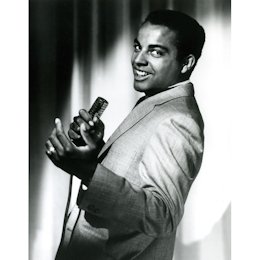 2.) Neither Dickie nor I had ever heard of the unknown group, Three Dog Night when they first requested permission from our publishers to record their version of "NOBODY". It turned out to be their very first hit record as a single, and because of that, they opened every live performance with it, as demonstrated in their "Captured Live at the Forum" LP. And, as you noted in your synopsis, it also appeared on their "Golden Biscuits" LP.

3.) In addition to the three movie sound tracks I collaborated with Quincy Jones on, there were three additional films in which at least one Jones/Shelby composition appeared: A 1969 film starring Natalie Wood & Robert Culp, produced by MGM entitled, "Bob & Carol & Ted & Alice"... A 1970 film starring Jim Brown, produced by MGM entitled, "Tick Tick Tick"... And a 1973 film starring Joe Don Baker, produced by Bing Crosby Productions, entitled, "Walking Tall".

4.) In the early 70's, after the experiment with the writing partnership between myself and "Prince" Phillip Mitchell turned out so well, the two of us got together again at my home in Hollywood... I'm not sure of the exact date. We wrote another half dozen or more of what I believe to be very good compositions of which there were only very crude home demos ever made, with Prince playing his guitar, me on the piano and both of us singing off key (smiles).

5.) Please note that my only connection with The Fabulous 7 Souls was a casual one, through Larry Williams. I never was a member of their group.
Here is some additional info you might be interested in:

SHELBY SONGS CHARTED NATIONALLY: (Cashbox, Billboard or Record World)
• "NOBODY" Kim Weston - MGM Records
• "NOBODY" Larry Williams & Johnny "Guitar" Watson - Okey Records
• "NOBODY" Three Dog Night - Dunhill Records
• "WHIRLPOOL" The Mirettes - Uni Records
• "SHOW ME THE WAY" The Naturelles -Venture Records
• "MAIN SQUEEZE" Instrumental theme from "The Lost Man" - Film Score Uni Records
• "I'LL SEE YOU THROUGH" Rueben Howell - Motown Records
• "WHAT WOULD I DO WITHOUT YOU" Skylark - Capitol Records
• "LOVE AMONG PEOPLE" Carla Thomas - Stax Records
• "AIN'T NOTHIN' FOR A MAN IN LOVE" Archie Bell & The Dells - Atlantic Records
• "CARRY ME" Joe Simon - Spring Records


INTERNATIONAL HIT SONGS:
• "I DON'T WANT TO DISCUSS IT" Little Richard - Motown Records - TOP 10 in ENGLAND
• "I'LL SEE YOU THROUGH" Rueben Howell - Motown Records - #1 in AFRICA
Special thanks to Ernie Shelby for the additional info - and for the wonderful picture!
FURTHER UPDATE
With regard to Ernie Shelby's comments above and to my reference in the main text about that concentrated Muscle Shoals writing 'bash' in 1972 between Ernie and Phillip Mitchell, another song composed by the duo at that time has now come to light via the Irma Thomas CD "Full Time Woman" - The Lost Cotillion Album" (Real Gone Music RGM-0224 OPCD-8818).
One of 8 unissued-at-the-time tracks Irma cut at Pac-Three Studios in Detroit in May 1972 was Ernie and Phillip's "Our Love Don't Come That Easy" (actually cut on May 3rd 1972 and indeed shown as published by Muscle Shoals Sound Publishing). At first I thought this was going to be an earlier 'longer-titled' version of Na Allen's 1973 Pedestal 120 side "Love Don't Come Easy", which, as explained in the main text above, was actually credited on its label solely to Phillip Mitchell. However, Irma's song is quite different (and a lot pacier) than Allen's and I suggest this confirms that Na's song was indeed penned just by Phillip and probably not during his time together with Ernie, whereas Irma's song clearly stems from that short-lived but productive collaboration between these two fine writers. One final point - in view of Irma's recording date for the song, this would suggest that Ernie probably came to the Shoals quite early in 1972 for this song to have been written there with Mitchell, then published and then to have found its way to a far-flung and otherwise unrelated Detroit session by early May.
NEW EXTRA UPDATE
I have received a further e-mail from Ernie Shelby which confirms once and for all that he never did sing with The Seven Souls during his time at Venture Records, although he worked closely with group-member and guitarist David T. Walker. He also gives an interesting and amusing account of how he came to be recruited by Quincy Jones to work with him on the movie "The Lost Man". I quote Ernie here on these two issues:

"Although I certainly was acquainted with most of the members of The Seven Souls because I was a writer/producer at Venture Records at the same time they were there. The fact is, I was never a part of that group in any way. Nor did I ever perform with them.
Also, while at Venture records, I eventually became very close to Seven Souls member David T. Walker. Often refusing to schedule a recording session unless "David T." was available to play guitar as an integral part of our four-man studio rhythm section.

In 1966, I met Quincy Jones in a hospital Labor & Delivery waiting room!!! Both of our wives were pregnant at that time and were patients of the same Gynecologist. They gave birth within hours of each other on the same day. At that time, I owned my own advertising agency in Orange County and during our wait, I made an offer to Quincy to do a full-orchestral arrangement for a high-end, sophisticated advertising jingle I had written for a TV commercial. He accepted, and after the jingle was produced and recorded, Quincy made a reciprocal offer to me to work with him on the movie, "The Lost Man" saying he was "impressed" by the jingle composition. Go figure!"

I questioned Ernie about the three year gap between meeting Quincy in the hospital waiting room in 1966 and the release of "The Lost Man" (1969) but he explained that developing even successful jingles let alone a complete music score for a film takes time and even when his and Quincy's work on the film-score was finished, there was a further significant period before the film actually saw release.
Another interesting Update is provided by Ernie when he says:
"You stated that 'All Of The Unborn Children' was a song listed by The Southern Soul Group Posting that you knew nothing about.
'All Of The Unborn Children' was the original title written by myself and Prince Phillip Mitchell for the song ultimately released by Betty LaVette after changing the title to "All Of The Black & White Children".
As you will see from the main text of this Part of the article, I do refer to Betty's song being a likely Shelby/Mitchell, Shoals-written piece but I failed to readily link its title with the similarly-named "All Of The Unborn Children".

Thanks for that info. too, Ernie.
Acks: John Ridley; Tony Rounce; Ace Records; Barry 'Soulbrother' Fowden; Zane Records (for use of tracks from their fine George Soule "Take A Ride" CD (ZNCD 1024); Soulscape Records (for use of tracks from their equally fine George Soule "Let Me Be A Man" CD (SSCD 7027); Billboard; Joel Whitburn; Soul Cellar web-site; Funky 16 Corners web-site; the websites and blogs of many of the artists/personalities featured.
Paul Mooney - All licensing enquiries for Quinvy / South Camp / Broadway Sound masters should be directed to Selrec Ltd and most of the songs are controlled by Millibrand Music Ltd in all territories outside the US and Canada.