ELLA WASHINGTON
by Sir Shambling
Of all the soul stars that the great music man John Richbourg recorded Ella Washington is surely the most loved. In an era when female singers were at their most plentiful Ella's unique vocal talents made her stand out from the crowd. Her range was good and her control of dynamics quite superb – she could move with deceptive ease from a whisper to a full blooded gritty roar. And of course this gave her lyrical interpretations great power.


Ella was born and raised in Miami, FL where she still makes her home. Her family background wasn't a particularly musical one, although one of her sisters was Audrey Royal who recorded briefly for Spector International in the 70s. Like so many singers of her generation Ella started her career singing in local clubs and it was at one of those, the Birdland, that she encountered two of Miami's greatest soulmen, Clarence Reid and Paul Kelly. "At the time he (Kelly) was singing with the Delmiras. We were one big family. It was at that time I knew I wanted to be a professional singer," she recalled in 1984.
In 1965 Reid, who was also singing with the Delmiras, took her to Fort Lauderdale DJ Larry Hargrove who had just started his own label, Octavia. Hargrove was convinced of her talent, took on a managerial role and paid to have her taught stage presentation and other show biz skills. He also hired Reid to organise her first recordings. His own composition
Nightmare was the initial result – and what a magnificent one! Cut really "hot", the sound jumps out at you when you put the disc on the turntable, with the big fat horn section right at the front of the mix. And on top of it all Ella howls out her rage and frustration at losing her man. This deep ballad is her first masterpiece and despite the claims of Johnny Larand's fine "Heaven To Me" easily the finest release on Octavia. One of the best Miami soul 45s from the 60s.

The second release was the much more celebrated coupling of "Bye Bye Baby" and "The Grass Always Seems Greener (On The Opposite Side Of The Fence)". Kelly penned the uptempo top side while Reid contributed the melodic flip. Hargrove thought he had a winner with the 45 and looked around for a partner with wider distribution. On advice from Jim Stewart at Stax he settled on Atlantic who issued the disc in 1966. But it sank without trace, and Hargrove has since claimed that there was no promotion on the record as he refused to give Jerry Wexler the 50% of the publishing rights that he wanted. Paul Kelly recut both tracks at a Miami session early in 1967, at which the lively "You Got It" was also recorded, but nothing was issued at the time as Hargrove was now looking further afield.
He introduced Ella to WLAC DJ John Richbourg, who knowing a good thing when he heard it, snapped her up for his Sound Stage 7 label. Over the 4 years from 1967 he recorded her prolifically with great artistic success. He took her first to Chips Moman's AGP studio and cut the fine midpacers "I Can't Afford To Lose Him" written by Bobby Womack, then part of the studio setup, who also supplied the tasty guitar fills. The second release from these Memphis sessions was a remake of a song she had cut with the writer Paul Kelly in Miami a couple of years before,
Starving For Love. This super ballad featured some inspired whooping and hollering from Ella, and a very good horn arrangement.

But the next release was in a different league. The arrangement of "He Called Me Baby" was obviously based on the same slow rocking rhythm that Aretha had brought to "Never Loved A Man" previously but it was still an outstanding effort, from the oh-so-expressive way that Ella caressed the sensuous lyric, through Gene Chrisman's relaxed drumming to the big horn chart. This was a million miles away from the out and out raunch of later female soul but in its understated way probably more effective in setting the erotic mood. One of the great country soul records. No wonder it went into the top 40 R & B charts early in 1969 and garnered Ella a Grammy award nomination later that same year.
This success prompted Richbourg to issue Ella's only Sound Stage 7 LP simply entitled "Ella Washington". In addition to including most of the previously issued songs, new recordings were held at Music City Recorders in Nashville. A super version of Clyde Otis' "Sit Down And Cry" and
All The Time rank among the most intense deep soul that Ella ever recorded, with the latter being a particular personal favourite. Other cuts like the fine funky "Fragile (Handle With Care)" and "The Affair" were contributed by Richbourg's two right hand men, songwriter Allen Orange and session leader/pianist Bob Wilson, who remembered the sessions with considerable affection. "Ella was a beautiful person to work with – very professional. She was a determined person, stubborn even, she knew that she was extremely talented. There were a couple of keys that just suited her voice, and when we used them and she hit those higher notes you could tell her in a million. Allen handled the rehearsals with Ella and then we cut live in the studio with Ken Buttrey on drums, Tim Drummond on bass, Mac Gayden on guitar and me on piano with Ella laying down a scratch vocal. She'd then come back a few days later to put the final vocal down. Allen and I wrote songs especially for her on that set." The only slightly false note was struck by the inclusion of the rather supper club feel of "This Bitter Earth", and the album is now universally acknowledged as a landmark southern soul set.
The melodic midpaced "Stop Giving You Man Away" from the album appeared on a 45 in 1969, as did the quite excellent
I Want To Walk Through This Life With You. This lovely gospel based deep soul item was another song that Richbourg found in a country catalogue, this time from the pens of SSS International songwriters Margaret Lewis and Myra Smith. I don't think there can be any doubt that Ella sounded her very best on this sort of material – the only mystery is why "He Called Me Baby" was her only chart entry.

Ella's next single was the wonderfully bluesy ballad
Doing The Best I Can which was cut during her sessions at AGP but like her next 1970 single "He'll Be Back" it didn't sell well. This latter Nashville track was another of those slow burning ballads that Ella handled so adroitly and with so much conviction, and on which she gave a really gritty performance. Richbourg's choice for her final release of the year was the funky uptempo "Trying To Make You Love Me" which Bob Wilson recalls producing and then there was a gap while the negotiations for a new distribution deal for his label and it's "parent" Monument with Columbia took place.
Ella returned in the summer of 1971 with the fine double sider of "It Must Be Love", a tender ballad, and the funkier "I Don't Care About Your Past". But her final release was even better and was the first time that the name of Jackey Beavers, who wrote "It Must Be Love" appeared as a co-producer. The recordings came from a session held at the Fame studios in 1972, and the top side was a superb reworking of Clarence Carter's brilliant "Too Weak To Fight", with a splendid spoken intro and an irresistible groove set up by the Fame Gang. The flip was another lovely Beavers beat ballad
If Time Could Stand Still which just glittered with class.

During the late 60s Ella Washington was the female mainstay of Sound Stage 7 and John Richbourg recorded a good many tracks that for one reason or another didn't see the light of day at the time. A few of these like the fine "Nobody But Me", featuring some tasteful blue guitar from Mac Gayden, and the Fame cut "What A Fool I've Been" were issued on a Japanese album in the late 70s. And the unrealised "I'm Losing The Feeling" a song originally recorded by Gwen McCrae for Columbia, featured on a Charly UK album in the 80s. "Mission (That's Impossible)" was recorded in Nashville while the melodic ballads "Deeper And Deeper" and "I've Got To Have You" came from her final sessions in Muscle Shoals. The only side from her early Memphis days at SS7 is the well arranged "We Paid The Price" – just love that baritone sax! "Pride" is closer to a demo than any of the other tracks but its "unplugged" state does give an opportunity to hear just how good a vocalist Ella really was.

Around 1973 Ella decided she had had enough secular singing, becoming a "born again" Christian and concentrating her activities around her faith. She explained, "Like I'm not putting down R & B, soul or whatever you want to call it, but gospel is so much more meaningful. I'm not saying anything bad about rock, it was good to me, but it was all "my baby left me", "another man's wife" and so on. It kind of lost relevance for me anyway".



She became prominent in local churches in Miami over the next few years but without committing anything new to vinyl. "I was never in a hurry to record although I'd have been happy to do it if I'd been approached but basically I was working to establish myself as a meaningful gospel artist."

This gap was broken in 1979 when she sang lead on an LP put together by the church she attended. It was called "Behold The Fields" and the name on the sleeve was "The First Born Church Of The Living God". Ella commented that, "It was a massed choir thing for my local evangelical church." The album was never intended for a commercial release – but her next 45 was. "The Ballard (sic) Of Arthur McDuffie" referred to a notorious Miami incident in which a black motorcyclist was killed by the police, clearly a subject that Ella felt strongly about. After all the policemen involved were cleared by a court, there were riots for 3 days, and several more people were killed. The great New York producer/writer Luther Dixon put the 45 out on his own K label – but the sensitivity of the subject matter restricted airplay and the single is now quite rare.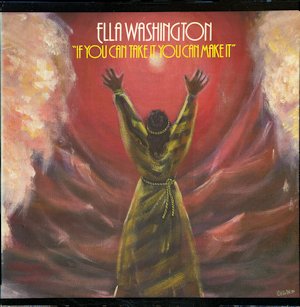 After several false starts and rumours Ella finally issued her own gospel album in 1984. "If You Can Take It You Can Make It" (Solomon) showed that her wonderful voice had lost none of its suppleness nor range, but the presence of synths in the arrangements and the somewhat reduced production values tended to detract from the enjoyment to ears attuned to her southern soul classics. But the set did include one superb ballad "He'll Be Just What You Let Him Be". Since then she has made appearances on other Miami gospel sets like "The Flesh Is A Mess" by the Boy Wonder Crusade and Miracle Revival Fellowship Choirs.

John R penned the short notes to Ella's SS7 LP. He wrote, "Ella Washington captures the real soulful sound with this her first album. She feels the lyric and fills each song with meaning, with suffering, with soul! Her performance is outstanding and I heartily recommend it to one and all. I think it is a great album. Congratulations Ella!" His sentiments about Ella couldn't be bettered and apply just as well to this CD. It doesn't seem likely that Ella will ever record any more secular music but her contribution to the canon of southern soul is a rich and valued one. Just enjoy the feeling.
Notes ~
1. There is a discography of Ella's recordings here - not complete though as you can read above.
2. Some of the info and all Ella's quotes have been sourced from Roy Simmonds' article on her in Souled Out magazine. Special thanks to Bob Wilson for sharing his memories from his Sound Stage 7 days.
3. The best commercialy available CD of Ella's SS7 material is on UK Soulscape. Details can be found here.