More Caribbean Soul
by Tom de Jong
The Caribbean islands were formerly known as the West Indies. They comprise about 7000 islands that lie between south east of Florida and north of Venezuela. There are 13 independent countries, the largest being Cuba, Haiti, Jamaica and the Dominican Republic. These countries are also known as the Greater Antilles. The Lesser Antilles lie more towards the West and many of these small islands are still part of larger countries like the US, UK, France or the Netherlands. For instance, the ABC islands Aruba, Bonaire and Curacao are still part of The Netherlands. Because of this connection many of these locally produced records made it to Europe. The former Dutch colony Surinam became independent in 1975 and was also involved in the trading of records, soul ballads from the USA and ska, reggae and soul from all Caribbean islands, Jamaica included. Of course this area was a melting pot of all sorts of styles. Here in a companion piece to Sir Shambling's original article on "Caribbean Deep Soul" which you can read / listen to here, I just focus on the soul ballads while throwing in a few other tracks that I really like. I was so lucky to buy a DJ box from the seventies that contained many of these rather obscure Caribbean soul 45s. Here are some highlights:-
The Blues Busters: Pleading for mercy (Limbo)
The label credits the backup to "Wee Willie" Williams and it is a Jamaican WIRL (West Indies Record Label) pressing. For the rest I am clueless. This must be from around 1960 and the earliest record listed here. There is an influence of doowop and with a nice saxophone solo.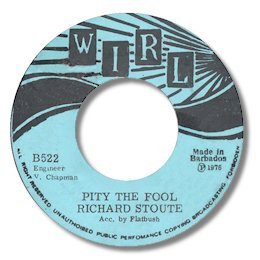 Richard Stoute: Pity the fool (WIRL 522)
Sir Richard Stoute hosted many talent shows on Barbados and left a large musical heritage. Most collectable is "What bag I'm" which was reissued as "modern soul" on Sticky Records. Pity the fool is simply a good deep ballad. WIRL/TREX from Barbados released quite a few records as you can see here. This track (and some others on this website) is also on the Caribbean Sound Soul LP (see picture above) that came out on Wildflower 11968. The lp cover refers to studio P.O.S. in Trinidad but I imagine tracks were recorded at different locations in the Caribbean.
Smokey 007: Deeper shade of blue (Smokey 007 Records 5548)
Sir Shambling already included two deep sides and a description of Leroy McKenzie in his article "20 Caribbean soul masterpieces". Here is a third deep soul ballad.
D Hector: Being in love (Antillana 1015)
Pressed in Barbados but this label operated between 1968 and 1976 from Trinidad and Tobago. The output was calypso and a bit of soul. Many sides were arranged by Art de Coteau. Saxophone player Terry (Art) de Coteaux is still active in the music scene as you can read here. Art was born in the UK before moving with his parents to Trinidad in 1970. This delightful spoken waltz by the completely unknown D Hector starts with a sob before testifying that he really means it. Ed Watson and His Brass Circle often provided backing to artists on this label so they might be the excellent band you hear here.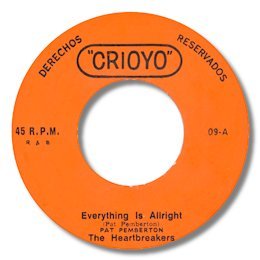 Pat Emberton & The Heartbreakers: Everything is alright (Crioyo 9)
Probably a label from the Dutch island Curacao, although the Derechos reservados on the label suggests a Spanish influence. Very relaxed soul ballad.
Dobby Dobson: Teenagers prayer (Sundown 5015)

Nice version of this oldie by the underrated Jamaican singer Dobby Dobson.
Billy Jones & The Twinkle Stars: We want peace (Merry Disc 45)
Agreed, not deep soul, but too good and too rare to leave out. US war veteran Billy Jones relocated to Amsterdam in 1968 where he made some excellent tracks with Oscar Harris and the Twinkle Stars. During the time he recorded for the Dutch Blue Elephant label and they apparently made a trip in 1973 to Surinam where they recorded in the REC studios. Producer Stan Lokhin was also included in the recordings. This affectuous side could have been a dance classic if it were not completely unknown. Billy Jones died in 1986 of a stroke while playing a game of basketball. Stan Lokhin died in 2010. Oscar Harris is still the grand old man of Surinam soul in the Netherlands.
The Dynamics: Lets pick up from where we left off (WIRL 509)
Great drum and bass intro! Apart from acting as a backing band, this group had four nice 45's on WIRL.
Les Envahisseurs: Pain of love (Disque Deb's 247)
Sung, or "chant" as the label says, by Gordon Henderson. The Disque Deb's Label recorded musical heritage of the Antilles. It was based at Guadeloupe where French is the native language. Envahisseurs means Invaders and this could well refer to the science fiction tv series from that era. At least it explains the far-out picture sleeve. Down-and-out soul of high quality.
Techniques: Please call love (Mummy)
Jamaican ballad with some nice Hammond organ improvisation thrown in. The lead singer is Slim Smith, arguably the sweetest voice in all Jamaican music.
Johnny Braff: This girl is a good girl (Parillon 2)
Great singer from Guyana who recorded many 45s and who is luckily even captured live on youtube as you can see here. Exactly the same track as came out in the US on Dore 904 in 1975 but this Caribbean version is 40 seconds longer.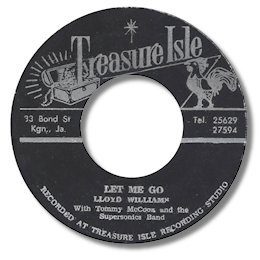 Lloyd Williams: Let me go (Treasure Isle)
A waltz with a chamber ensemble as backing! What are the three opening instruments? Maybe a tenor sax, an alto sax and either a flute or a soprano sax? Tommy McCook and the Supersonics band are responsible for this backing while Lloyd wails "Please, please, please". Very original arrangement from Kingston, Jamaica.
TG Fury: Love me (Fury 100)
Made in Barbados in 1975. Brilliant vocalist who died in 2009 on Santa Lucia. Apparently Sexy lady is his other track, but I never heard that. Santa Lucia is volcanic Caribbean island of 600 square kilometer, a short flight from Barbados. The little island looks like paradise on the holiday brochures.
Blue Busters: Soon you'll be gone (BRA 506)
This is the nice ska B-side of a sought after Northern track "Can't believe you're gone". This track also appeared on Sunshine and Kentone and was first issued in 1965.
Boris Gardiner: A thousand teardrops (Dynamic 65)
Nice Jamaican ballad from 1973 with a doowop feel to it. The B-side "Paradise for fools" maintains the same tempo and has a cool seventies sound. That could have been included here also. This is a rather common 45 that is well worth picking up.
Slim Ali & Famous Hodi Boys We need a little time (WIRL 592)
The other Hodi Boys 45 "Something good" was already mentioned in the Surinam Soul Scene article on this website. I thought that most other tracks by this group were uptempo and funky, but here is another ballad with Caribbean flavour. The Hodi Boys hail from Nairobi Kenya but this 45 was released in Barbados by the WIRL label.
Dobby Dobson: Don't make me over (Pama Supreme 913)
I included this because it is such an original cover of the Bacharach and David classic. Hats off for the spacey organs licks that open this track.
The Outfit: Stop the world (Wirl 398)
The slow B-side to a funky reworking of Bill Withers' "Use me". Vocals by Phil "Bumpy" Dino.
Herman Forde: Cry to me (Trex 12)
Another WIRL/TREX slowie, spoken at snail's pace. Herman has three 45s on the label and was the lead singer of the Silhouettes.
Barbara Kelly: Kiss and say goodbye Part 1 (Strakers 238)
The nice spoken intro takes this kitschy Manhattans track into Millie Jackson- Betty Wright territory. We can forgive Barbara for being a bit out of tune which is only appropriate for a tune from 1976 that must have been recorded in the Caribbean, rather than in New York from which the Strakers label got its distribution.


Acknowledgements ~ thanks to Karsten from Record Mania and Sjoerd from Waxwell for pointing out many Caribbean tracks that I really liked and could still afford.